PLAySPACE, the Paulette Long and Shepard Pollack Art Community Experiment, is a graduate student-run exhibition program. The program was founded in 2005 to provide the resources for student artists and curators to conceptualize and present exhibitions and events that are oriented towards the academic community. Since the program's inception, PLAySPACE directors have hosted exhibitions and events in a number of different locations on CCA's San Francisco Campus; PLAySPACE Gallery is currently located at the back of the Nave in CCA's Main Building (1111 Eighth Street, San Francisco).
For the Spring 2024 semester PLAySPACE will host up to four two-week-long pop-up exhibitions, each directed by chosen applicants from the entire CCA student population (graduate and undergraduate).
For information on current PLAySPACE programming, visit the PLAySPACE website, CCA Events Calendar, instagram, or contact playspace@cca.edu.
DEADLINE: December 4, 2023, 11:59pm
NOTIFICATIONS: December 12, 2023
CCA Exhibitions is inviting proposals from current CCA students for pop-up exhibitions to take place during the Spring 2024 semester in PLAySPACE Gallery, located in N21 at the back of the Nave. Selected applicants will receive up to $200 in material support for their project, gain access to tools, equipment and mentorship from CCA Exhibitions as well as have access to PLAySPACE Gallery for a 2-week exhibition period.
Exhibition periods:
Mon 01/22/24 - Fri 02/02/24
Mon 02/05/24 - Fri 02/16/24
Mon 03/25/24 - Fri 04/05/24
Mon 04/08/24 - Fri 04/19/24
With mentorship and some hands-on assistance from CCA Exhibitions, selected applicants will be in charge of scheduling the workflow for their exhibition period, leading the installation and deinstallation of their exhibition, setting up for events or activations, as well as promoting their exhibition and events.
We are looking for collaborations or projects that include works by more than one student. Examples include group exhibitions, presentations of work by studios or student clubs, collaborative large-scale installations, performative activations, series of readings, presentations or performances, series of micro exhibitions, experimental work, and more. Contact exhibitions@cca.edu with specific questions.
DEADLINE: December 4, 2023, 11:59pm
NOTIFICATIONS: December 12, 2023
---
Frequently Asked Questions
Who is eligible to apply?
All current CCA students, both undergraduate and graduate, are eligible to apply.
Can I apply with a solo presentation?
No, the mission of the space is to support collaborative work by students, so we require work by a minimum of 2 students to be shown in the space.
What supplies from the gallery can I have access to?
We have tables, chairs, pedestals, shelves, basic tools (including hammers, drills, tape measures, levels, rulers, scissors, screw drivers, and pliers), basic hardware (including screws, nails, pins, clips and tape) as well as a variety of other equipment. Feel free to email exhibitions@cca.edu to ask about other equipment that might be available.
Can the project support be used as an artist fee?
No, project support can only be used to fund materials purchases, printing, reception refreshments, or other direct installation costs from approved CCA vendors. Purchases must be made by the CCA Exhibitions Department and follow CCA's purchasing guidelines. Approved vendors include ARCH, Center Hardware, Arc Printing, Safeway, and Amazon.
Can I paint the walls or alter the space?
No. You may not paint the walls or make significant alterations to the space.
What promotional support can you offer?
We'll create a series poster, promote events on Portal and social media, and take photo documentation.
Does my show/project have to be up for 2 weeks?
The specific structure within the two week exhibition period is flexible, but we recommend activating the gallery as long as possible. For example, installation can take place quickly to maximize the amount of time the exhibition is on display or extra time can be given to install for more intricate projects. Making activities are welcome, but PLAySPACE cannot be used primarily as studio space.
Is alcohol allowed in PLAySPACE?
No, alcohol may not be served or consumed at any time in the PLAySPACE gallery.
Is amplified audio or projects that create noise allowed?
Due to PLAySPACE gallery being located near classrooms and studios, all amplified audio and noise generating projects must be approved in advance.
---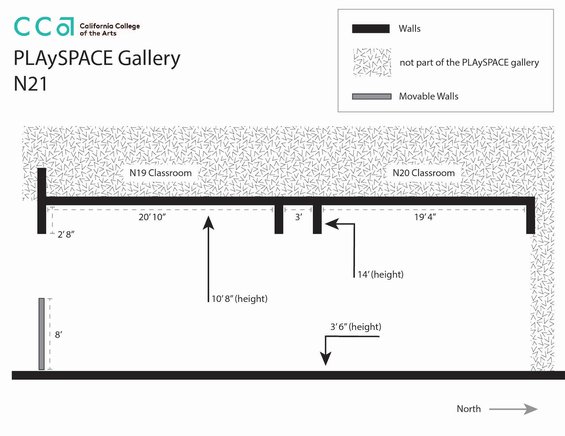 PLAySPACE Floor Plan
(click image to view and download)