On this page, you'll find the Corrections Policy for cca.edu. For general resources and answers to common questions, please visit our FAQ. For questions regarding corrections not addressed in this policy, please contact us.
---
What types of corrections does Marketing & Communications accept?
We're receptive to all feedback and prioritize it on a rolling basis, please email us your requests.
---
What should I include when submitting media corrections?
The page URL
A screen capture of the image that needs to be replaced (use this Chrome extension to capture the entire page)
Context for why the image needs to be replaced
A new image or details regarding the type of image you would prefer
Image credit/caption details, when relevant, for your new image
---
What should I include when submitting copy (text) corrections?
Include the page URL
Clearly explain your corrections (bullet points are great)
If you have numerous and/or complex corrections, you can take a screenshot of the page and annotate it with comments, highlights, etc
If your corrections are critical to enrollment, please provide a tentative deadline
TIP: Did you know that you can screenshot the length of an entire webpage?
Add an extension to your browser, like this one for Chrome, to take a screenshot. You can then download it as a PDF or image.
---
Marketing + Communications let me know that they've made my corrections. Do I need to do anything else?
Please take the time to:
Review the page(s) again
Verify that you have no more changes
---
What does a helpful correction request look like?

DON'T HAVE TIME TO ANNOTATE A PDF? Create a concise, bulleted list instead:
In "Life on campus" text block, please change "MFA" in image caption to "BFA."
In "Life on campus" text block, please capitalize the "c" in "coffee" in second paragraph.
That same second paragraph mentions some form of the word "need" three times. Please rewrite this paragraph to remove redundancy.
---
What does an ineffectual correction request look like?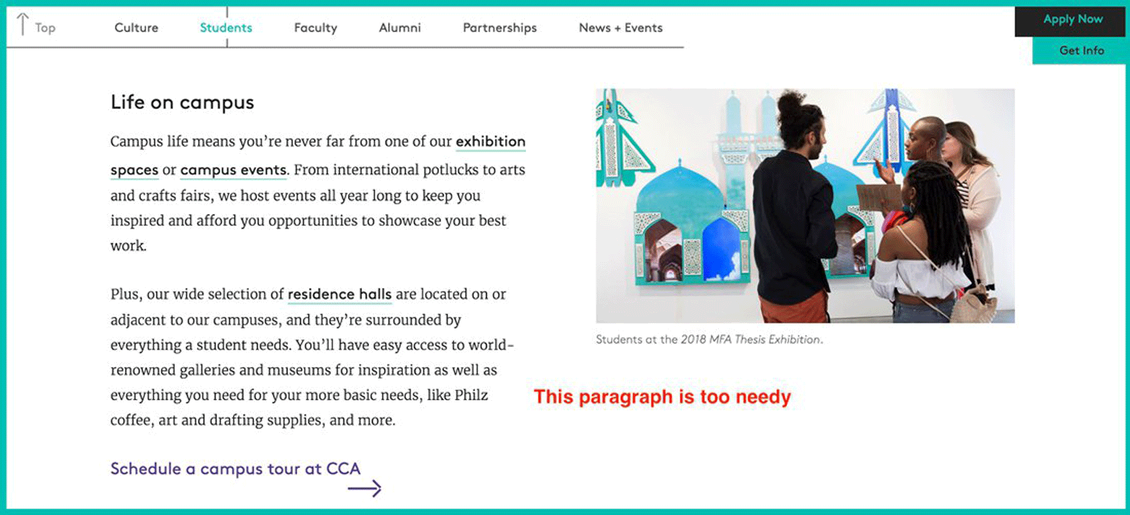 ---
Have a question not addressed here or in our FAQ? Please contact us.