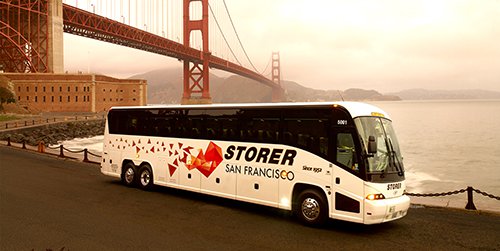 CCA is a two-campus community, and some class choices may require traveling between the two campuses (Oakland and San Francisco). CCA encourages students, staff and faculty to rely on public transportation options for their commuting needs. As a supplement, CCA provides limited shuttle service between campuses.
CCA contracts with Storer Coachways to ensure the schedule is adhered to and all safety measures are followed.
Effective March 17, 2020 and until further notice, service has been suspended due to Coronavirus.
Schedule
During the fall and spring semesters, the shuttle operates while classes are in session. Shuttle service is not available on holidays or during winter, spring and summer breaks.
Fall 2021 schedule
TBA
Past shuttle schedule
Notes:
Shuttles are scheduled to arrive five minutes prior to departure
Arrival times may vary due to road and weather conditions
Shuttle schedule is subject to change
Real Time Arrival Information
When the shuttle is in service, we offer real time arrival and departure information here.
Locations
Oakland campus: Broadway gates (5212 Broadway)
San Francisco campus: Main entrance (1111 Eighth Street)
Panoramic Residences: White Curb, Front door (Mission @ 9th Street)
Policies
Eligibility: A current CCA ID with a current term sticker is required to board the shuttle. Please pick up your new term sticker the first week of classes.
Seating: In the event that ridership exceeds shuttle capacity, residential (i.e., CCA housing) students who are waiting for the shuttle will be seated first. Nonresidential students are welcome to board after residential students are accommodated. Once students are seated, they will not be removed from the shuttle to accommodate last minute or late passenger arrivals. If space allows, faculty and staff may also use the shuttle.
Bikes: are allowed on the intercampus shuttle pending availability and space. Bikes are placed underneath busses, and artwork and school supplies take priority.
ADA Accommodations: Storer can provide shuttles that are equipped with ADA compliant lifts. If you are in need of ADA accommodations please contact the following departments to ensure that the Shuttle can provide the proper vehicle on the route you need. All drivers are trained on safely loading, securing, and unloading passengers with wheelchairs and scooters. All drivers are also required to participate in annual passenger sensitivity training.
Contact
General route information and questions:
CCA Student Affairs
510.594.3666 (Oakland)
415.551.9265 (San Francisco)
Delays, lost and found:
Storer Coachways
Feedback on the Shuttle: