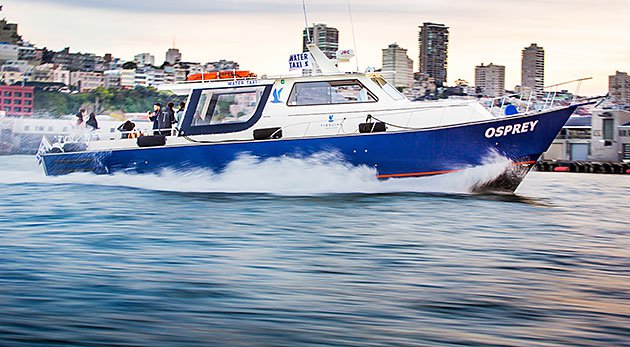 About
Tideline is an official Port of San Francisco water transportation service offering public and private commuter service, Bay cruises and private charter trips around the San Francisco Bay. Founded by local Marin County residents, Tideline is committed to serving the Bay Area community and its visitors while respecting the environment. Tideline's public and private commuter shuttles are a great solution for those in the East Bay looking to avoid heavy traffic and crowded BART trains. The Berkeley to SF commuter ferry takes 30 minutes to travel including boarding and disembarking. There's WiFi, beverage service and flat screen TVs onboard.
What you need to know:
Walking from Pier 52:
The CCA SF Campus is a 22 minute walk from Pier 52, see route.
Biking from Pier 52:
Bikes are allowed onboard, CCA is a 7 minute bike ride from pier 52, see route.
Pick-up a bike-share, or bring your personal bike on board from either Ferry drop-off.
CCA is a 22 minute walk from Pier 22, see route.
Or use SFMTA Trip Planner to plan your public transit connection from the ferry terminal.