32nd Annual Barclay Simpson MFA Award Exhibition
32nd Annual Barclay Simpson MFA Award Exhibition
+

Add to calendar
Tue, Jan 22 2019, 12PM - Thu, Feb 7 2019 5PM View map
161-151 Hubbell St, San Francisco, San Francisco, CA 94107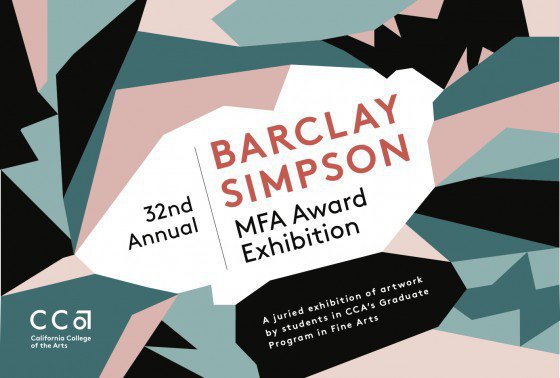 Organized by
CCA Exhibitions
Event description
The 32nd Annual Barclay Simpson Award Exhibition is a juried exhibition of artwork by CCA's Graduate Program in Fine Arts. 
Featuring the work of this year's award recipients:
Michelle Bonilla Garcia
Zoe Eagan-Gardner
Vincent Miranda
Luoyi Tong
Special thanks to this year's jurors, Susie Kantor, Associate Curator of Visual Arts at Yerba Buena Center for the Arts, and Astria Suparak, artist and independent curator.  
Barclay Simpson (1921–2014) was a trustee and generous supporter of CCA for over 28 years. The Barclay Simpson Awards began in 1987 with a generous donation from Barclay and his wife, Sharon.
Entry details
CCA Hubbell Street Galleries
Free and open to the public

Opening reception: Thurs., January 24, 5:30-7:00 p.m.
Gallery hours: Mon.-Fri., 12:00-5:00 p.m.; Thurs., 12:00-7:30 p.m.; Closed Saturday & Sunday