33rd Annual Barclay Simpson MFA Award Exhibition
33rd Annual Barclay Simpson MFA Award Exhibition
+

Add to calendar
Mon, Feb 10 2020, 12PM - Thu, Mar 5 2020, 5PM
CCA Hubbell Street Galleries | 161 Hubbell Street, SAN FRANCISCO, CA, 94107 View map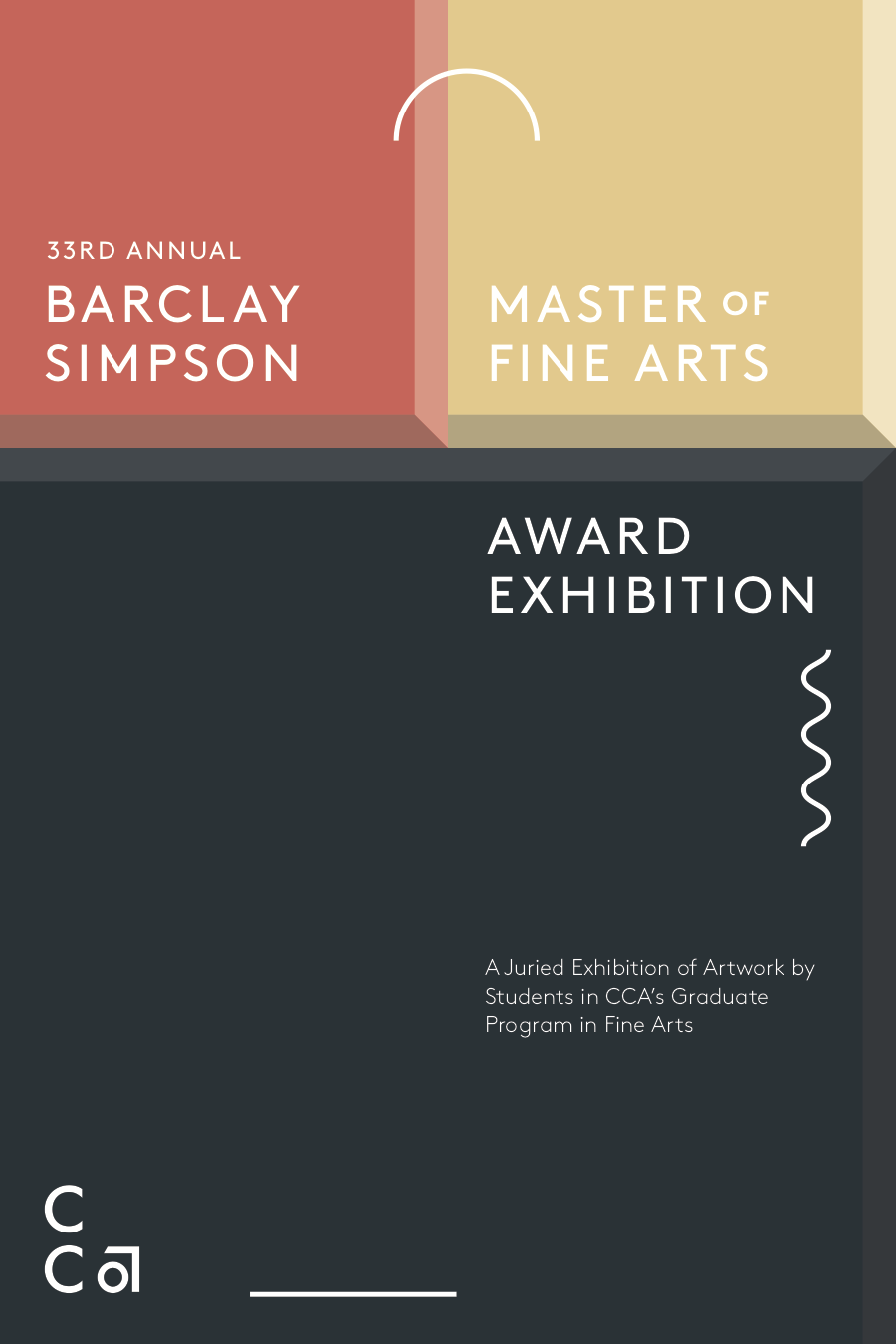 Organized by
CCA Graduate Fine Arts in conjunction with Exhibitions
Event description
33rd Annual Barclay Simpson MFA Award Exhibition
A juried exhibition of artwork by students in CCA's Graduate Fine Arts Program.

Featuring the work of this year's award recipients:
MARGOT BECKER
SANTINO GONZALES
SARAH KANNINEN
JAYMERSON PAYTON
Exhibition: February 10–March 5, 2020
Opening Reception: February 13, 5:30–7pm

CCA Hubbell Street Galleries
161 Hubbell Street
San Francisco, CA 94107
______
Since its inception in 1987, the Barclay Simpson Award has been granted to more than 100 students in CCA's Graduate Program in Fine Arts, helping them finish their degree work and launch their careers.


Each year the award is juried by outside experts who assess the work of second year MFA students and select four winners. The exhibition of the student award winners, and its opening reception, are among the hallmark events of the spring semester. 


Special thanks to this year's jurors, Vincent Fecteau and Léonie Guyer. Both are artists who live and work in San Francisco and who recently had solo exhibitions at the CCA Wattis Institute for Contemporary Arts.
Entry details
Free and open to the public. Gallery hours: Mon.–Fri. noon–5pm; Thurs. noon–7:30pm