Architecture Division Spring 2021 Final Studio Conversations
Architecture Division Spring 2021 Final Studio Conversations
+

Add to calendar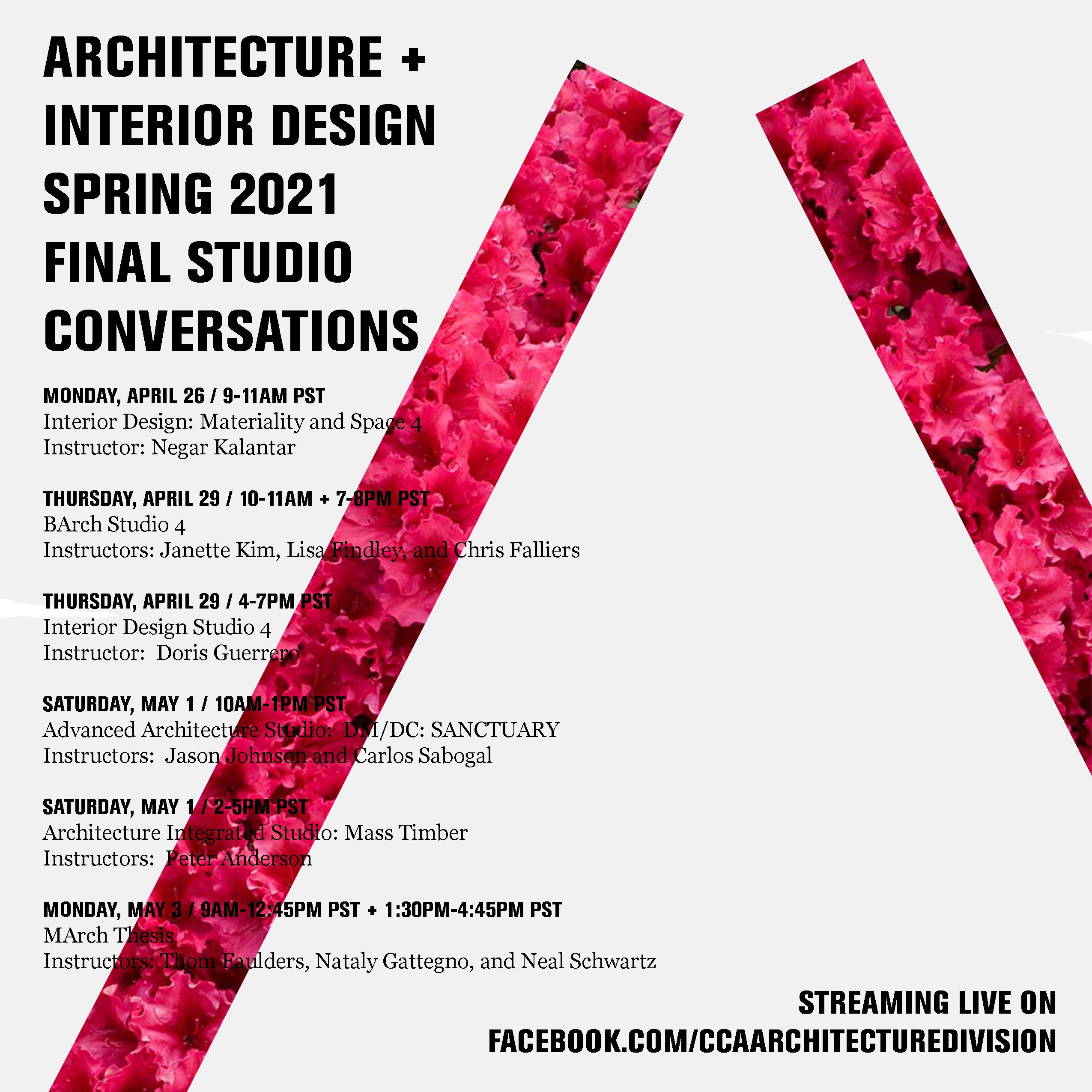 Organized by
CCA Architecture Division
Event description
Please join us for the Spring 2021 Architecture Division Final Studio Conversations, which will begin on Monday, April 26th and carry on through Monday, May 3rd. 
The CCA community, as well as, the public are welcome to watch via our Facebook page.
MONDAY, APRIL 26

9-11AM PST
Interior Design: Materiality and Space 4
Instructor: Negar Kalantar
The visible surfaces of materials work to organize and structure interaction, perception and performance. In MS4 students develop material prototypes using hybrid processes, manual shop work and digital fabrication. Topics and techniques in contemporary digital fabrication are presented to students through a series of readings, short exercises, and precedent studies. Students are trained in the use of rapid prototyping, laser-cutting, and CNC milling. Students will work individually on a series of small fabricated models exploring the craft of digital fabrication through close attention to material properties and effects, machine precision, structure, and geometric logic.
THURSDAY, APRIL 29
10-11AM + 7-8PM PST
BArch Studio 4

Instructors: Janette Kim, Lisa Findley, and Chris Falliers

This studio focuses on housing: through the analysis of history, type and precedents, through lectures and field trips, through study of housing's influence on urban form, and through focused design investigation. Disability codes, energy regulations, exiting requirements, and constructional systems become an integral part of the student work. Cultural and social factors that affect the design and use of housing are also included. A multi-family housing project is the final project of the semester.Students will be sorted into groups by the Chair of Undergraduate Architecture prior to the first course meeting.
THURSDAY, APRIL 29
4-7PM PST
Interior Design Studio 4
Instructor:  Doris Guerrero
This junior-level studio requires students to take analytical and critical stances before making formal design moves. A series of graphic and diagrammatic exercises precede a larger project that challenges the students' sense of scale and complexity while maintaining principles of design for the human body as learned in earlier studios. Students at this level will be asked to envelope interpersonal activities and exchange in more civic settings than in previous studios. Studio Practice 4 will focus on the verbs comprising these transactions rather than nouns and traditional labels. Traditional typologies will be in question. Scale and complexity will be approached via studies in simple enlargement vs. accumulation and composition of repetitive elements. Cultural context will temper these abstract maneuvers in order to maintain a relevance to contemporary thought. By the end of Studio Practice 4, each student will be an agent of modern culture with a design skill set that will allow them to make innovative and culturally vital, yet logical space.

SATURDAY, MAY 1
9:30AM-12PM PST

Advanced Architecture Studio:  DM/DC: SANCTUARY

Instructors:  Jason Johnson and Carlos Sabogal

The studio explores speculative futures for the western section of the San Francisco-Oakland Bay Bridge. Similar to the recently replaced eastern section, the western bridge will soon become obsolete. Instead of tearing it down, the studio explores the reuse of the bridge's superstructure as a social, cultural and ecological catalyst for the region. 

SATURDAY, MAY 1
2-5PM PST
Architecture Integrated Studio: Mass Timber

Instructors:  Peter Anderson

As an Integrated Studio, students in this section take on the full spectrum of the architectural process, beginning, as all projects should, with an open discussion of why, how, where and for whom do we build.  From there, we quickly move on to apply this consciousness to the specific challenges of site and program provided by our (fictitious) client, who is asking us to design a multi-functional building to house research, education and entrepreneurial activities promoting carbon-neutral construction. A mass timber structural building system is prescribed by the client, who is envisioning an institution and a community where people can live, work and learn, in person and through virtual connections. 

MONDAY, MAY 3
9AM-12:45PM PST + 1:30PM-4:45PM PST

MArch Thesis 

Instructors: Thom Faulders, Nataly Gattegno, and Neal Schwartz

Graduate Architecture students complete their studies in year-long study of a well-defined architectural interest. This is an opportunity to speculate on the discipline: to challenge and redefine architectural knowledge in the context of a specific problem. In the Thesis Studio students develop a research topic initiated in Fall into a robust design proposition in Spring.
Entry details
Free and Open to the Public