The Dunsels: Drew Davis
+

Add to calendar
Thu, Oct 10 2019, 5:30PM - Thu, Oct 31 2019 5:30PM View map
PLAySPACE Gallery | 141 Hubbell Street, San Francisco, CA 94107
Part of event series: PLAySPACE 2019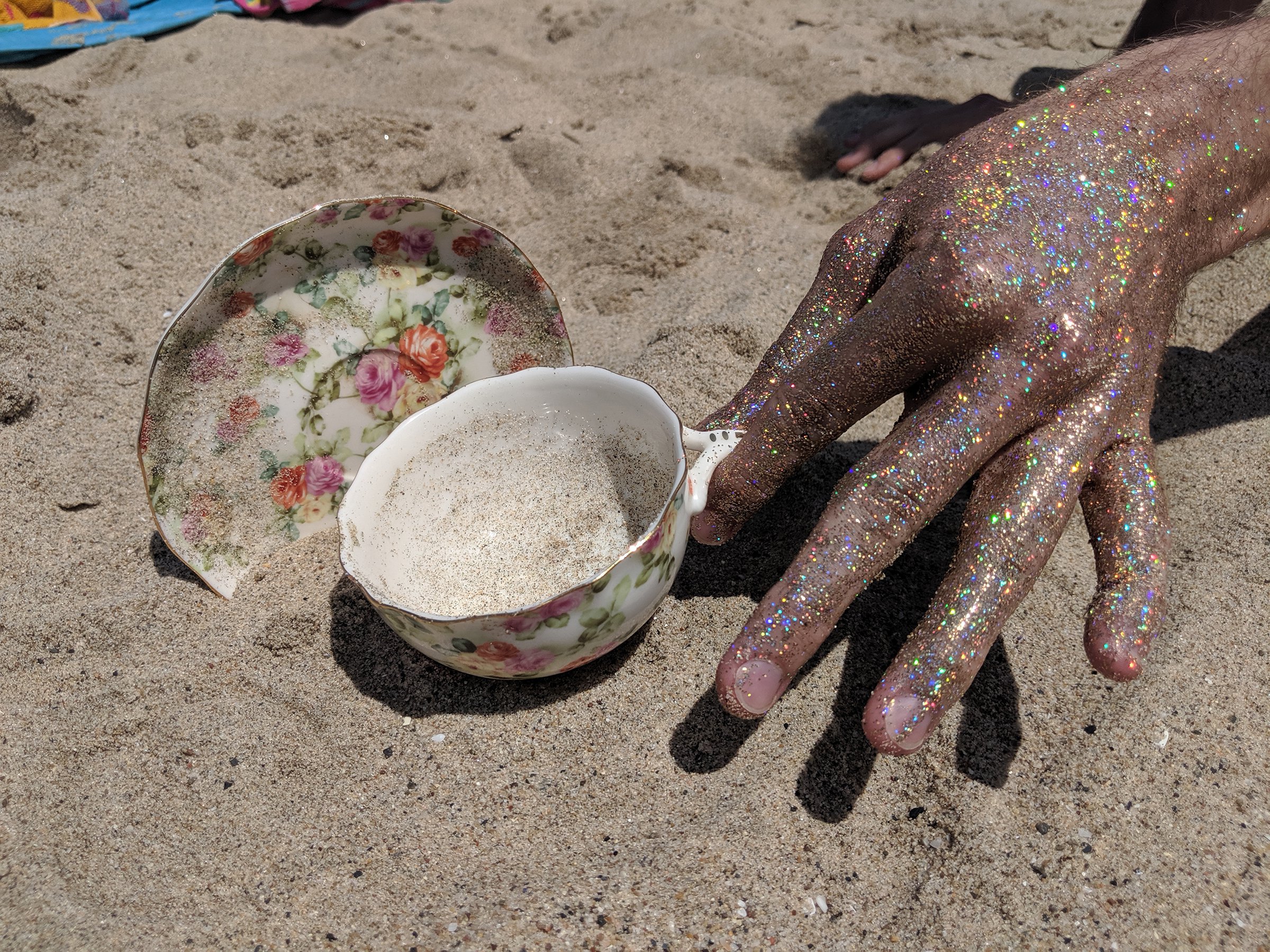 Organized by
CCA Exhibitions
Event description
The glittering grit of a sun-baked beach chars pumiced soles. The sea breeze coaxes garish kites and parasols to undulate in rhythm with its waves. A cacophony of projectiles whiz through the air, balls and frisbees ricocheting through drifting aromas of coconut sunscreen, freshly cut mango, and sea brine. 
Oh, the sea! She soothes and beckons you to her shallow edges. 
She wishes to envelop you in her carefree ease. She sways to seduce you.  
The beach is an embodiment of sensory dichotomy. The sun beats our skin, yet its warmth wanes as the gusty sea breeze cools and refreshes the body. The sand's granular abrasions are mitigated to smoothness as soon as you step into the silky saline water. Bodies alike sway with her to no reason. 
Glistening in the noon daylight, a scene is constructed from glitter to simultaneously demarcate and fuse this natural space. The seams of pale ground, green water, white foam, and soaked sand coalesce as this resplendent thread of glitter leads them together. In contrast, the location also mirrors metaphysical reactions. The infinitesimal size of the ocean stitched with its stunning horizon. The intensity of scale here provides a backdrop to relaxation. We taunt the water skipping over tiny waves and frolic in it, pushing forward tiny splashes in mere trifles against gargantuan waves, whose power we have forgotten. 
A dunsel is something that is useless, superfluous, or unnecessary.
Drew Davis was born in the suburban sprawl of central Arizona. He received his BFA from Otis College of Art and Design in 2016. Davis's recent work embraces the post-war era ideals of the suburban good-life by examining and enacting leisure activities. Using site-specificity as the starting point, he develops the projects from the associations of said location. Davis posits leisure as the atomic unit by which individuals begin self-reflection and thus internal transformation. Davis will be relocating to Singapore by the end of the year, moving his practice there.

The Dunsels was co-commissioned by PLAySPACE and Public Pool Gallery and serves as the second exhibition for DISCODAZE: Side B at CCA's PLAySPACE Gallery. Curated by Fiona Ball with Yomna Osman and Orly Vermes. 
Entry details
CCA Hubbell Street Galleries | PLAySPACE
Free and open to the public
Opening reception: Thursday, October 10, 5:30–7:30pm
Gallery hours: Thursdays, 4–7:30pm