Luminous Matter: Afrofutures, Black Queer Feminism, and Storytelling
Luminous Matter: Afrofutures, Black Queer Feminism, and Storytelling
+

Add to calendar
Thu, Mar 3 2022, 7:30PM - 9PM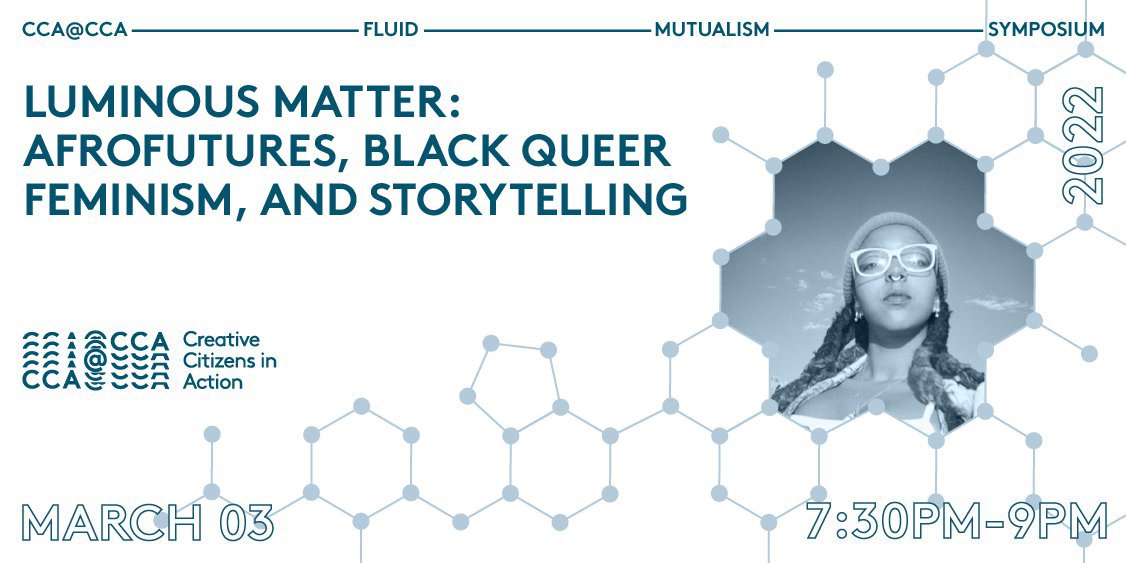 Organized by
Creative Citizens in Action (CCA@CCA)
Event description
Capacity is limited to 25 participants; registration is required. Register now ➞

shah noor hussein (they / them) is a writer, visual artist, and doctoral pre-candidate in the Department of Anthropology, with a designated emphasis in Critical Race & Ethnic Studies. shah's research aims to (re)center marginalized voices in dialogues on alternative epistemologies and cultural reproduction through a multimedia study of popular culture and women's music in Sudan. They have served as a Writing Fellow at the California Institute of Integral Studies (2016-2017), a Teaching Fellow for the Peralta Community College System in Oakland (2018-2019), and a Graduate Pedagogy Fellow with the Center for Innovations in Teaching and Learning at UCSC (2020-2021). shah's poetry has been featured in the LA Review of Books (2020), Umber (2019), and CUNJUH (2017) as well as performed at the Museum of the African Diaspora (2020), Berkeley Art Museum & Pacific Film Archive (2018), and the African American Arts & Culture Complex (2018), to name a few. shah has taught courses and led writing workshops at Stanford University (2020), Laney College (2019), and UC Berkeley (2018). Their films have screened on local and international stages from SoMArts Cultural Center in San Francisco (2016)  to the Aguas Migrantes Film Festival in Mexico (2018) to the American Associations of Geographers conference in New Orleans (2022). shah earned their B.A. in environmental policy and gender studies, and their M.A. in Anthropology and Social Change.
Entry details
Free and open to Black & Indigenous folks only. Capacity is limited to 25 participants; registration is required. Please register via the link in the event description.
This event is part of the CCA@CCA Fluid Mutualism Symposium and is funded by an endowment gift to support The Deborah and Kenneth Novack Creative Citizens Series at CCA, an annual series of public programs focused on creative activism.