Memory in the Bones: Restitution through Visual Art
Memory in the Bones: Restitution through Visual Art
+

Add to calendar
Fri, Mar 4 2022, 11AM - 12PM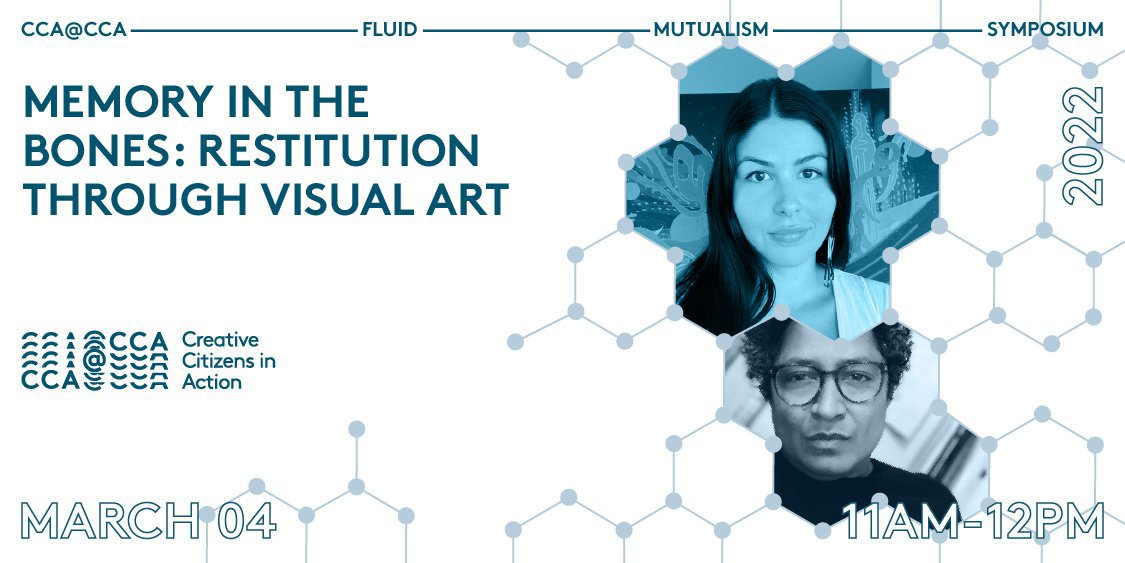 Organized by
Creative Citizens in Action (CCA@CCA)
Event description
Quill Christie-Peters is an Anishinaabe arts programmer and self-taught visual artist currently residing in Northwestern Ontario. She currently works as the Director of Education for the Indigenous Curatorial Collective. She is the creator of the Indigenous Youth Residency Program, an artist residency for Indigenous youth that engages land-based creative practices through Anishinaabe artistic methodologies. She holds a Masters degree in Indigenous Governance on Anishinaabe art-making as a process of falling in love and sits on the board of directors for Native Women in the Arts. Her written work can be found in GUTS Magazine and Tea N' Bannock and her visual work can be found at @raunchykwe.
Valincy-Jean Patelli is a self-taught Black Nonbinary artist working and living in Brooklyn, New York. Patelli experiments with three dimensional textures to create mixed-media works and sculptures. This nonlinear process allows them to blend stories from their ancestors with historical, theoretical and Yoruba cultural references that stem from the African diaspora. Valincy is interested in examining the disenfranchisement and marginalization of Queer and Black American culture. Patelli's work has been exhibited in numerous group shows and belongs to collections in North America and Europe. Residencies include Patio Taller Residency in Puerto Rico, 2014 and a self-directed residency in Berlin, Germany 2015-2017. The Sheen Center, NYC invited Patelli to participate in Little Rock 9: 1957, a group show in 2018. Currently, their work is part of the UNRPED group show in Los Angeles 2020-2022.
Entry details
Free and open to the public
This event is part of the CCA@CCA Fluid Mutualism Symposium and is funded by an endowment gift to support The Deborah and Kenneth Novack Creative Citizens Series at CCA, an annual series of public programs focused on creative activism.