Our Share / Your Slice: Asian American and African American Solidarity (Part 1)
Our Share / Your Slice: Asian American and African American Solidarity (Part 1)
+

Add to calendar
Mon, Apr 4 2022, 9AM - 11AM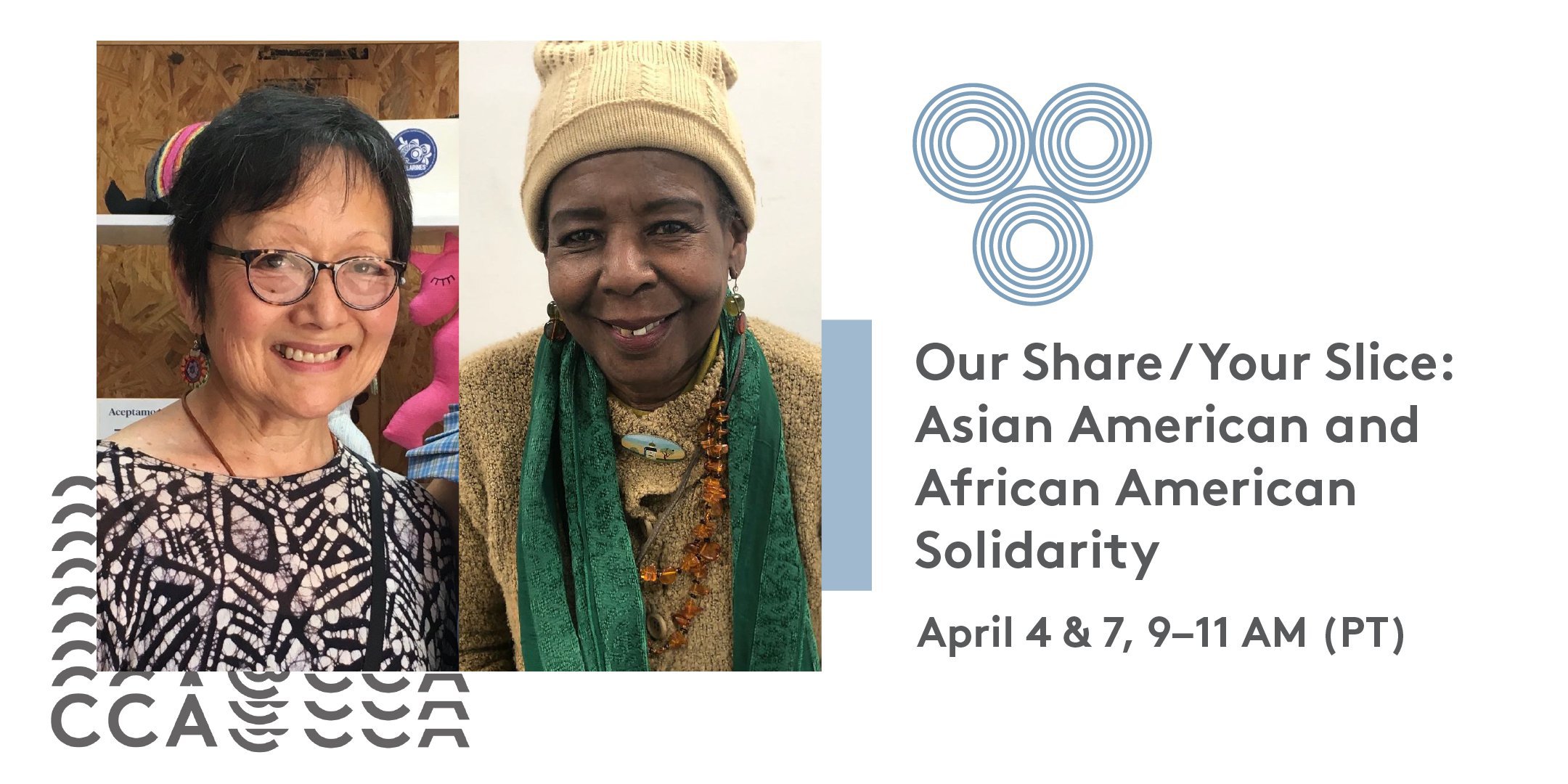 Organized by
Pallavi Sharma, Adjunct 2, Critical Ethnic Studies Program
Event description
Our Share/Your Slice is an opportunity for participants to listen, reflect and engage as the co-facilitators, Tomyé Neal-Madison and Ellen Bepp compare and contrast their personal histories, attitudes, life experience growing up on two opposite coasts in the 50s/60s. Although living in parallel worlds as an African American and a Japanese American artist, life ultimately reveals their connections due to political issues that inform their art advocacy.
"Our Share/ Your Slice" will take place on Monday, April 4, 9–11am, and Thursday, April 7, 9–11am, via Zoom. Register for this two-part workshop ➞
Ellen Bepp is an Oakland-based visual artist and taiko (Japanese drum) musician.  Since the 1980s her mixed media work, wearable art and hand cut paper have been exhibited nationally in museums and galleries. Her art speaks from her experience as a Japanese American, calling out for social justice and addressing the legacy of the WWII American concentration camps. She first learned about Japanese art and culture from her immigrant grandparents who practiced the Japanese arts and she draws inspiration from that rich source. Her subsequent interest in the folk art traditions of Asia and Latin America led to her textile arts research in Indigenous communities and humanitarian exchanges in Guatemala, Peru, Mexico, Nicaragua and Cuba. Those connections inform her work which honors ancestral wisdom and focuses on issues of displacement, identity and memory.

Tomyé Neal-Madison is a visual storyteller. Tomyé moved from Philadelphia to San Francisco after receiving a BFA from Moore College of Art & Design in 1973. After working in advertising for a couple of years, Tomyé began a career as a freelance fine artist and in fine art sales, working with retailers such as Shreve & Co., Petri's in Sausalito, The Ebony Museum and Earth n' Arts in Oakland, as well as the Oakland Museum Rental Gallery, and Expressions in Berkeley. During the 1990s, Tomyé participated in Women's Initiative for Self Employment and received an MFA Certificate in Public Arts Administration from Golden Gate University in San Francisco. Tomyé served as Acting Director and subsequently Director of the non-profit gallery Oakland Center for Visual Arts, CVA (1992-1999). Tomyé has also worked with the City of Oakland's Parks and Recreation Dept. as a Visual Arts Specialist (Instructor). Interacting and listening to youth and adult students who speak different languages, Tomyé began shifting the imagery in her ink drawings, gouache paintings, collages, and fused slumped glass artworks, from things and facades to people partaking in universal light-hearted experiences. During the 2000s, her images included depictions of disheartening movements and people raising voices for change.
Entry details
Free and open to the public
This event is funded by an endowment gift to support The Deborah and Kenneth Novack Creative Citizens Series at CCA, an annual series of public programs focused on creative activism. The 2021–2022 Creative Citizens Series will focus on four pillars of the Communal Flower, a model for understanding communality in the ancient philosophy and daily practice of various Indigenous nations in southern Mexico: land, communal responsibility, assembly and joy.