Part 2: Spring 2023 Game Week
Part 2: Spring 2023 Game Week
+

Add to calendar
Thu, Mar 9 2023, 12PM - Sun, Mar 12 2023, 9PM
Game Arts Homeroom, 250 & The Nave | 1111 8TH STREET, SAN FRANCISCO, CA, 94107 View map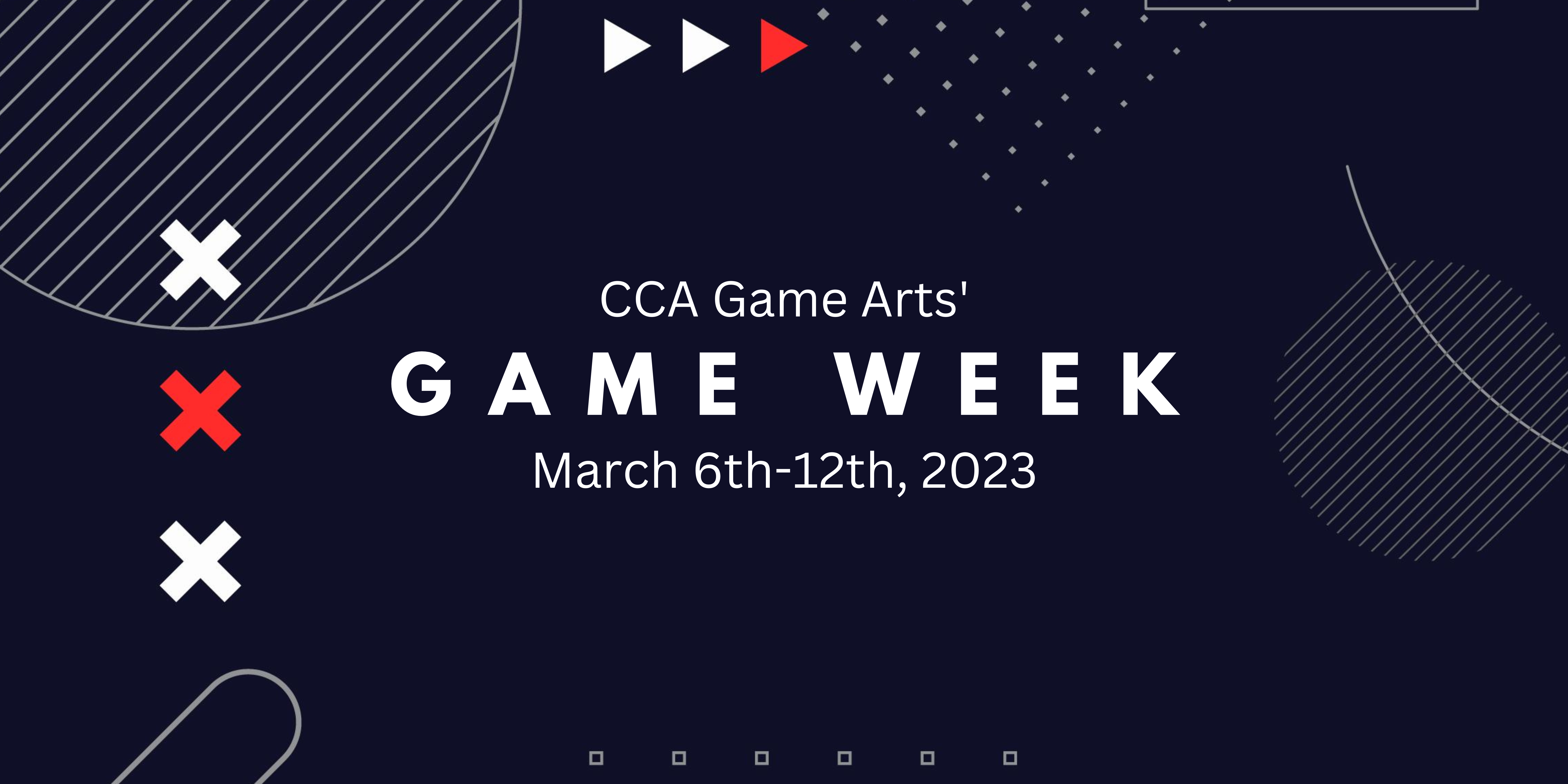 Organized by
Game Arts Program
Event description
Welcome CCA's Game Week, a celebration of games, art, game scholarship, and artists working in the medium of games! 
Check out below for our events occurring in the second half of Game Week: March 9th-March 12th.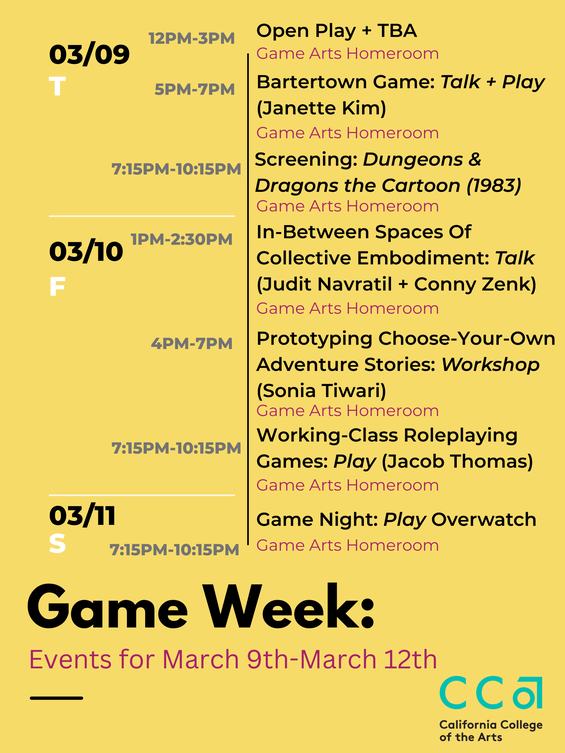 Janette Kim | Bartertown Game Play  03/09 5PM-7PM

Janette Kim is assistant professor and director of Urban Works Agency at California College of the Arts and founding principal of All of the Above. Her work focuses on the intersection between ecology, social equity and the built environment. Janette is author of The Underdome Guide to Energy Reform and founding editor of ARPA Journal. Her projects include the Resilient by Design Bay Area Challenge, the Win-Win board game series, a boutique hotel in Sichuan, Safari audio tours on urban ecology, Pinterest Headquarters, National AIDS Memorial, and the Fall Kill Creek Master Plan.

Event Description:
Join us to play Bartertown, a board game that imagines a world without money to test how social networks can be reshaped by an economy of favors and resource-sharing. The game acts as a decision-making tool for a warming world, one that fosters new relationships between economies, design, and the public. In this event, 5-10 people will play the game hands-on, and all others are welcome to watch play unfold.

Viewing | Dungeons & Dragons: the Cartoon 03/09 7:15PM-10:15PM

All are welcome to attend screenings of game-focused visual media screened in the Game Arts Homeroom. 
Event Description:

Join us in the evening to view episodes from the first season of the 1983 animated series Dungeons & Dragons: the Cartoon, one of the earliest pop cultural representations of the classic roleplaying game produced at the height of the game (and the roleplaying game genres) golden age. 
Judit Navratil + Conny Zenk  |  In-Between Spaces Of Collective Embodiment 3/10 1PM-2:30PM
Judit Navratil's practice is multivalent, engaging performance, social practices, drawing, as well as video and extended realities. Her projects are as much affective mappings of what it means to continuously oscillate between analog and digital, past and present; an immigrant's attempt to construct "home." Navratil uses her body-device to keep balance through her compass-meditation: the Long Distance Somersault career. Rolling as far as she can helps her seeking higher alternatives and to gaze in the Eye of the Hurricane. Navratil earned an MFA in Painting at the Hungarian University of Fine Arts in 2008 and an MFA at the California College of the Arts in San Francisco in 2019. She has been exhibiting in Hungary, Canada, France, Korea and the Bay Area. Her work has been recognized through awards including the Cadogan Art Award, a residency at Cité Internationale des Arts (Paris) and the Parent Award of Kala Art Institute. 
Conny Zenk is a media artist working at the intersection of performance, video and sound in the context of urban architecture, feminism and the city. Their working method is transdisciplinary and artistically explorative using digital and analog interfaces, vehicles, and media. In 2017, they started the participatory event series RAD Performance. They have organized Night Rides and Art Rides (Art Ride X) since 2014, which took place as part of CITY OF NOISE with Viennese record labels. Entitled Dance your Bike! she is developing a new composition format for the bicycle, as part of an Artistic Research Pilot Project at the University of Music and Performing Arts Vienna. Since 2020, they have been working on a new music format such as Soundrides in public space. Conny Zenk has been working as an artist in the field of Visual Music since 2007. They are a visual member of the band VENTIL and a synth-bike musician with CyberHypercycle. Conny Zenk studied digital art at the University of Applied Arts Vienna, as well as Experimental and Electroacoustic Music at the University of Music and Performing Arts Vienna. 

Event Description:
Understanding digital spaces as public and communicative places of gatherings, activated soundscapes for critical engagement with our physical and mental environment. Conny Zenk is founder of RAD Performance, a collective experience of artistic Group Rides, Sound Art and performances in public space. Judit Navratil has been nurturing VR Art Camp, a social VR art residency and communal art place built with care since 2020. They will exchange their experiences building online and offline communities, mobile safer spaces and guide the audience to co-create and explore their field of research collaboratively.

Sonia Tiwari | Prototyping Choose Your Own Adventure Stories 03/10 4PM-7PM
Dr. Sonia Tiwari is a Learning Experience Designer who focuses on developing children's educational products informed by qualitative research
Event Description:
Join Dr. Tiwari for a workshop that will feature an introduction and experiential practice of prototyping interactive choose-your-own-adventure stories using the Figma platform. 

Jacob Thomas | Working-Class Roleplaying Games (Play) 7:15-10:15PM
Jacob Thomas (They/Them/He/Him) is a game master, game designer, labor organizer, black metal vocalist, and independent academic originally from Marshall County, West Virginia. A 17-year veteran of the Berkeley Unified School District's Special Education Department and a lifelong Dungeon Master, Jacob heads Acephale Winter Productions, the Bay Area's oldest continuously operational cassette label and is currently helping to develop what is likely the world's first truly 'Zizekian' roleplaying game. 
Event Description:
Join us as we explore the recent emergence of working-class themed horror and science fiction RPGs, discussing their cultural import and potential for appropriation, and, most importantly, rolling up characters and playing one or more of these roleplaying games. 

Entry details
Open to CCA Community!