Unsettle + Sanctuary 2121: Future Visions for the Bay Bridge
Unsettle + Sanctuary 2121: Future Visions for the Bay Bridge
+

Add to calendar
Sat, May 15 2021, 11AM - Thu, Jun 3 2021, 9PM
Space 37 | SF Ferry Building, San Francisco, California, 94105 View map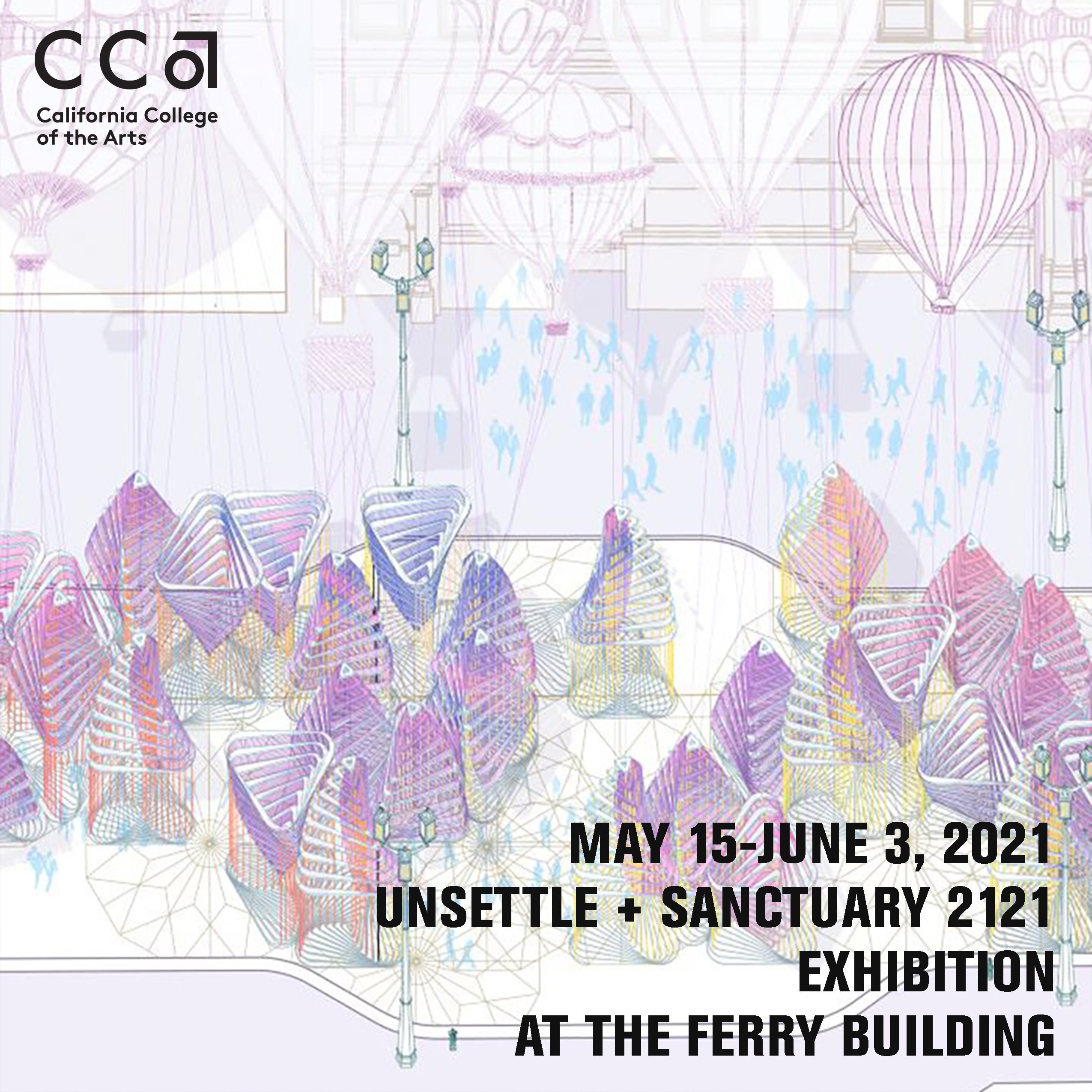 Organized by
CCA Architecture
Event description
UNSETTLE
Master of Architecture Thesis & MAAD Speculations 

Faculty: Thom Faulders, Nataly Gattegno, Neal Schwartz, Irene Cheng and Brian Price
SANCTUARY 2121: FUTURE VISIONS FOR THE BAY BRIDGE

Architecture Advanced Studio 
Faculty: Jason Kelly Johnson & Carlos Sabogal
In a year where gathering together was forbidden, CCA graduate architecture students looked to the future. Thinking through ways architecture could bring people and their environments together, this selection of work considered how we can be together when there are so many variables in the time ahead. Such considerations for the public and private life of individuals, families, and communities are evident in how these thesis projects have hope for the future but also emphasize the need for change, addressing issues such as racism in urban planning and the ongoing climate crisis. 
Appropriate for the "Pop-Up" theme, more young architects favor malleable, unsettled spaces that move and adapt to increasingly unstable environments. Rather than designing spaces that resist elements of change, students embrace concepts and practices that ebb and flow, demonstrating a preference for the subtle—the non-monumental. 
Architecture professors Jason Kelly Johnson and Carlos Sabogal's advanced architecture studio "Sanctuary City" takes on the anti-monumental by studying the Bay Bridge. In their studio, the faculty and students reconsider and imagine alternative possibilities for bridges within urban culture as both functional sites for transportation and symbolic sites of connection and relation. Thinking through transportation infrastructure as heterogeneous spaces rather than mono-functional sites of binary movement, the projects from this studio ask: What emerges if we expand the definition of what public space is, where it can be, and whom it might serve?
Exhibiting students include: Maryam Liaghatjoo, RJ Hafiz, David Rico Gomez, Jung Yong Kim, Leo Miranda, Mason Denton, Eve Tobey, Ashley Rodriguez, Mariajose Angueta, Sanyukta Bhagwat, Michelle Boyd, Javier Breceda, Roxana Breceda, Pietro Carini, Londie Delgado, Sergio Esquinca, Celdin Fajardo, Samuel Higgwe, Shih Ting Huang, Jennifer Jimenez, Lina Kudinar, Kaichen Lu, Marc Northstar, Daniel Ramirez, Geetika Rohra, Alexander Roos, Marion Rosas, Adrian Salinas, Mahshid Tabatabaei, Elmer Wang, Yihan Wang, Brian Wu, Xiao Xiao, Wan Yan, and Yuyi Zheng.
Entry details
Free and Open to the Public | Hours of Operation: Mon-Sun 6-9pm