Reclaiming Land Pt. I: Property in Crisis
Reclaiming Land Pt. I: Property in Crisis
+

Add to calendar
Mon, Sep 21 2020, 6PM - 7:30PM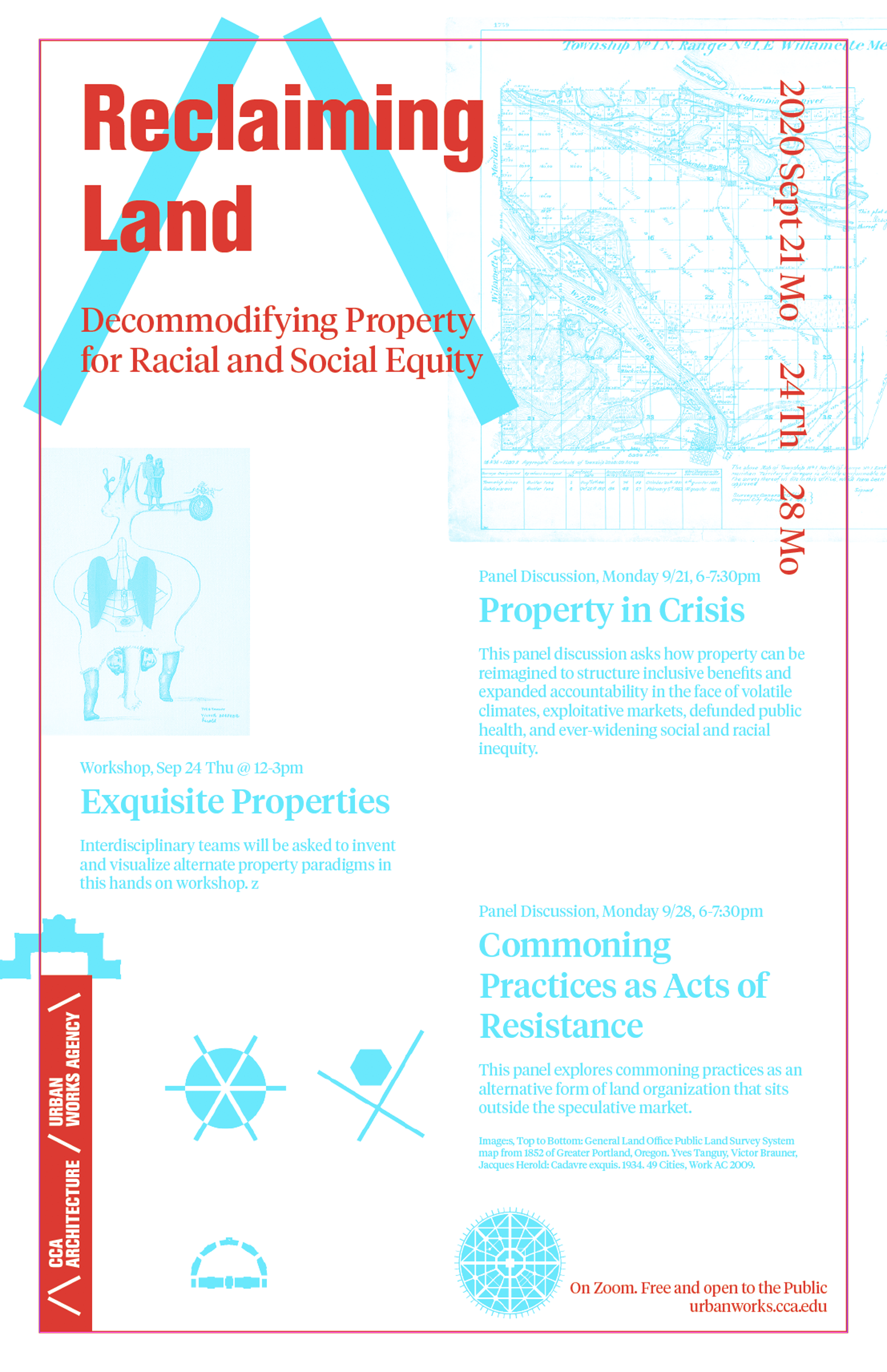 Organized by
CCA Architecture Division + Urban Works Agency
Event description
Reclaiming Land Symposium:
De-commodifying Property for Racial and Social Equity 
From the Jeffersonian grid to the community land trust, the way land is platted and leveraged as property defines racial and social justice by shaping opportunities for wealth creation, sociability narratives, and environmental ethics. Ownership models typified by the single-family home have famously calcified conventions of stability and self-interest. Yet the structural logics behind property—belonging, the commons, liability, maintenance, and profit—are also a site for experimentation far beyond. In this sense, architects and planners can work with activists, policy makers, economists and ecologists to overhaul orchestrations and representations of power by reshaping property. This symposium brings together scholars and practitioners from diverse disciplines to ask how property can be reimagined for equity and inclusiveness.  
Part 1: Property in Crisis
This panel discussion asks how property can be reimagined to structure inclusive benefits and expanded accountability in the face of volatile climates, exploitative markets, defunded public health, and ever-widening social and racial inequity. While crisis has famously been framed as an 'opportunity,' it is perhaps even more transformative as an event that recasts previously 'acceptable' losses as something ethically intolerable. Resistance and resilience to crisis requires reconciliation with past injustices as well as contemporary volatility. In this light, property has long afforded protection from risk and protection for those with wealth. Instead, what inventive reconfigurations of property or alternatives to it—across spatial, cultural, legal and financial definitions of land ownership—can further equity in the face of crisis? How can property recognize the value of labor, ancestral rights, networks of care and kinship? Who stands to gain wealth from property, and be held responsible for its impacts? What kinds of collectives can be defined accordingly? 
Speakers: Katharina Pistor (Columbia University), Noni Session (East Bay Permanent Real Estate Cooperative), Jonathan Tate (Office of Jonathan Tate), Kyle Whyte (Michigan State University). Moderated by Janette Kim (California College of the Arts). 

Presented by CCA's Urban Works Agency.

Entry details
Free and Open to the Public