Reclaiming Land Pt. II: Exquisite Properties
Reclaiming Land Pt. II: Exquisite Properties
+

Add to calendar
Thu, Sep 24 2020, 12PM - 3PM
Virtual Event RSVP Required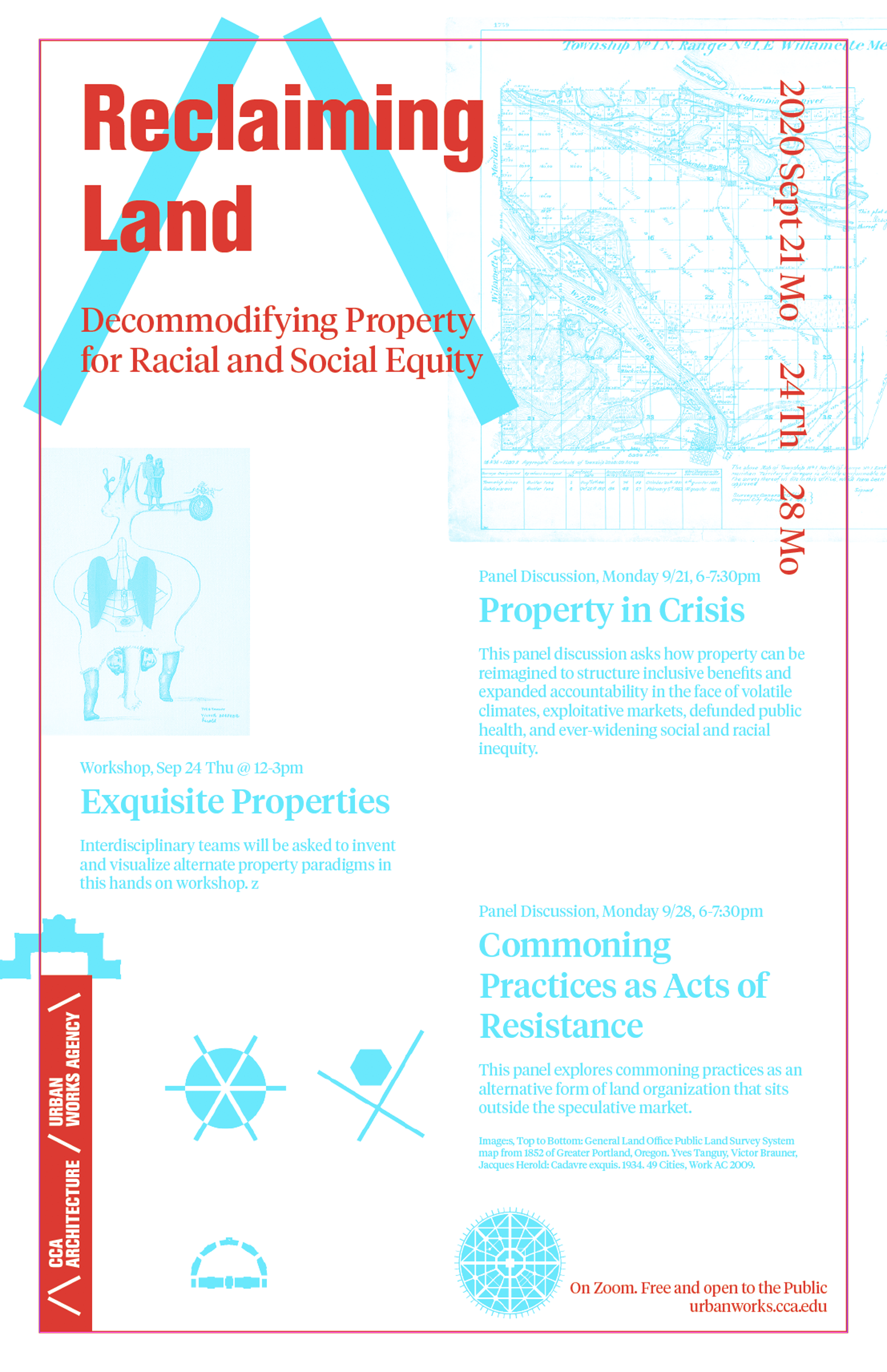 Organized by
CCA Architecture Division
Event description
Reclaiming Land Symposium
De-commodifying Property for Racial and Social Equity 
From the Jeffersonian grid to the community land trust, the way land is platted and leveraged as property defines racial and social justice by shaping opportunities for wealth creation, sociability narratives, and environmental ethics. Ownership models typified by the single-family home have famously calcified conventions of stability and self-interest. Yet the structural logics behind property—belonging, the commons, liability, maintenance, and profit—are also a site for experimentation far beyond. In this sense, architects and planners can work with activists, policy makers, economists and ecologists to overhaul orchestrations and representations of power by reshaping property. This symposium brings together scholars and practitioners from diverse disciplines to ask how property can be reimagined for equity and inclusiveness. 
Part II: Exquisite Properties Workshop
In this hands-on workshop, interdisciplinary teams will be asked to invent and visualize alternate property paradigms. Scholars, practitioners and students will work collaboratively to define strategies and create visualizations inspired by the Surrealist collaborative drawing game cadavre exquis, or exquisite corpse. 
Participants: Billy Fleming (The McHarg Center), Adam Marcus (California College of the Arts); Eric Wycoff Rogers (Cambridge University), Colleen Sanders (Confederated Tribes of the Umatilla Indian Reservation), Noni Sessions (East Bay Permanent Real Estate Cooperative), and Maia Small (San Francisco Planning) with Janette Kim, Antje Steinmuller, Neeraj Bhatia and Chris Roach (California College of the Arts).
Presented by CCA's Urban Works Agency.
Entry details
Streaming live on Zoom. Participation is open to the public but space is limited. Please RSVP by emailing your name and affiliation to janettekim@cca.edu.