Reclaiming Land Pt. III: Commoning Practices as Acts of Resistance
Reclaiming Land Pt. III: Commoning Practices as Acts of Resistance
+

Add to calendar
Mon, Sep 28 2020, 6PM - 8PM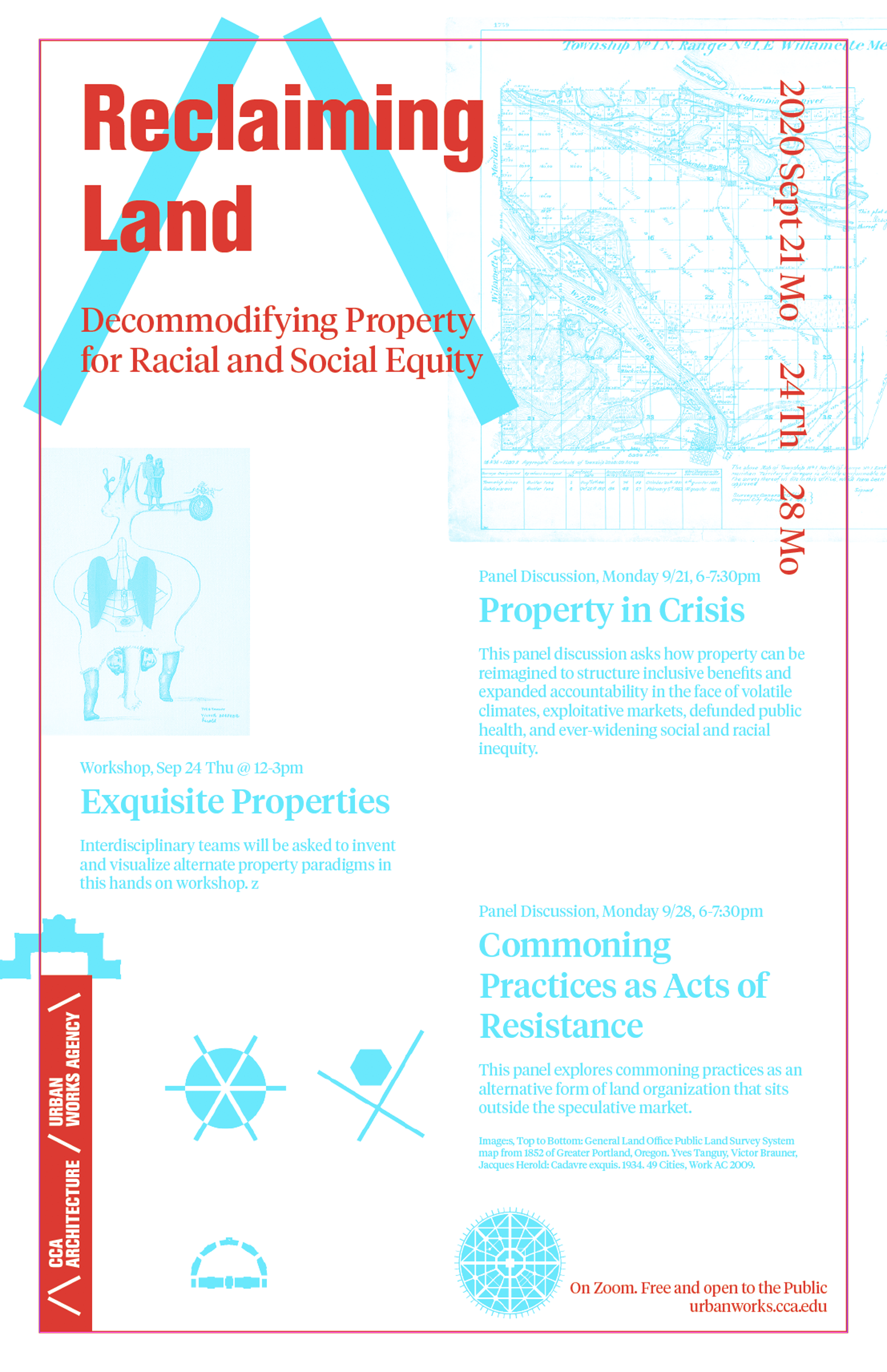 Organized by
CCA Architecture Division + Urban Works Agency
Event description
Reclaiming Land Symposium
Decommodifying Property for Racial and Social Equity 
From the Jeffersonian grid to the community land trust, the way land is platted and leveraged as property defines racial and social justice by shaping opportunities for wealth creation, sociability narratives, and environmental ethics. Ownership models typified by the single-family home have famously calcified conventions of stability and self-interest. Yet the structural logics behind property—belonging, the commons, liability, maintenance, and profit—are also a site for experimentation far beyond. In this sense, architects and planners can work with activists, policy makers, economists and ecologists to overhaul orchestrations and representations of power by reshaping property. This symposium brings together scholars and practitioners from diverse disciplines to ask how property can be reimagined for equity and inclusiveness. 
Part III: Commoning Practices as Acts of Resistance
This panel explores commoning practices as an alternative form of land organization that sits outside the speculative market. We will look at alternative financial and planning models that span from public to private space, the city to the house, the top down to the bottom-up. This session will speculate on how land can more equitably be distributed and tap into experimental approaches from around the world that reimagine the platting, organization, and governance of land. Speakers are especially invited to consider commoning as an alternative to commodification. Central to this question are the ways in which spatial resources are held, governed, and stewarted by the commoners.
Speakers: Stefan Gruber (Carnegie Mellon), Robyn C. Spencer (Lehman College, CUNY), Stavros Stavrides (National Technical University of Athens), Georgeen Theodore (New Jersey Institute of Technology). Moderated by Antje Steinmuller and Neeraj Bhatia (California College of the Arts).

Presented by CCA's Urban Works Agency.
Entry details
Free and Open to the Public