Revelry & Representation
+

Add to calendar
Mon, Feb 3 2020, 3PM - 8PM
Nave Alcove | 1111 Eighth Street, San Francisco, California, 94107 View map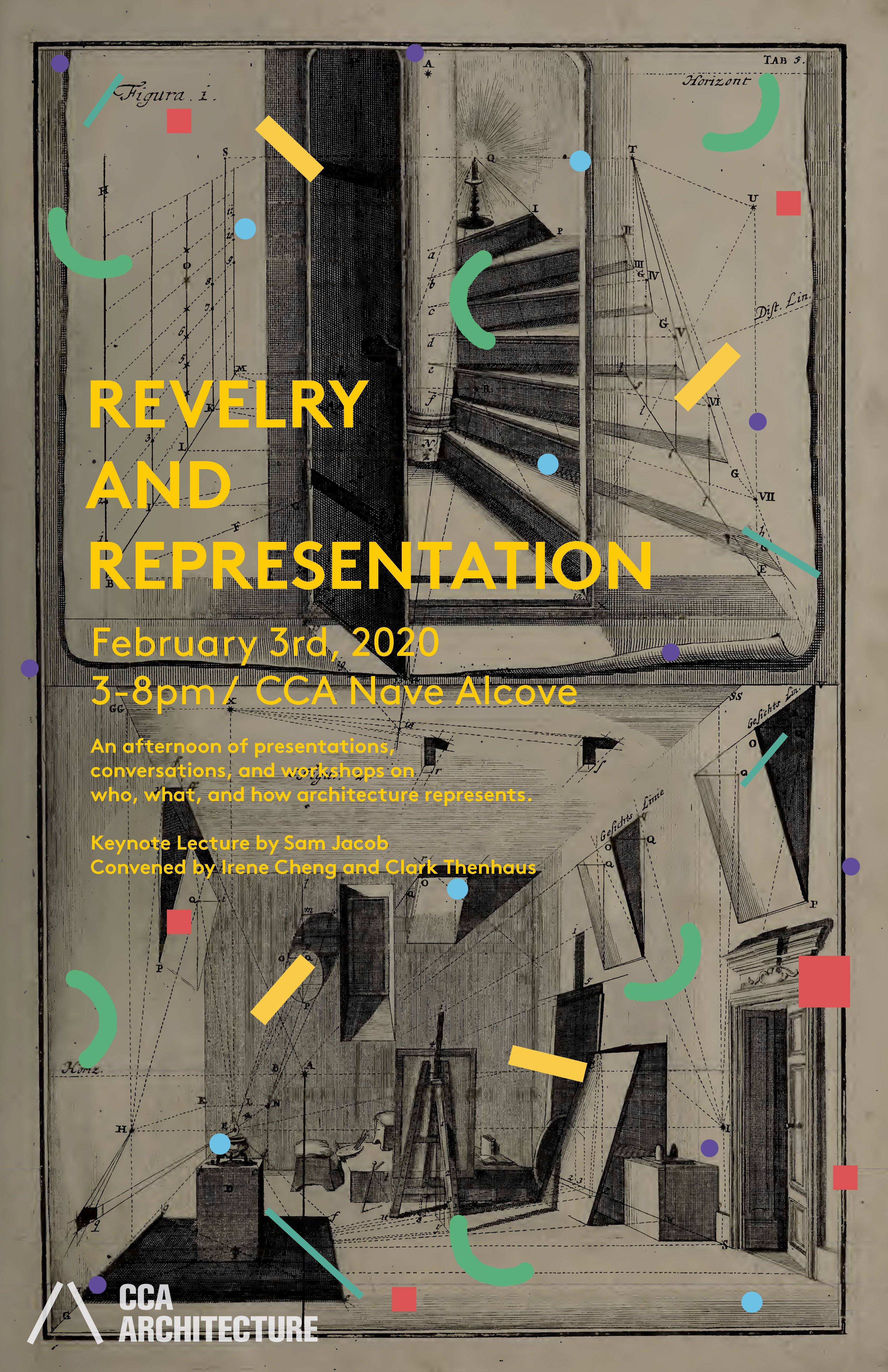 Organized by
Architecture Division
Event description
Organized by CCA Architecture faculty members Irene Cheng and Clark Thenhaus, Revelry & Representation is an open forum meant to draw out shared interests, overlaps, and differences within the college and beyond from a variety of positions, topics, and interests. 
The event will consist of both faculty and student presentations, a collective workshop, a discussion around the workshop work, and a keynote lecture by Sam Jacob. It will be both a reflection of interests within CCA's design media and history and theory streams, as well as an exploration of related topics around 'representation'. We firmly believe that this event will provoke dialogue, reveal shared interests and divergent paths of inquiry, and that it will enrich the collective body of work within our Division. 

The event is framed as an investigation into representation and its historical and theoretical contexts and ramifications. It explores CCA Architecture Division's first annual theme, Representation, by situating design media and history & theory as adjacent, yet distinct mediums of and for architectural intellection, speculation, and experimentation in contemporary architectural discourse, practice, and pedagogy. Revelry and Representation has solicited the participation of all students in the Division that are enrolled in all course. 
Sam Jacob, Principal at Sam Jacob Studio and Professor at University of Illinois, Chicago will present the keynote lecture at 6:30pm.
Sam Jacob is principal of Sam Jacob Studio for architecture and design, a practice whose work spans scales and disciplines from urban design through architecture, design, art and curatorial projects. Current projects include a gallery in south London, a new mixed use building in Hoxton, the remodelling of the V&A's Cromwell Road entrance, a new public toilet in London's West End and work for the National Collections Centre in Wiltshire. He has worked internationally on award winning projects and has exhibited at major museums such as the V&A, MAK, and The Art Institute of Chicago as well as cultural events including the Venice Architecture Biennale. He is Professor of Architecture at UIC, Chicago, and visiting professor at the University of Hong Kong and columnist for Art Review and Dezeen. Previously he was a founding director of FAT Architecture.

Entry details
Free and open to the public.
This event is being held in a wheelchair accessible building. Visitors may be asked to show identification and sign in at the entrance to the building. The lecture room is wheelchair accessible, with moveable seating, and located near gender-specific wheelchair accessible bathrooms. ASL interpretation will not be offered at the event. The lecture uses a slide presentation. All content from the slides will be read aloud or described. Please email access questions to sarahmeftah@cca.edu.