Songs for Orisha Yemaya, Ruler of the Sea Water, Mother of Mothers
Songs for Orisha Yemaya, Ruler of the Sea Water, Mother of Mothers
+

Add to calendar
Wed, Mar 2 2022, 7PM - 8PM
Nave Alcove | 1111 Eighth Street, San Francisco, California, 94107 View map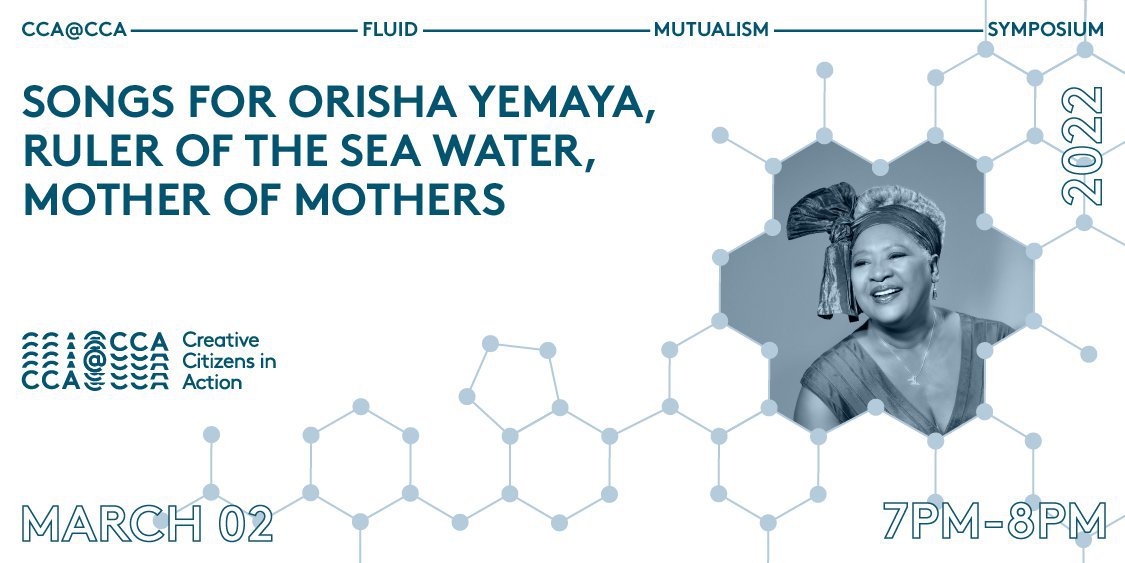 Organized by
Creative Citizens in Action (CCA@CCA)
Event description
Acclaimed singer and folklorist, Iya Bobi Céspedes, presents a deeper understanding of Orisha Yemaya, whose domain is the vast sea. Yemaya represents the Mother of Mothers, intellectuality and wisdom.
Gladys "Bobi" Céspedes  has been a leader and pivotal player in the thriving Afro-Cuban cultural scene in the SF Bay Area for nearly half a century. A Lukumí priestess of Obatala for over 50 years, her music integrates Cuban folkloric and modern elements in an authentic and distinctive sound. Her resonant voice and dynamic stage presence lead audiences on a journey from Yoruba incantations to the Cuban son. She can belt out a rumba or move you to tears through a heart wrenching rendition of a classic bolero. Along the way she shares her narratives of family life and love, and the wisdom of Afro Cuban fables. Always present is her chambo—that vibrant Cuban soul–creative and resilient.  
Bobi's new album, Mujer y Cantante (Woman and Singer), is a collection of original songs deeply rooted in the Cuban countryside where she was born, and full of heart and wisdom celebrating Black cultural heritage as a source of resilience and strength for our troubled times.
Entry details
Free and open to the CCA community. Capacity is limited to 50.
This event is part of the CCA@CCA Fluid Mutualism Symposium and is funded by an endowment gift to support The Deborah and Kenneth Novack Creative Citizens Series at CCA, an annual series of public programs focused on creative activism.