Urbanism Beyond Corona, Part II - Keynote Lecture by Giovanna Borasi
Urbanism Beyond Corona, Part II - Keynote Lecture by Giovanna Borasi
+

Add to calendar
Mon, Nov 16 2020, 6PM - 7:30PM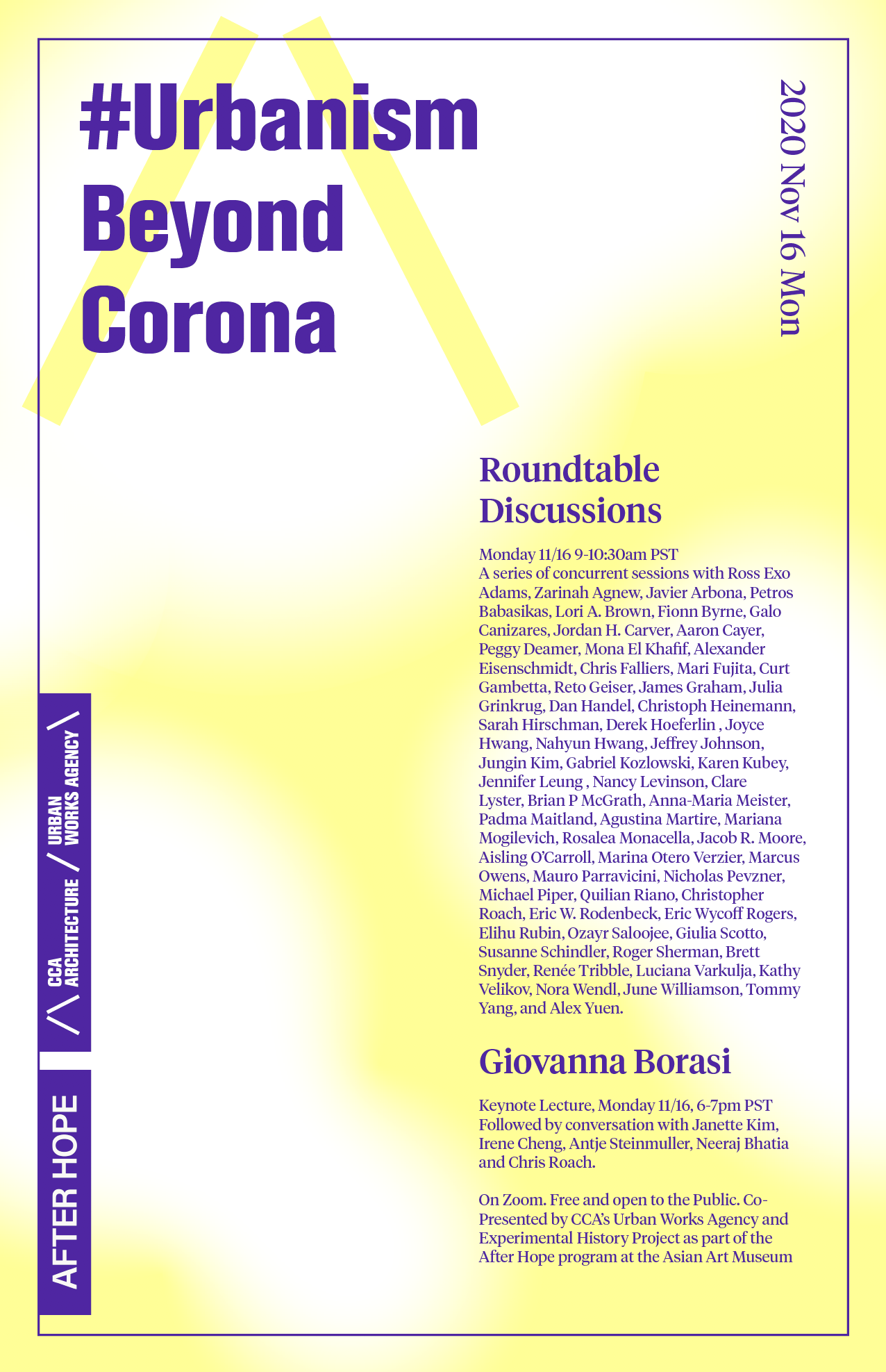 Organized by
Presented by CCA's Urban Works Agency and Experimental History Project.
Event description
This conference considers #UrbanismBeyondCorona, a series of Instagram posts initiated by the Urban Works Agency and the Experimental History Project, teaching and research labs in the architecture division at CCA. From June to July 2020, 118 architects, urbanists and scholars of the built environment offered predictions, warnings, gifts, hacks, instruments, prompts, and questions that reflected on the role designers and urban actors can play in shaping cities after Covid-19.
In this keynote address, Giovanna Borasi will reflect on the #UrbanismBeyondCorona Instagram series and interpret its findings, after which she will be joined in conversation with the series organizers, Janette Kim, Irene Cheng, Anjte Steinmuller, Neeraj Bhatia, Chris Roach, and Padma Dorje Maitland.
Architect, editor, and curator, Giovanna Borasi joined the Canadian Centre for Architecture (CCA) in 2005, first as Curator, Contemporary Architecture (2005-10), then as Chief Curator (2014-19). She has been Director of the CCA since January 2020. 
Borasi's work explores alternative ways of practicing and evaluating architecture, considering the impact of contemporary environmental, political, and social issues on urbanism and the built environment. She studied architecture at the Politecnico di Milano, worked as an editor of Lotus International (1998–2005) and Lotus Navigator (2000–2004) and was Deputy Editor in Chief of Abitare (2011–2013). Borasi's latest curatorial project is a three-part documentary film series that considers changing definitions of home and homelessness as a result of urban and economic pressures. The first iteration, What it takes to make a home, premiered last year in New York and will continue circulating at film festivals worldwide. In February, it was screened at the 58th Commission for Social Development at the United Nations Headquarters.
Co-presented as part of the After Hope program at the Asian Art Museum
https://asianart.org/
.
Entry details
Free and Open to the Public.