Website Launch | Designing Our Way Out
Website Launch | Designing Our Way Out
+

Add to calendar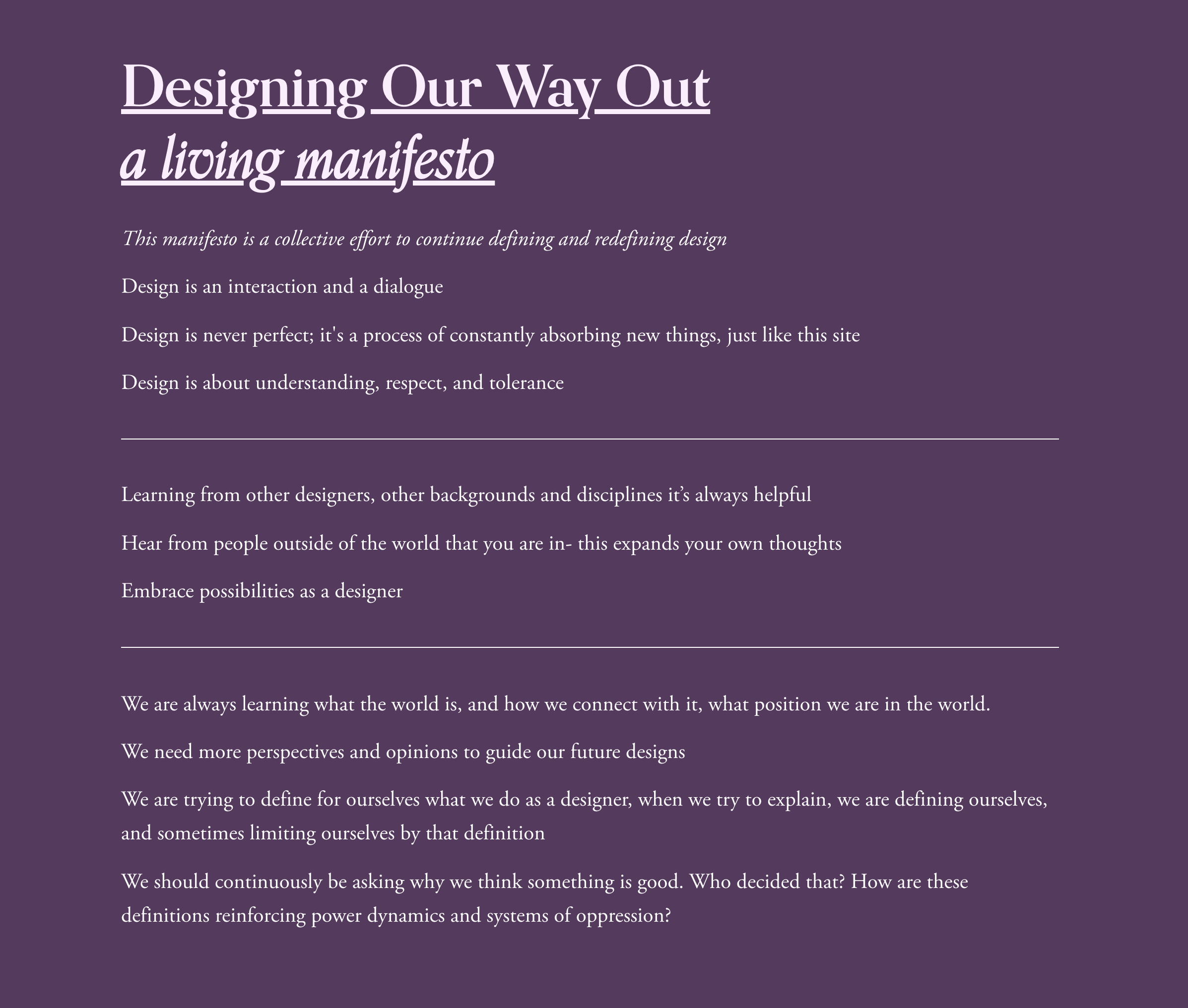 Organized by
Juan Carlos Rodriguez Rivera, Assistant Professor, First Year Core Studio Program / MFA Design / Graphic Design
Event description
Designing Our Way Out explores the ever evolving definitions of design, including: design methodologies, design for social change, design thinking, human centered-design, respectful design, etc. This initiative is a series of conversations between designers, students and non-designers to exchange ideas on design and its possibilities. In order to continue working towards building a design practice that challenges westernized perspectives, dismantles white supremacy and oppressive systems, we must deeply understand design's plural histories and definitions. Collectively, the students and professor Juan Carlos Rodriguez Rivera, engage in weekly conversations with designers and non-designers inside and outside the CCA Community. 

Student contributors include Zitong Huang, Rio Jiang, Lindsay Neal, Gowri Sunder, Xin Xu, Miao Yang, Hank Yao, Xinyu Zhang, and Yutong Zhang, with support from professor Saraleah Fordyce.
This program is part of the Creative Citizens in Action initiative at CCA (CCA@CCA), and is funded by an endowment gift to support The Deborah and Kenneth Novack Creative Citizens Series, an annual series of public programs focused on creative activism.
Entry details
CCA@CCA is committed to providing universal access to our events. Please contact exhibitions@cca.edu to request disability accommodations.