Wintun Homeland Stewardship: Tule Mat Weaving with Teacher Diana Almendariz
Wintun Homeland Stewardship: Tule Mat Weaving with Teacher Diana Almendariz
+

Add to calendar
Wed, Mar 2 2022, 3PM - 6PM
Nave Alcove | 1111 Eighth Street, San Francisco, California, 94107 View map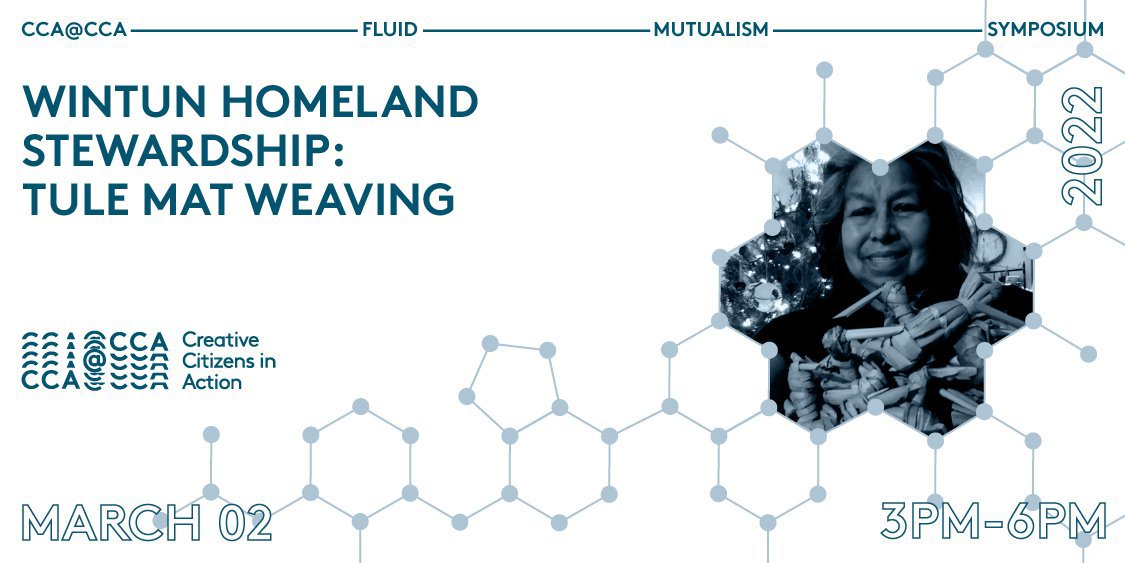 Organized by
Creative Citizens in Action (CCA@CCA)
Event description
Capacity is limited to 15 participants; registration is required. Register now ➞

Teacher Diana Almendariz is a cultural practitioner of Maidu/Wintun and Hupa/Yurok descent and traditions. She was raised by her grandmother who remembered the ancestral environmental treasures of the Sacramento Valley. Almendariz' lifelong commitment to teaching environmental stewardship with a Native Californian cultural emphasis has been inspired by the memories, thoughts, and stories of her ancestors. She will be giving a workshop using a basic cordage method to weave a mat.
Entry details
Free and open to the CCA community. Capacity is limited to 15 participants; registration is required. Please register via the link in the event description.
This event is part of the CCA@CCA Fluid Mutualism Symposium and is funded by an endowment gift to support The Deborah and Kenneth Novack Creative Citizens Series at CCA, an annual series of public programs focused on creative activism.