A Workshop for Gathering
+

Add to calendar
Wed, Mar 2 2022, 3PM - 4PM
Nave | 1111 Eighth Street, San Francisco, California, 94107 View map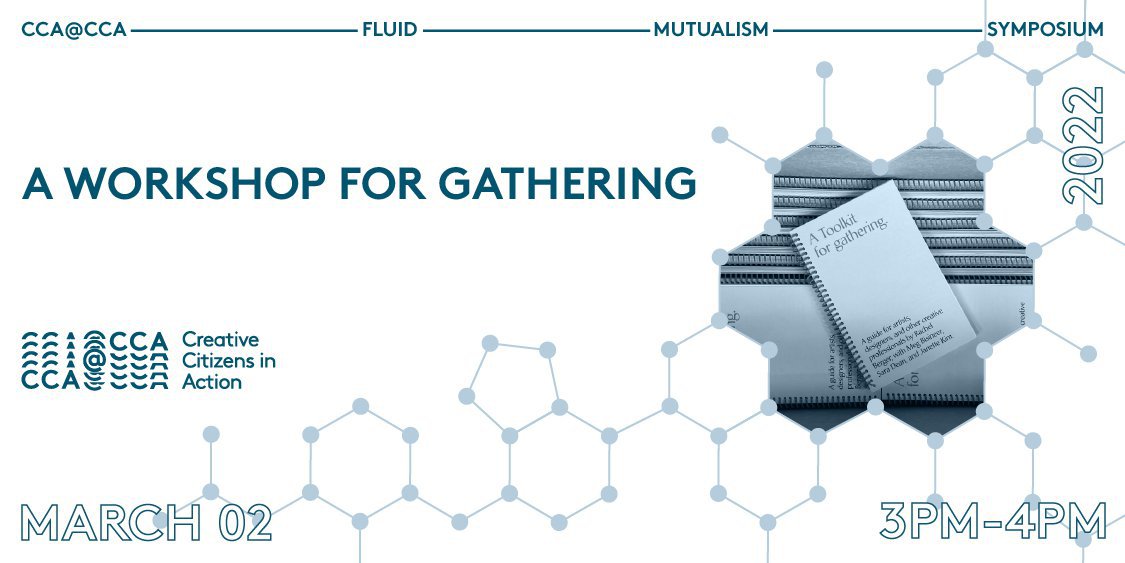 Organized by
Creative Citizens in Action (CCA@CCA)
Event description
Every profession gathers. From conferences to residencies, we all have discipline-driven concepts of what it means to get together. And the pandemic has upended them all. As creative professionals navigate this time of mindful transition back to in-person experiences, this workshop is intended to help participants plan more meaningful, productive, and joyful professional gatherings and to be more deliberate about fostering environments where many different types of people feel welcome. 
This workshop is open to all members of the CCA community. Bring ideas, questions, and experiences to share! Participants will receive a copy of A Toolkit for gathering.
Capacity is limited to 10 participants; registration is required. Register now ➞

Rachel Berger is a designer. Her work investigates the relationship between design and culture through writing, self-initiated projects, and freelance work with non-profit organizations. In 2021, Berger received a Berkeley Civic Arts Commission grant to work with middle school students to explore the past, present, and possible futures for the city of Berkeley. She is Chair and Associate Professor of Graphic Design at CCA.
Meg Bisineer is an animation artist, curator, and educator who lives and works in London and Oakland. She works across independent artist films, texts, and installations in galleries, art spaces, and festivals. Her films have been shown internationally for several years. She is Associate Chair and Assistant Professor of Animation at CCA.
Sara Dean is a designer and architect. She is co-founder of IF/THEN Studio, a collaborative studio in Berkeley. Sara's work considers the implications of emerging digital technologies on public engagement and urban life in the Anthropocene. She is Interim Chair and Assistant Professor of MFA Design at CCA.
Janette Kim is an architectural designer, researcher, and educator. Her work focuses on the intersection between ecology, social equity and the built environment. Janette's projects include the Resilient by Design Bay Area Challenge and the Win-Win board game series. Janette is founding principal of the design practice All of the Above and assistant professor of architecture and co-director of the Urban Works Agency at CCA.

Entry details
Free and open to the CCA community. Capacity is limited to 10 participants; registration is required. Please register via the link in the event description.
This event is part of the CCA@CCA Fluid Mutualism Symposium and is funded by an endowment gift to support The Deborah and Kenneth Novack Creative Citizens Series at CCA, an annual series of public programs focused on creative activism.