Town Hall: Wrestling with Politics - Art, Design & Activism in Asia
Town Hall: Wrestling with Politics - Art, Design & Activism in Asia
+

Add to calendar
Thu, Feb 27 2020, 7PM - 9PM
Nave Alcove | 1111 Eighth Street, San Francisco, California, 94107 View map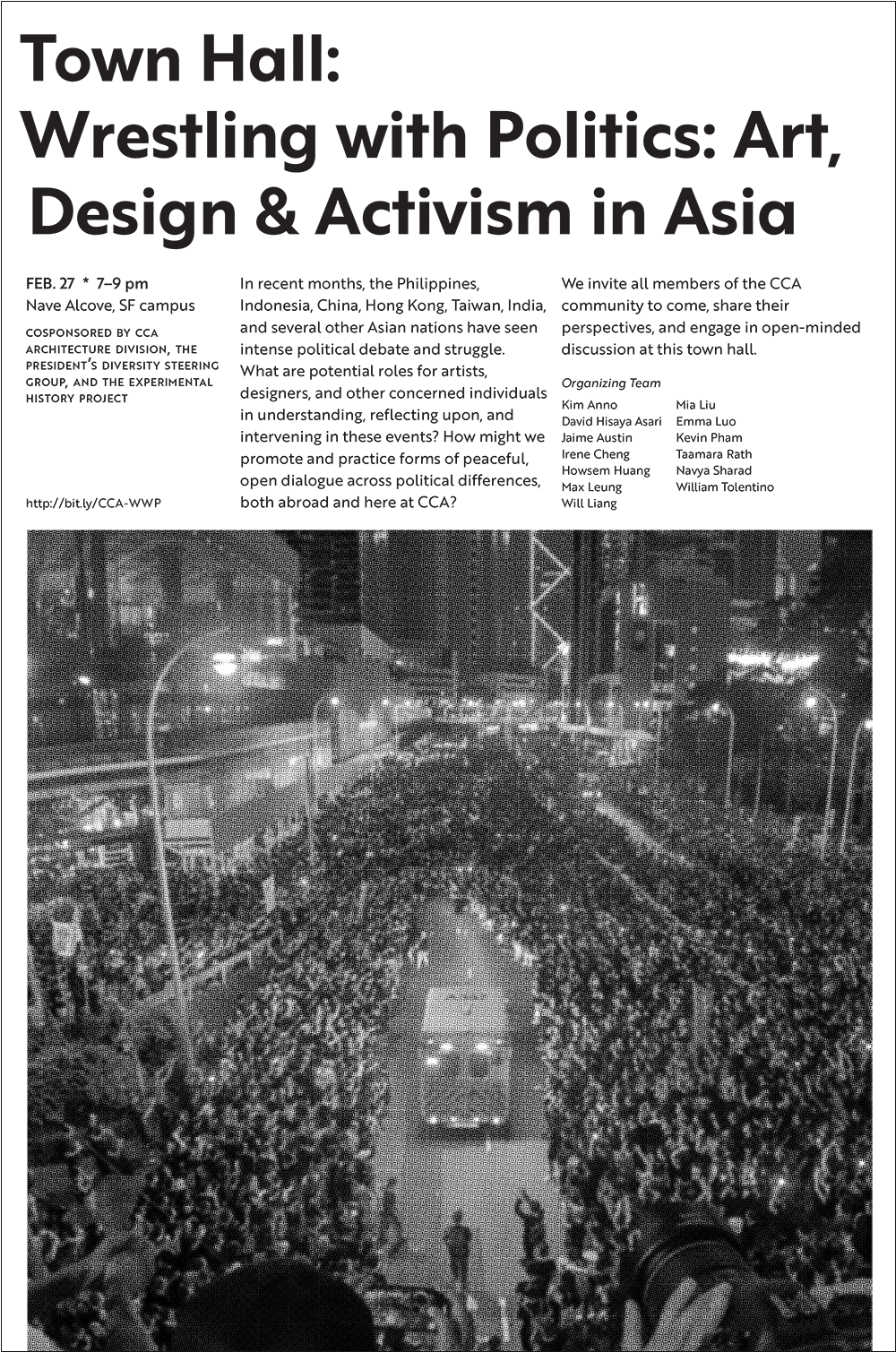 Organized by
Architecture Division
Event description
Wrestling with Politics: Art, Design & Activism in Asia 
A Town Hall cosponsored by CCA Architecture Division, The President's Diversity Steering Group, The Experimental History Project, and the CCA Creative Citizens in Action initiative.
In recent months, the Philippines, Indonesia, China, Hong Kong, Taiwan, India, and several other Asian nations have seen intense political debate and struggle. What are potential roles for artists, designers, and other concerned individuals in understanding, reflecting upon, and intervening in these events? How might we promote and practice forms of peaceful, open dialogue across political differences, both abroad and here at CCA?
We invite all members of the CCA community to come, share their perspectives, and engage in open-minded discussion in this town hall.
Entry details
Free and open to the public.
This event is being held in a wheelchair accessible building. Visitors may be asked to show identification and sign in at the entrance to the building. The lecture room is wheelchair accessible, with moveable seating, and located near gender-specific wheelchair accessible bathrooms. ASL interpretation will not be offered at the event. The lecture uses a slide presentation. All content from the slides will be read aloud or described. Please email access questions to sarahmeftah@cca.edu.