AppsAnywhere Installation (Windows)
AppsAnywhere Installation (Windows)
---
AppsAnywhere: off-campus use
While off-campus you will need to connect to CCA's VPN to use certain apps. To avoid validation issues, launch AppsAnywhere BEFORE connecting to CCA's VPN. For instructions on connecting to the CCA VPN License Server, please see: CCA VPN Access for Students + Faculty.
---
1

Visit the AppsAnywhere website (preferred browser is Chrome):
2

When signed in, you will be met with the following screen:

Click the "Let's Go" button at It's my first time using AppsAnywhere on this device
Install the AppsAnywhere Client
1

After choosing 'It's my first time using AppsAnywhere on this device', you will be met with this screen:

If the download does not start automatically, click the AppsAnywhere installer to launch
2

Go through a normal install process, clicking 'Next>' when prompted
3

Click 'Next' at the Confirm Installation prompt
4

Once you have started the download, you will be met with the AppsAnywhere installer screen:

Click 'YES' when asked, Do you want to allow this app to make changes to your device?
Best practice is to be patient, not click more than once, and wait until the installation is complete.
5

Once the final installation has completed, click 'Close'
6

At the 'Open AppsAnywhere?' screen:
Check box next to, 'Always allow appsanywhere.cca.edu to open link of this type in associated app'
Click the 'Open AppsAnywhere' box
1

AppsAnywhere will validate the session

During this process, AppsAnywhere will attempt to validate, determining which apps will be made available (MacOS vs Windows versions).
2

You should then be met with a 'Validation Successful' banner

If AppsAnywhere fails to validate, you will receive a red 'Validation failed' banner. If this happens: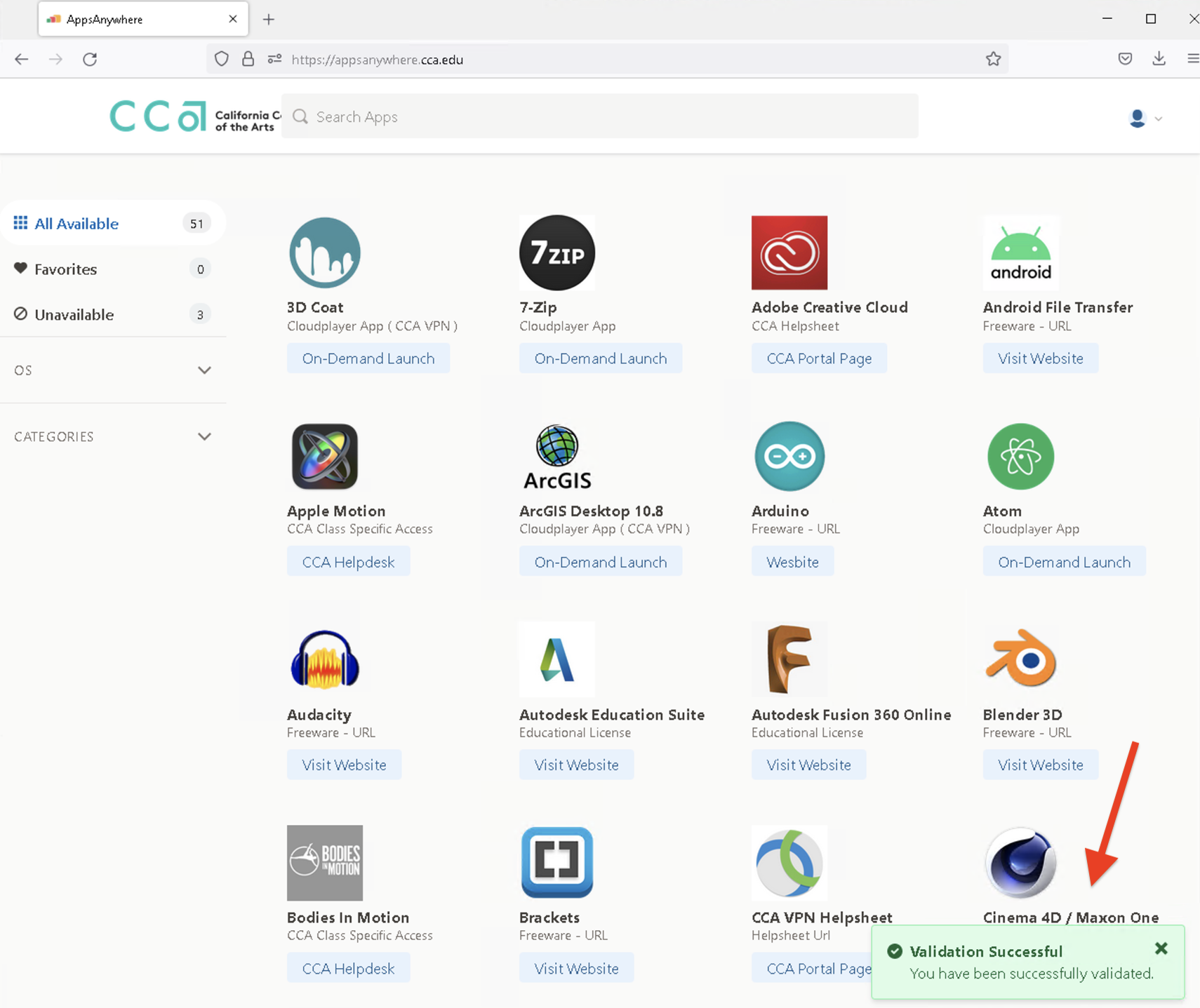 If you have uninstalled the AppsAnywhere client and no longer get an install prompt, we recommend the following:
Access https://appsanywhere.cca.edu in "privacy" or "incognito" mode on your browser, which will enable you to correctly click the "Let's Go" button at It's my first time using AppsAnywhere on this device