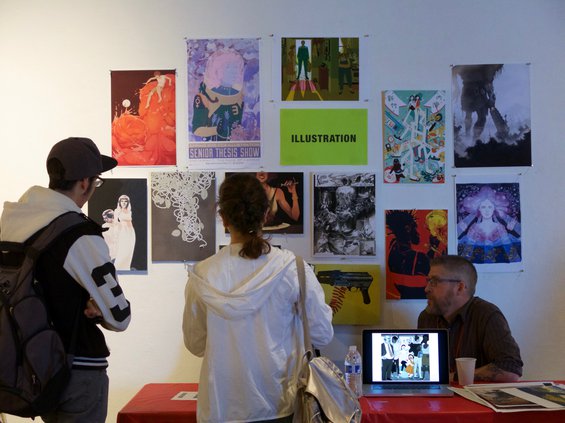 If you have prior coursework or experience in your chosen major program, you are required to submit a supplemental portfolio via Vault, which will be reviewed, along with your initial portfolio for admissions, for appropriate placement in your program and/or to receive possible transfer credit toward major requirements.
A faculty member will review your submission and make final determinations and schedule recommendations. These recommendations will be used in the undergraduate early registration process in order to place you in the appropriate courses for your first semester.
---
Incoming students should submit by June 1 for fall admission and December 1 for spring admission to be registered based on what is currently on file (it will be assumed no additional placement needs exist). We still encourage you to submit a supplemental portfolio as soon as possible beyond these dates to ensure that you are registered appropriately.
Continuing students may be asked to submit a supplemental portfolio for review on a case-by-case basis.
---
Please consider the following when compiling your submission:
Am I meeting the guidelines provided in the program specific information?
Am I demonstrating a thorough understanding of a specific skill or process?
Am I showing a range of approaches?
If you have experience in one or more areas related to your chosen major program, please submit the requested number of images or movie files, or both, for each skill in which you wish to demonstrate your proficiency.
If you have images from any college-level courses in your major program that you would like to include, please submit the requested number of images or movie files, or both, for each course.
Specifications
Describe each image submission with title of the work, dimensions, medium, year, length of assignment, assignment type or personal project, explanation of research or process, etc.
Upload course descriptions, syllabi, and other relevant course material as either JPG or PDF file types.
Upload image files with at least 200 dpi and in JPG format.
Upload movie files with at least 5 minutes in total length and in MOV or MPEG4 format. URLs are recommended for 4D submissions like animated or film shorts.
Use the following naming convention for all files: Last Name_Title of Work or Institution Name_Skill/Level Being Demonstrated for Review or Course Name.
File Name Examples
Ruiz_FigureStudy_LifeDrawing.jpg
Ruiz_BouncingBall_Animation1.mov
Ruiz_LaneyCollege_IntroToAnimation.pdf
We recommend that you prepare this information in advance, before uploading your work. See program-specific information in the form itself for more guidance.
Possible Outcomes of Review
Existing transfer credit toward major program requirement(s)
Waiver of major program requirement(s) and additional units added to studio elective or other applicable degree requirement(s)
No change based on review. Student recommended to take major program requirements as offered to ensure development of student learning outcomes.
---
CCA uses Vault, an online archive, to store and catalog work by students and faculty. You will use Vault to submit your supplemental portfolio for review.
Upload work to Vault: https://vault.cca.edu
Log in using your CCA account username and password.
Select "Contribute" from the navigation bar on the left.
Select "Supplemental Portfolio Review" from the academic list of portfolios.