AppsAnywhere FAQ
What is AppsAnywhere?
AppsAnywhere is CCA's new software delivery method using an app store-like platform where faculty and students can access and use their software from any computer. For a list of software available through AppsAnywhere, go to: appsanywhere.cca.edu
What do I need to do to start using AppsAnywhere?
To start using AppsAnywhere, you need to install the application using the instructions below:
What if the app I need isn't available through AppsAnywhere?
Visit the Creative Software page, click 'installation instructions' link or the link following 'Educational Access Site'.
How long does it take to install apps on AppsAnywhere?
Some applications may take longer than others, depending on your internet speed and the app's installer size. You will see a progress bar on macOS while downloads occur in the background in the Windows environment. Best practice is to be patient, not click more than once, and wait until the installation is complete.
The app says 'Use CCA VPN Off Campus', how do I do that?
The use of CCA's VPN is location and app dependent, meaning some apps you will need to be connected to our VPN when you are off-campus. From AppsAnywhere you will see this designated under the application icon, where applicable. For instructions on connecting to the CCA VPN License Server, please see: CCA VPN Access for Students + Faculty.

While off-campus you will need to connect to CCA's VPN to use certain apps, launch AppsAnywhere BEFORE connecting to CCA's VPN to avoid validation issues.
Why do applications have different installation or launching options?
Applications in AppsAnywhere have different installation or launch options that vary by application, license, or by the operating system you are running. You will see the following options:

Visit Website (via CCA Helpsheet, Edu Website, or CCA Login), Install (Freeware, Free Edu Login, Software Login) and Launch.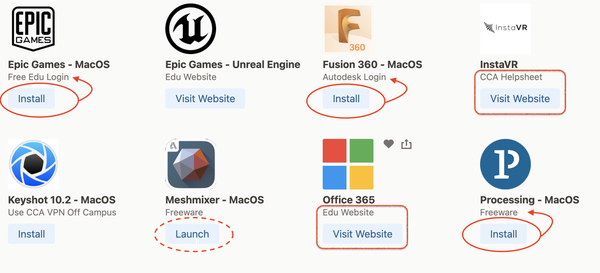 How do I discover more about Software Delivery Methods?
Click on the Software Title to see more about the Delivery Methods (Restrictions, Operating Systems), and other App Details (Contact faculty or the Help Desk for access, VPN Required off-site, CCA Helpsheet Instructions for download and install, Freeware, etc.).