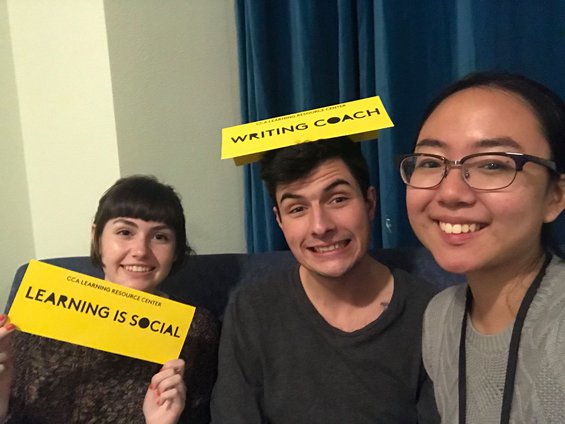 Everyone learns differently. The Learning Resources team helps students connect to the people, tools, and techniques that can help them learn best.

OUR MISSION
Learning Resources helps artists and designers enrich, compose, and communicate their knowledge and creative vision.
WHO WE ARE
During the academic year, we are a team of about 20 CCA students (undergraduate and graduate) and 3 faculty/staff members who serve as part-time coaches in all academic subject areas. We love working with students at all levels. Our faculty coaches specialize in helping multilingual writers with academic reading, writing, and oral communication. The Director of Learning Resources is Dr. Brooke Hessler, who also teaches in the Writing and Literature program.
Contact the Director at: LRC@CCA.EDU
WHERE WE ARE
You will find us online via Zoom and Moodle. Geographically, we are everywhere.! During the 2020 - 2021 academic year our coaches will be logging in from around the world to meet with you. Most coaches work on a by-appointment basis: go to the Find Your Coach page for details.

WHAT WE DO
Facilitate personalized academic tutoring by student, faculty, and staff coaches.
Help educators and learners figure out ways to make homework materials more accessible.
Offer consultations and workshops to support mindful, creative, and critically reflective learning in and out of the classroom.
WHAT WE BELIEVE
We believe everyone learns differently, and that critical reflection and dialogue about our teaching and learning experiences can help us discover more ingenious ways to grow and use our knowledge and expertise.
We believe everyone is prepared differently for learning--in terms of our previous experiences as learners, as well as our ways of accessing mentors, materials, and methods.
We believe individual attention and guided inquiry from competent and sympathetic coaches will nurture students' confidence, enrich their ideas, and help them communicate their knowledge and creative vision.
We believe that because the Learning Resources team operates at the crossroads of curricular and co-curricular teaching and learning, and as a site where both faculty and student challenges can be studied and engaged, we have a special opportunity and responsibility to collaborate on projects that will enrich CCA as a learning community.