Program Info & Policies
Join our creative community of makers.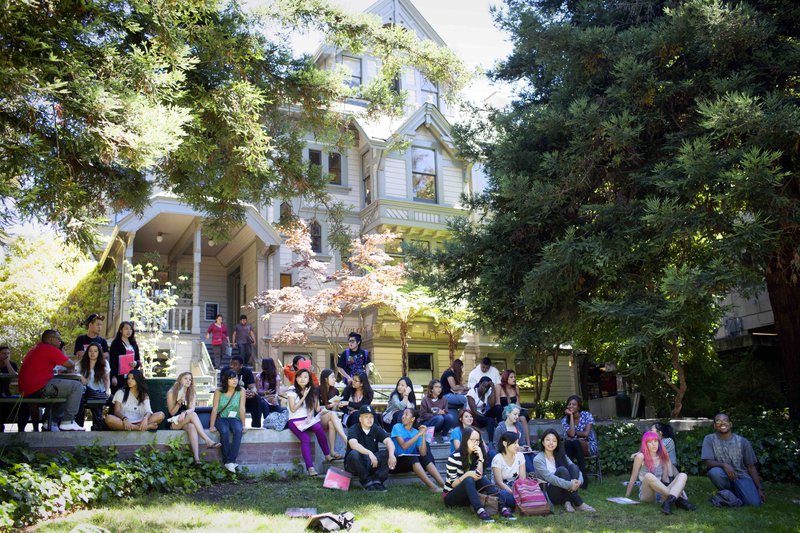 Pre-College courses are designed to challenge high school students at all levels of artistic experience. You may choose to try something new or explore in greater depth a discipline in which you are already interested.
Class enrollment ranges from 12 to 18 students.
General Information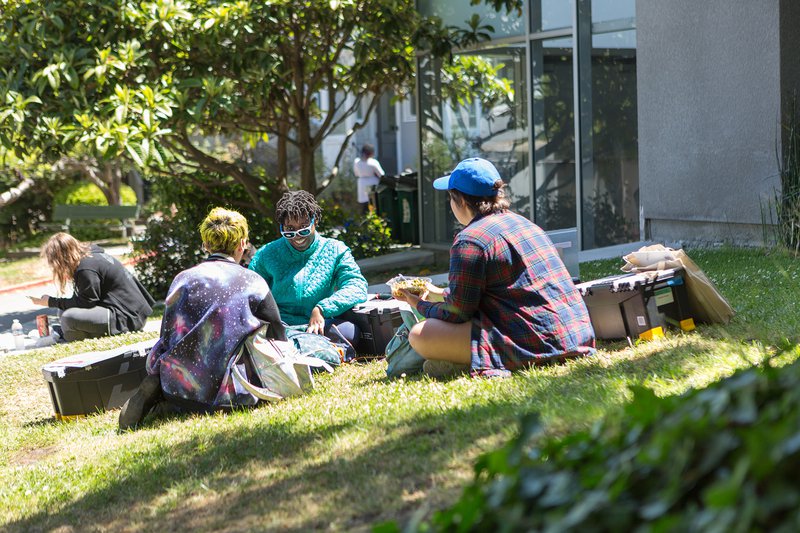 Program dates: June 22 - July 17, 2020
Pre-College is an all-day program. Classes are held Monday through Friday from 9 am to 4 pm on CCA's Oakland campus (a lunch break is scheduled from noon to 1 pm); courses that are paired with a complementary discipline, such as, Illustration and Drawing, each meet for half the day. For example, Illustration from 9 am to 12 pm and then Drawing from 1 pm to 4 pm.
Required studio homework hours are on Tuesdays and Thursdays from 4 pm to 6 pm
Optional evening activities such as life drawing sessions and hands-on art and design workshops enhance the overall program experience. A calendar of workshops will be given to students at orientation.
All Pre-College students will go to San Francisco for a discipline related field trip. In the past, classes have visited SFMOMA, The Disney Museum, The Design Center and many more. Students will also have the opportunity to go on an optional program wide Saturday trip to Santa Cruz.
Faculty
The Pre-College faculty members (most are part CCA's degree faculty) are dedicated and highly accomplished artists, architects, designers, and writers who are interested in sharing their professional insights and experiences.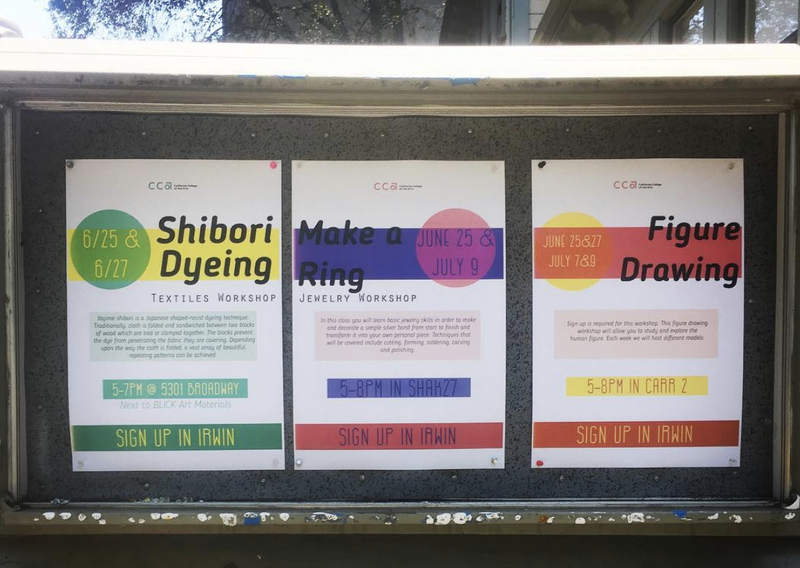 Important Program Dates
Important Dates for Summer 2020:
Sunday, June 21
On-campus housing check-in from 1–3 pm
Monday, June 22
Mandatory Morning orientation 9:00 am (all students)
Friday, July 4 holiday observed
No classes will be held on July 4th. Some on-campus activities will be planned for residential students.
Friday, July 17
Pre-College final exhibition and closing ceremony, ends 5:30 pm ALL Pre-College students are required to be present until 5:30 pm, followed by deinstall of artwork (no exceptions!)
Saturday, July 18
Housing checkout
All students check out of the residence halls by 10 am
Cost
Tuition & Fees
Summer 2020:
Application Fee: $50 (nonrefundable)
Tuition: $3,550
Tuition Deposit: $500 (nonrefundable, applied to tuition)
All art supplies and lab fees are included in the tuition cost.
Housing (optional)
On-Campus Housing: $1,350
Housing Deposit: $200 (nonrefundable, applied to housing)
Damage Deposit: $150 (refunded after move out, less any damage charges)
Meal Plans (optional)
Monday-Friday
Breakfast: $170
Lunch: $185
Breakfast & Lunch: $355
Note: You will be charged an returned check fee of $25 for any check your bank returns to CCA.
Studio Offerings
______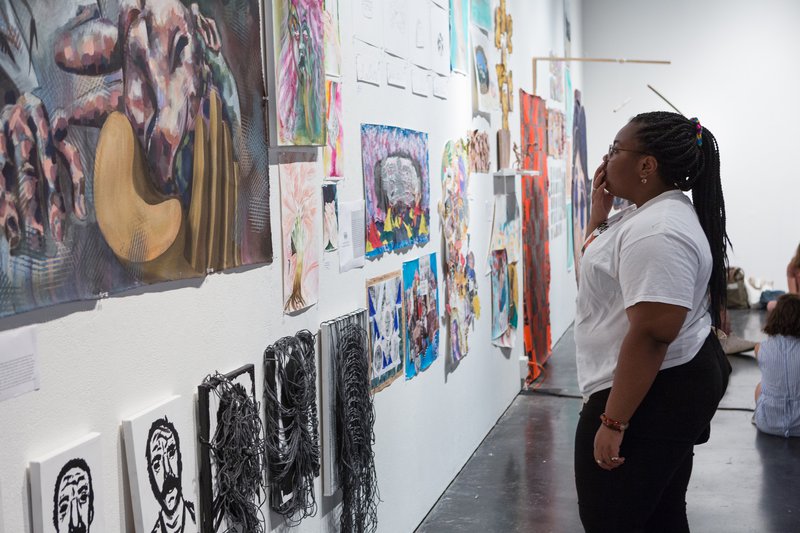 Animation 2D - all-day studio
Animation 3D - all-day studio
Architecture - all-day studio
Ceramics - all-day studio
Comics - all-day studio
Creative Writing - all-day studio
Drawing - half-day studio; paired with Illustration or Painting
Drawing/Painting - half-day studio; paired with Sculpture
Fashion Design - all-day studio
Film - all-day studio
Graphic Design - all-day studio
Illustration half-day studio; paired with Drawing
Industrial Design - all-day studio
Interior Design - all-day studio
Painting - half-day studio; paired with Drawing
Photography - all-day studio
Sculpture - half-day studio; paired with Drawing/Painting
Accreditation
______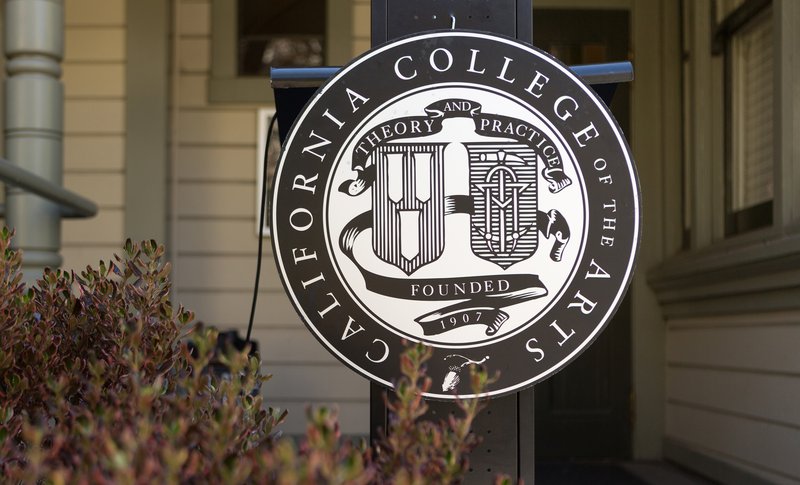 CCA is accredited by the Western Association of Schools and Colleges (WASC), the National Association of Schools of Art and Design (NASAD), the National Architectural Accrediting Board (NAAB), and Council for Interior Design Accreditation (CIDA).
Attendance
______
Students must attend the entire four weeks of the program. Please note there will be no classes on July 4, in observance of the Independence Day holiday.
The last day consists of final critiques and concludes with a major exhibition and reception from 3:30 to 5:30 p.m. in which student work is exhibited throughout campus and in all college galleries.
All Pre-College students are required to attend until 5:30 p.m. on the final day.
Pre-College is an immersion experience. In addition to scheduled class time, students will be developing and completing assignments outside of class.
Classes are held Monday - Friday, 9am - 4pm with an hour break for lunch.
Students are also required to attend homework studio hours on Tuesdays and Thursdays from 4:00pm - 6:00pm.
Students should not make outside commitments or summer plans that interfere with their ability to focus on the program.
Code of Conduct
______
In order to ensure a positive and safe learning environment, all Pre-College students are required to adhere to the policies and standards of the program.
With their notification of admission, they receive a contract outlining CCA's policies and rules, which they and their parents/guardians are required to sign, acknowledging their understanding and acceptance.
Violations of conduct policies may result in dismissal from the program without refund or credits earned.
College Credit
______
Students earn 3 units of college credit upon successful completion of the program. A transcript documenting your letter grade(s) and credits earned will be mailed to you at the end of August.
Absences will affect your grade; three absences result in automatic failure.
Eligibility
______
The Pre-College program is designed for students who will have completed their sophomore, junior, or senior year of high school by summer 2020. Students must be at least 15 by June 2020, and no older than 18.
CCA also offers a three-week Summer Atelier program for students who have just completed their freshman or sophomore year of high school and the Young Artists Studio Program for students who have just completed sixth, seventh, or eighth grade.
For more information, please call 510.594.3710.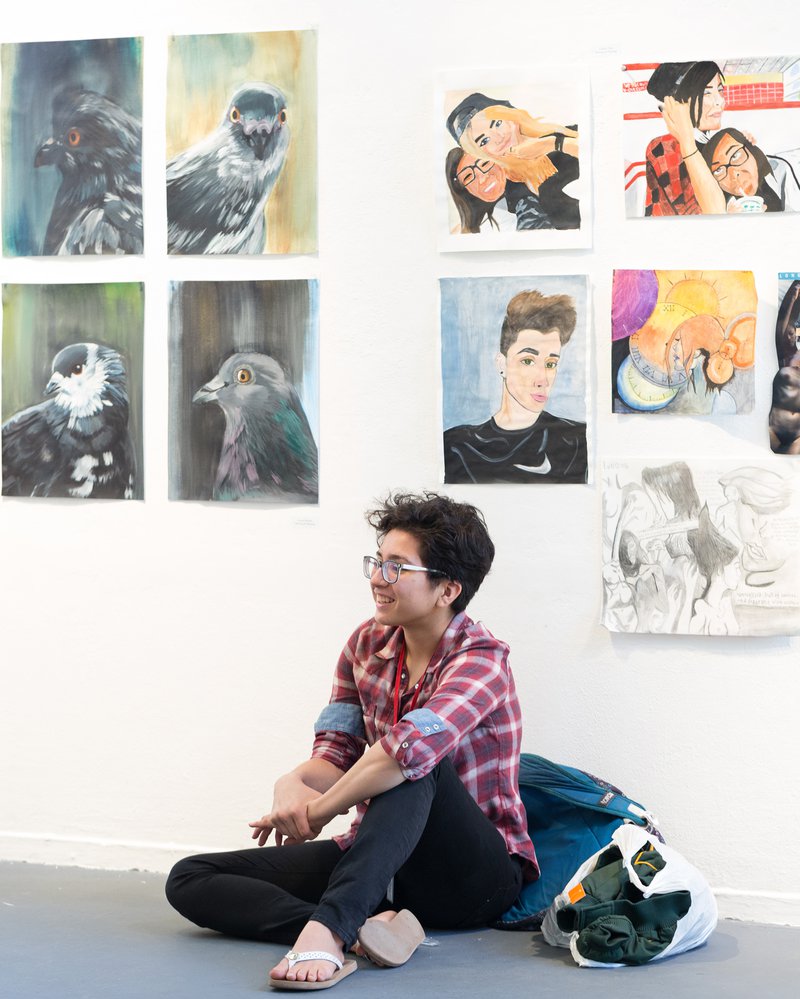 Health Insurance
______
All Pre-College students, domestic and international, must have health insurance coverage for the entire duration of the program and must submit proof of insurance before their arrival.
All medical insurance policies must be from a U.S. domestic insurance company. If you do not have medical insurance from a U.S. domestic insurance company, you may purchase a short-term medical insurance policy. Please contact Rachel Gelenius, Pre-College Program Manager at rgelenius@cca.edu for more information.
Students who do not submit proof of insurance by May 1 risk losing their place in the program.
Those who fail to submit proof of insurance will not be allowed to attend. (CCA has a vendor for students who need to obtain insurance coverage. Please call 510.594.3638 for more information.)
Housing
______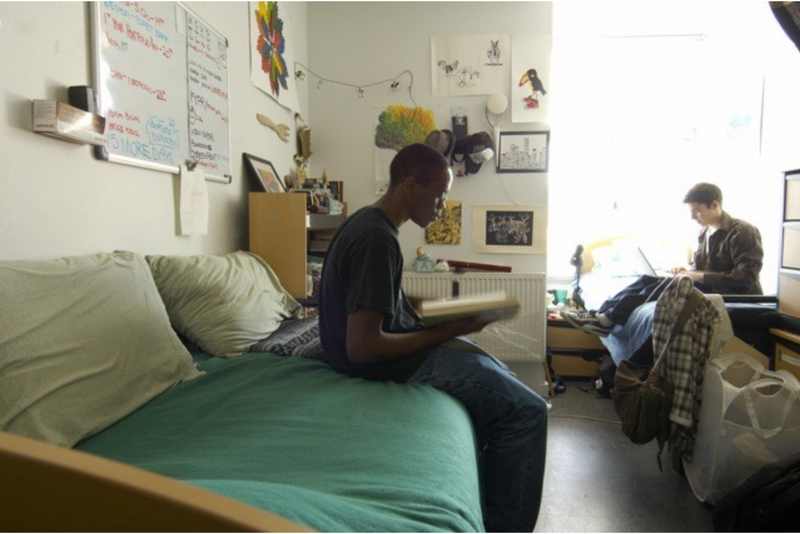 Cost of Residential Living
The cost of living in the residence halls is $1,350 for summer 2019. Summer 2020 housing costs will be announced in October. An additional $150 refundable damage deposit is charged to all residents.
Damage deposit refunds are issued four to six weeks after the program ends, less any cleaning or damage charges that have been incurred.
Housing applicants are encouraged to apply early. Those who reside in communities with access to public transportation to the college, or those who have previously been housed in CCA's Pre-College Program, receive secondary consideration for housing.
The halls can accommodate a maximum of 160 Pre-College students. All residents live in shared rooms. Each room is fully furnished with beds, desks, dressers, a mini-refrigerator, and a microwave.
All residents have access to shared kitchens, lounge areas, laundry facilities, and the Internet. Students must provide their own linens.
A 10 p.m. curfew Sunday through Thursday, and 11 p.m. Friday and Saturday, is strictly enforced. Residential students are not allowed to bring vehicles. Additional information regarding residential policies will be provided to accepted applicants.
Residential students will have the opportunity to sign up for optional weekend and evening activities planned by the residential life staff. Past activities have included field trips to local museums, farmer's market, hiking and trips to the beach.
Check out more photos of the Oakland residential halls here.
Meals
______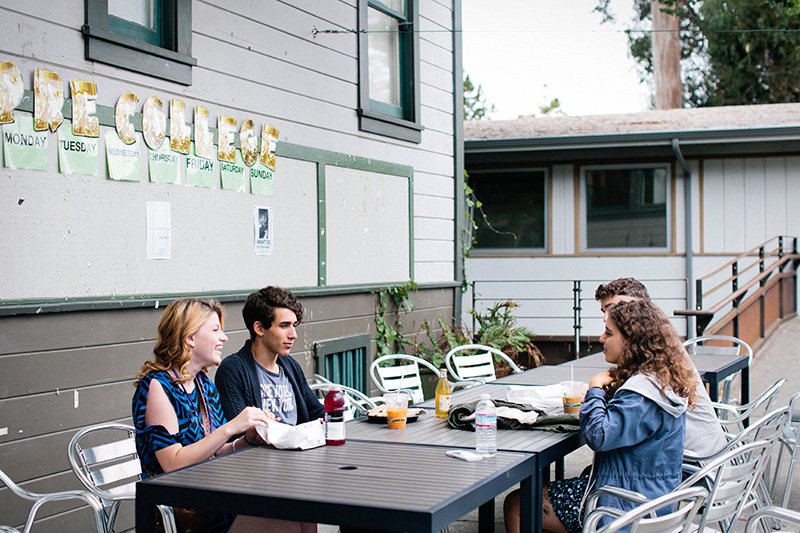 The A2 Café is located at the center of the Oakland campus, close to student housing and classes. It is open Monday through Friday, from 8 a.m. to 2 p.m. Meals are not included in the cost of housing, but the A2 Café offers optional breakfast and/or lunch plans.
More details will be included in the notification packet sent to accepted applicants. Students living in campus housing have access to shared kitchens.
A supermarket is located around the corner from campus, and cooking dinner together can be an enjoyable part of student life. Numerous neighborhood restaurants also are located within walking distance from the campus.
Living in campus housing can be a great learning experience and a lot of fun. CCA housing is staffed and supervised by professional staff members, summer conference assistants (SCAs), and a graduate intern. SCAs are currently enrolled CCA students who are trained in community building, problem solving, and emergency procedures.
Oakland Campus
______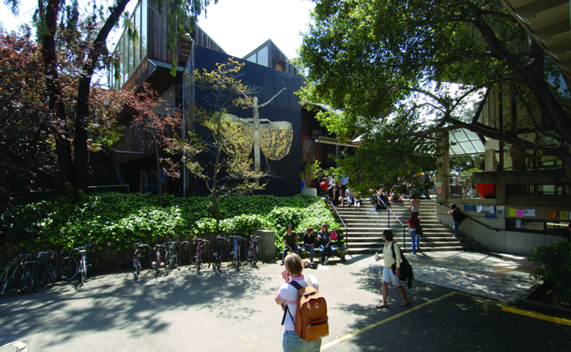 Pre-College students find CCA's beautiful Oakland campus an inspiring environment for their summer art experience. The campus stretches over four acres of landscaped grounds and is surrounded by a pleasant residential neighborhood.
College Avenue, a two-mile stretch of cafés, independent bookstores, boutiques, and restaurants, runs between CCA and the University of California at Berkeley.
It is within walking distance of the Bay Area Rapid Transit (BART) Rockridge station, from which it is approximately 20 minutes by train to downtown San Francisco.
Refund Policy
______
Students who withdraw for any reason must do so in writing, either via email or postal mail. The timestamp or postmark date will be honored as the withdrawal date. Please allow two weeks for processing.
All refunds that are issued in the form of a check, are made payable to the student. Refunds are made according to the following schedule:
Withdrawal on or before May 1: 100 percent refund (minus the nonrefundable $50 application fee, $500 tuition deposit, and $200 housing deposit). No housing refunds will be issued after May 1.
Withdrawal on May 2 - May 15: 50 percent tuition refund (minus the nonrefundable $50 application fee, and $500 tuition deposit).
Withdrawal on or after May 16: No refund.
Students who apply to the program after May 1 must pay in full. If a student is asked to leave the program for violations of school policies or regulations, no refund will be issued.
Students with Disabilities
______
For more information about disability services at CCA, please call 510.594.3638.
Please be aware that all accommodation requests will be considered. However, there may be limits as to what CCA can reasonably provide. Access and Wellness recommends a minimum of 4 weeks' notice for all requested accommodations.
Transportation
______
The campus is served by AC Transit and, by connection, other Bay Area public transit systems. The Rockridge BART station is within walking distance (eight blocks). Many Pre-College students commute via BART from San Francisco and other Bay Area cities.
Alumni
Matthew Lew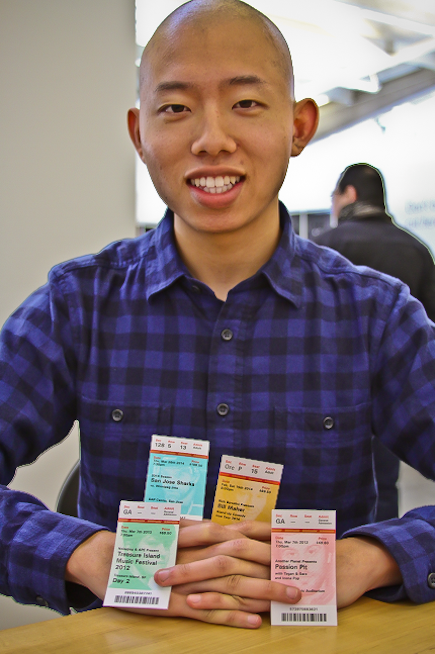 Graphic Design (summer 2011)
Matthew Lew (Graphic Design 2015) took part in CCA's Sputnik design studio, a curricular opportunity that allowed students to work as part of the college's in-house design team within the Marketing & Communications Office.
Sputnik designers worked with real clients, creating designs for both print and digital media. Matthew designed all of the graphics for CCA's summer 2015 Pre-College program. He updated his 2015 design for our summer 2019 Pre-College campaign.
Read about how Matthew redesigned the iconic Ticketmaster ticket that attracted the attention of two leading magazines, Fast Company and Wired!
Minnie Phan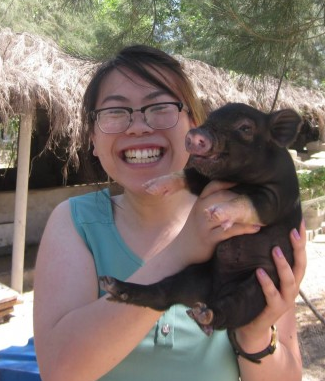 Illustration (summer 2009)
Minnie Phan graduated from CCA in May 2014 with a BFA in Illustration.
She first came to CCA as a Pre-College student, after having heard about the program through a high school art teacher: "I remember reading words that felt unreal: a month-long program, surrounded by students my age, taking college-level art classes of my choosing."
Read more about how attending CCA's Pre-College program inspired her journey to become an illustrator.