Das Gesamtkunstwerk in the Age of Capitalism, Communism, & Club Culture
---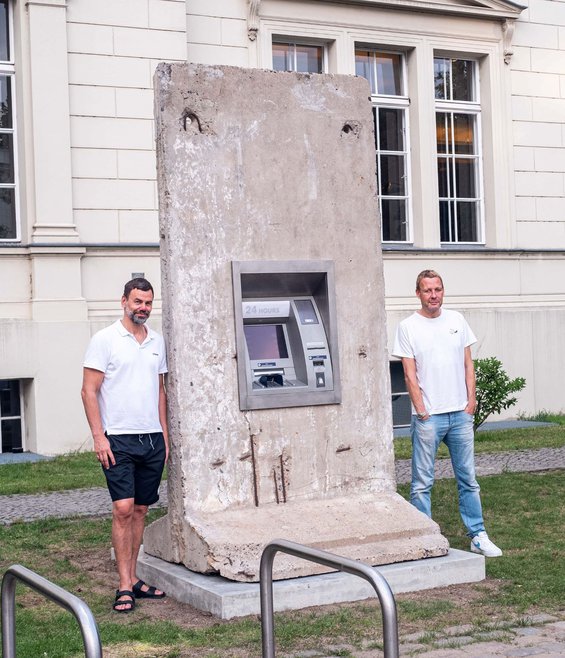 Open to undergraduate and graduate students
In the years since the fall of the wall, Berlin has developed into a melting pot of political ideas and cultural groups. The dissolution of the east and west sectors has made way for a community of international artists and creative types, newly arrived immigrants, East and West-Germans, and a large Turkish population.
Against this backdrop, CCA students examine the theory and practice of a Gesamtkunstwerk (total work of art). Field trips to historic sites, such as Kurt Schwitter's Merzbau and El Lissitsky's Abstract Cabinet, happen alongside visits with a diverse group of practitioners from contemporary artists and fashion designers to club DJs. Students work in their respective disciplines of writing, filmmaking, visual art, design, and architecture to develop projects that link up into one or more total works of art.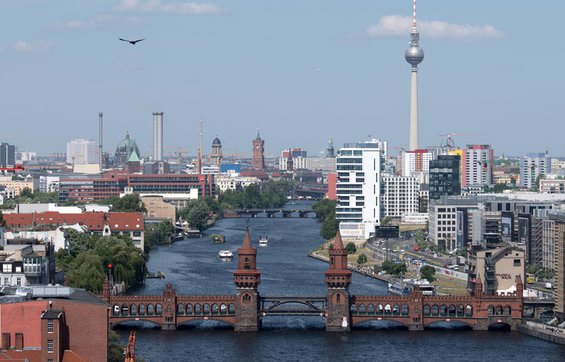 Aside from formal considerations students are asked to address the social and political issues that present themselves as we visit Berlin's various districts. These issues include but are not limited to the clash between the socialist past and the capitalist present, the immigrant experience of Germany, and gender fluidity in club culture.
The course includes visiting the 11th edition of the Berlin Biennale of Contemporary Art curated by collaborating curators María Berríos, Renata Cervetto, Lisette Lagnado, and Agustín Pérez Rubio. The class culminates in the construction and presentation of a Gesamtkunstwerk, of which form, content and location are determined by the students.
(upper left photo: Elmgreen & Dragset, Statue of Liberty, 2018)
---
Kota Ezawa's work explores the appropriation and mediation of current events and images, referencing sources from the news, art history, and pop culture. Since the debut of his 2002 video animation The Simpson Verdict, Ezawa has been known for creating light-boxes, videos, and works on paper that distill found images into his signature pared-down, flattened style. His most recent series, National Anthem (2018), currently on exhibit at the 2019 Whitney Biennial, draws from broadcast footage of NFL athletes protesting police violence.
Kota Ezawa was born and raised in Germany. He began his studies at the prestigious Kunstakademie Düsseldorf before relocating to the Bay Area. His work has been presented in numerous solo and group exhibitions at galleries and museums in Germany, including at Hamburger Kunsthalle (2018), Kunstmuseum Celle (2018), and Kunsthalle Bremen (2015).
---
Prerequisites
Undergraduate students: completion of at least sophomore level by summer 2021
For Diversity Studies Studio credit: Drawing 1, 2D, 3D, 4D, Writing 1, Foundations in Critical Studies, Intro to the Arts and Intro to the Modern Arts. Junior standing
For Upper-Division Interdisciplinary Studio credit: Drawing 1, 2D, 3D, 4D, Writing 1, Foundations in Critical Studies, Intro to the Arts and Intro to the Modern Arts. Junior Standing
In addition, all students must be in good academic, conduct, and financial standing for the 2020–21 academic year. Students who are on probation in fall 2020 are not eligible to enroll in a 2021 summer study-abroad program.
Course satisfies
For undergraduate students, this course satisfies a Diversity Studies Studio, FILMS 2700, Upper Division Interdisciplinary Studio, or studio elective requirement.
For graduate students, this course satisfies a Grad-wide Elective.
Program Fee
To be announced
Included in the program fee
3 credits, housing, local transportation, guest artists, field trips, entrance fees, and travel/health insurance
Not included in program fee
Airfare to and from Berlin, ground transportation to and from airport, most meals
Please read the Summer Study Abroad Registration & Related Information in its entirety.
---
Questions
Please see Frequently Asked Questions.
All CCA summer study-abroad courses (including Exhibition Brooklyn and New Orleans) are coordinated by the Office of Special Programs.
Office of Special Programs
Oakland campus, Irwin Student Center
Nina Sadek
Dean of Special Programs
510.594.3773
Carol Pitts
Operations Manager, Special Programs
510.594.3732