Two-Week, All Day June 2023 Program
Two-Week, All Day June 2023 Program
COVID Protocols
Students will need to adhere to the COVID-19 protocols we establish closer to the start of each program. We will email families a COVID agreement that they, and their student, will need to agree to, in writing, and return to us three weeks prior to the start of their student's program in order for their student to be able to participate.
Thank you for your interest in our Young Artist Studio Program. We are planning and expect to have an update on summer 2023 programs in fall 2022. Please add your name to the notification list here and you will be contacted when we have additional info. Please see below for an idea of what the program may entail.
Please direct any questions to Youth Programs@cca.edu.
Tuition: $1000
Dates to be confirmed in fall 2022, Monday - Friday, 8:30 am - 4:30 pm
Location: San Francisco
Participants pick one paired studio option from below. Studio offerings will be confirmed in fall 2022.
Studios #1: Comics (morning) & Visual Storytelling (afternoon)
Studios #2: Printmaking (morning) & Painting (afternoon)
Studios #3: Painting (morning) & Explorations in Drawing (afternoon)
The schedule will follow the one-week, all-day format listed above. Students will attend their afternoon class after the 45-minute lunch break.
---
Daily Class time/Break time Schedule*

8:10-8:25 am / drop off
8:30-10:00 am / 1 hour and 30 minute class time
10:00-10:15 am / 15 minute break
10:15-11:30 am / l hour and 15 minute class time
11:30 am 12:15 pm / lunch break (45 minutes)
12:15-2:15 pm/  2-hour class time
2:15-2:30 pm / 15 minute break
2:30-4:30 pm / 2-hour class time
4:35-4:50 pm / pick up
* Please note that in the event that COVID-19 restrictions require us to make adjustments we will do so. We will follow the rules in place at the time of your student's program to keep your student and the entire CCA community (staff, faculty) safe.
---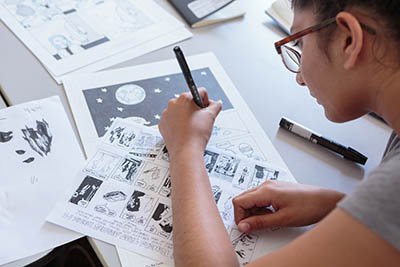 POW! ZIF! BAM! Cartoon drawing students learn the language of comics in this exciting studio, exploring everything from superheroes and manga to the Sunday funnies.
Students flex their creative muscles, learning how to design memorable iconic characters, cinematic composition, and advanced comic storytelling techniques
---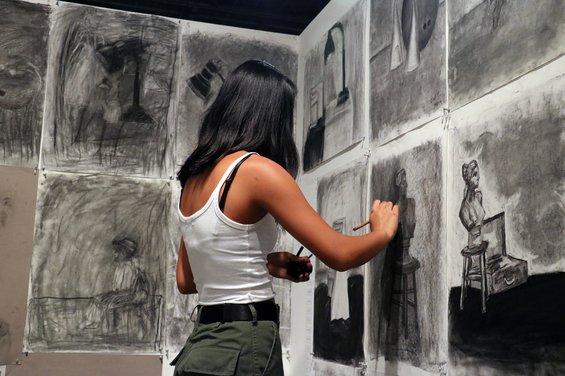 Participants work with their instructor to explore the rich materials, concepts, and techniques of drawing.
A number of sessions focus on drawing from a clothed/costumed model, while others investigate both traditional and nontraditional approaches to various subjects, including nature, architecture, and abstraction.
Participants develop the ability to see and then translate visual experience into drawing, using pencil, charcoal, pastel, and other media.
---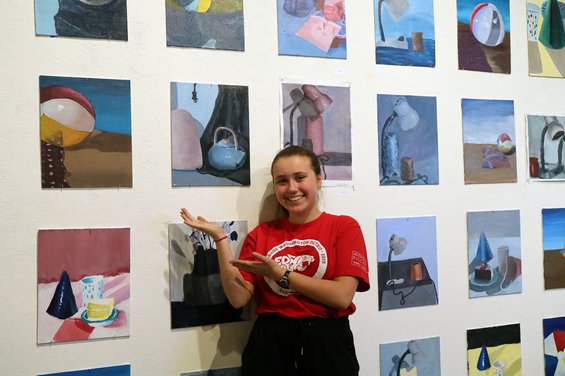 Cave paintings dating back 25,000 years testify to the human urge to create images. Students explore the expressive medium of painting through a variety of subjects, working both from observation and imagination.
Participants experiment with composition, content, and color while learning the technical aspects of using acrylic paint.
---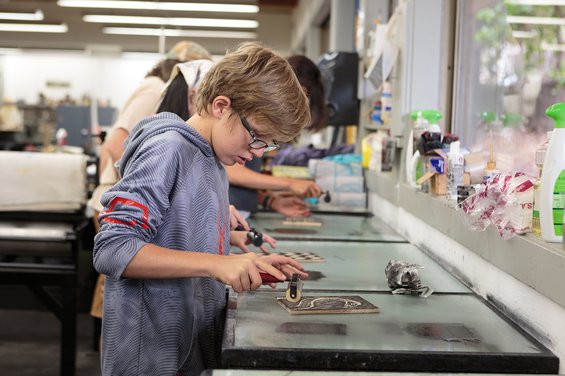 Have you ever wished you could make multiple copies of a favorite drawing? Printmaking, one of the first methods of mass communication, allows artists to do just that. (In ancient times, some people even thought black magic was involved.)
In this exciting studio, students create their own original prints using techniques such as monoprint, relief, and intaglio. In learning these various printmaking techniques, students will explore infinite opportunities of mark making, achieving various motivations of creating printed works and to support the development of amplifying one's artistic interests and understanding each print process.
Students will learn to steward the print shop and gain knowledge in handling inks, plate preparation, paper, registration, presses, and other basic equipment of the medium.
---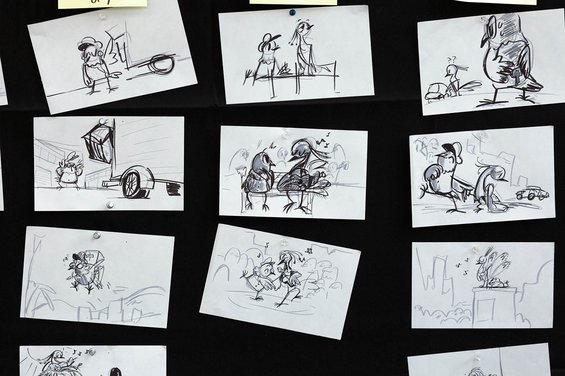 From informal concept sketches to more finished storyboards, Visual Storytelling explores how to tell a story through sequential pictures. This skill is important for all kinds of artists, including animators, filmmakers, comic makers, illustrators, painters, and writers.
The studio looks at live-action movie and animation clips as well as graphic novels to learn the basics of telling a story through visual means, including the significance of different points of view, close ups, far shots. Students may work with a variety of mediums, including pencil, pens, collage, and photographs to convey their own ideas.
---
CCA Youth Programs & Continuing Education
Related Pages
Related Links