Two-Week, Short Day June 2023 Program
Two-Week, Short Day June 2023 Program
Thank you for your interest in our Young Artist Studio Program. We are planning and expect to have an update on summer 2023 programs in fall 2022. Please add your name to the notification list here and you will be contacted when we have additional info. Please see below for an idea of what the program may entail.
Please direct any questions to Youth Programs@cca.edu.
Dates: June 2023 dates will be confirmed in fall 2022.
Monday through Friday, 10:30 a.m. to 3:15 p.m.
Location: San Francisco
Tuition: $ 600 (Includes all art supplies)
Participants arrive a little later in the morning and can pick from 2 paired studio options. Includes a 45 min lunch break.
Option one: Drawing the City and Printmaking
Option two: Architecture and Drawing Animals
Daily Class time/Break time Schedule*

10:10-10:25 am / drop off
10:30-12:30 pm / 2 hour class time
12:30- 1:15 pm / lunch break (45 minutes)
1:15-3:15 pm/  2-hour class time
3:15-3:30 pm / pick up
* Please note that in the event that COVID-19 restrictions require us to make adjustments we will do so. We will follow the rules in place at the time of your student's program to keep your student and the entire CCA community (staff, faculty) safe.
---
COVID-19 Protocols
Students will need to adhere to the COVID-19 protocols we establish closer to the start of each program. We will email families a COVID agreement that they, and their student, will need to agree to, in writing, and return to us three weeks prior to the start of their student's program in order for their student to be able to participate.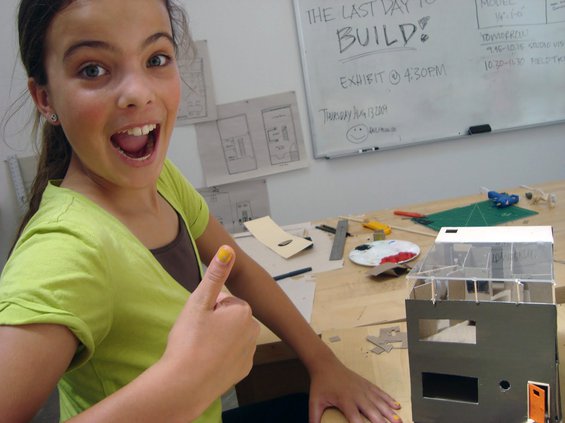 Chances are that your first drawing of a house was a square with a triangle-shaped roof, two windows, a door, and a chimney. In the windows, or next to the tree outside, you drew your family.
This class explores what constitutes a space and how we can define it using different mediums. Through a range of mini-projects, students learn how to bring their imagined spaces into reality, building 3D models with their hands, and then create an architectural project of their own design.
Mini projects involve sketching, model making with a variety of materials, storytelling, and writing. We also exercise how to present our work to others!
---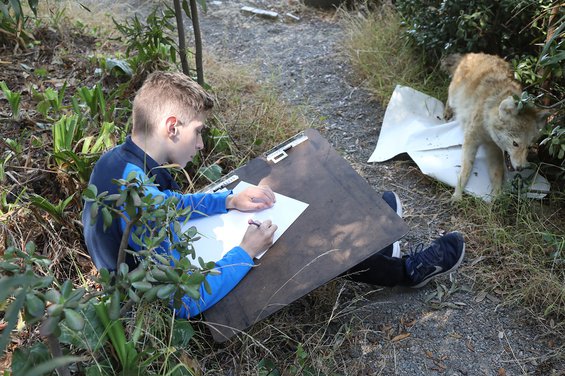 Dynamic and engaging, animals compel us with their otherness: the soulful gaze of a dog, the soft fur of a rabbit, the sharp claws and wings of a bird of prey. 
With family pets, our connection can be deep and emotionally rewarding. This studio focuses on drawing animals, working from images, imagination, and life. Participants create a large drawing of their favorite animal based on a smaller picture, using the grid system employed by artists for centuries; delve into their imaginations; and draw from animal taxidermy models -- as well as live animals that provide the challenge of capturing something that may not sit still!
*This class is not recommended for students with pet allergies.
---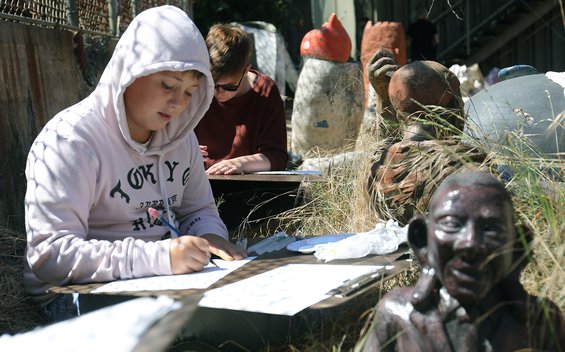 Tired of being in a classroom all the time? Drawing the City takes you outside, and around CCA's beautiful urban neighborhood, to look closely at buildings, parks, patterns, and landscapes.
Drawing will take place both in and out of the classroom. Participants may work with pencils, oil pastels, ink gouache, watercolor, and other creative mediums.
---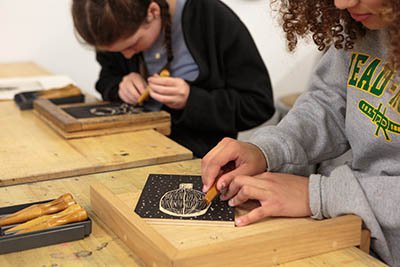 Have you ever wished you could make multiple copies of a favorite drawing? Printmaking, one of the first methods of mass communication, allows artists to do just that. (In ancient times, some people even thought black magic was involved.)
In this exciting studio, students create their own original prints using techniques that might include monoprint, relief, intaglio, or other methods. They learn about inks, rollers, papers, and other basic equipment of the medium.
---
CCA Youth Programs & Continuing Education