Importing Course Content - Faculty
Importing Course Content - Faculty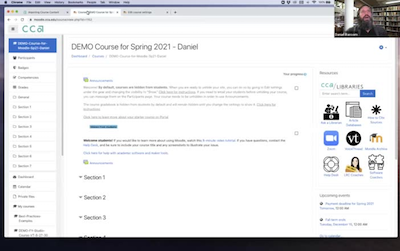 When you're setting up a new Moodle course section, you can import content from one of your previous sections so you can reuse rather than recreate course content from scratch. You can also reuse components from templates that your department may provide for you.
Importing content from another section doesn't remove copied content from the original course section. It's more like a copy of the structure.
We have a new video created to visualize the import process.
---
Which courses can I import content from?
In order to import content, you must be an instructor in the section that will be exported and in the new section where the content will be imported.
If you are the owner of a course, you must enroll the other faculty you want to utilize it. So, for instance, if you want everyone to use the same set of starting elements for all your 1000-level courses you will need to enroll all your faculty into the template you've created.
To add someone to a course:
Go to the Participants tab
Select the gray Enroll users button
Search as many faculty members as you need and add them to the list
Under Assign role select "Export-only Instructor" and finish with the blue Enroll users button
The Export-only Instructor role is specifically designed to allow faculty to add pieces from your template to their own courses without being able to modify the template itself.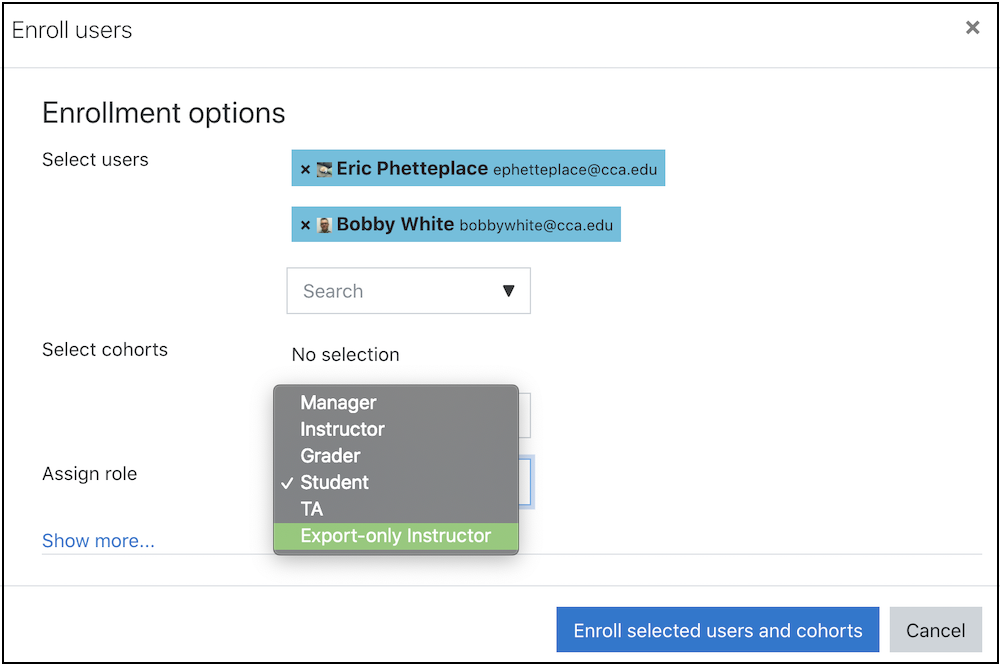 ---
1. Go to the course you wish to import content into.
For example, if you want to bring content from an older session you have taught previously, navigate to new course where you want to bring in contents of the old course and then complete these steps.

2. Open import settings.
a. Click the gear icon ⚙️ in the upper righthand corner of the screen.
b. From the dropdown menu, select Import.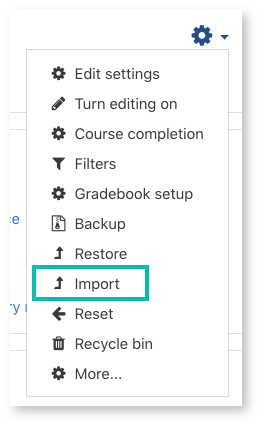 3. Choose the course you want to import content from
a. Select a course from the list.
The courses in this list are the ones you have access to as an instructor.

4. Select the types of content you wish to import
a. Check/uncheck boxes to specify the content types, such as activities and blocks, you'd like to import.

b. When you're done, click Next.

5. Select the topics/weeks of content you wish to import
a. Check/uncheck boxes to specify the topics or weeks (depending on the course format) you'd like to import.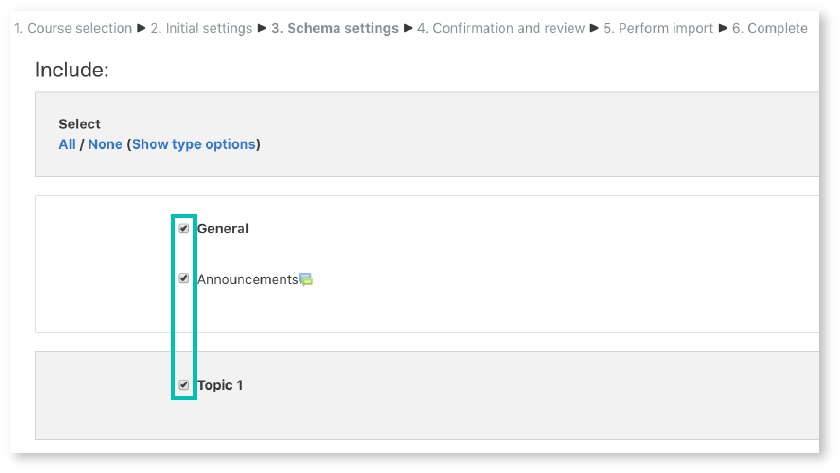 b. When you're done, click Next.

6. Review and confirm your selection
Anything you chose to import will be marked with a green check mark, and anything you chose to omit will be marked with a red cross. If everything is correct, scroll down and click Perform import.

7. Confirm successful import and return to your course
A progress bar will appear showing the status of the import. Upon completion, you will see a confirmation email. Return to your course and view newly imported content by clicking Continue.

---
Frequently Asked Questions
I received an error about "roles" during import. Is everything OK?
These errors can be ignored. The import part is the green "Import Complete" notice below the error—course content has been imported normally. If something seems amiss, contact the Help Desk and let them know about the courses involved (both the destination course and the original).

---
How can I tell which section my content will import into?
Moodle imports can work in unexpected ways because you cannot choose which section content is added to. Instead, content is added to the same section it was contained in from the original course. Sections are treated like a numerical matching list even if they are not (e.g. weeks or grid format). So if you import content from the second section of the original course, it will appear in the second section of the destination course. Our Importing Course Content video discusses sections during the import process.
Note that content can be moved anywhere after import, even if initially it shows up in an undesirable spot.
---
Why are some of my imported items invisible, missing, and/or marked as an "orphaned" activity?
When importing more sections than is currently available in the destination course, Moodle will import items over but mark them as "orphaned activities" until more sections are created. To remedy this issue:
Go to the gear in the upper right-hand corner of the course
Select "edit settings"
Locate the setting for "Course Format"
In the dropdown for Format, select "Topics"
Scroll to the bottom of the page and click "Save and Display"
Repeat this process, changing the format back to "Collapsed Topics," and Save. Your activities should now all have a section and be visible again.
---
I'm still having trouble or my question isn't listed here - who can I contact for help?
Please reach out to us at Help Desk!
To expedite the process, please provide any URLs, assignment, or course information if possible.
If you'd like to include any screenshots of your issue(s), please contact us by email at helpdesk@cca.edu.