Transfer and Second-Degree Orientation
Transfer and Second-Degree Orientation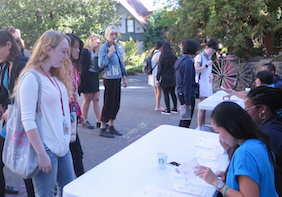 Welcome to California College of the Arts!
CCA has an established tradition of serving transfer and second-degree students. You bring rich scholastic and life experiences to your education, and that in turn contributes much to the CCA community.
The beginning of your journey as a CCA student is approaching quickly. With great anticipation, your families, friends, and campus community are preparing to support and welcome you as you begin your journey.
Use this checklist to ensure you start orientation on the right foot.
Save the Date: 2020 Spring Orientation
New International Students
Tuesday - Thursday, January 14 - 16
New Students (domestic and international)
Wednesday - Thursday, January 15 - 16
Attendance is required.
Steps to Ensure a Successful Orientation
Step 1: Review CCA's Undergraduate Enrollment Checklist
Review CCA's Undergraduate Enrollment Checklist which contains important deadlines, plus information regarding financial aid, health insurance, and more. It also contains a new student checklist that provides instructions leading up to new student orientation.
Step 2: Get Registered
All incoming students are encouraged to participate in Early Registration. Early Registration for fall begins in June. Early Registration for spring begins in December.
You will be prompted to participate in Early Registration via Workday after you have submitted your deposit (and first tuition payment, when applicable) and created your CCA account.
Those who are unable to participate in Early Registration will be invited to make an advising appointment during New Student Orientation.
Step 3: Determine Writing Course Placement and Submit Additional Portfolios for Review
Writing Course Placement

All undergraduate students are required to be placed in or waived from writing courses prior to starting their first semester at CCA. Students who do no have appropriate transfer credit, test scores, or exam scores are required to take the Writing Placement Exam.

Submit Additional Portfolios for Review:

If you have prior college-level coursework and/or experience in the following areas, you must submit materials (in addition to those submitted upon application) to be considered for any additional transfer credit, course substitutions, or waivers. Submit additional materials as soon as possible and prior to orientation to ensure you are registered appropriately.
Step 4: Read CCA Laptop Initiative & Recommendations
The Student Computing Recommendations and Requirements outlines the Educational Technology Services department's computing recommendations for all incoming students.
Students are required to comply with the CCA Laptop Initiative.
Retail and discount opportunities are also available online at the CCA Computer Store.
Step 5: Determine Health Insurance Eligibility
Health Insurance

All students who are registered in 12 or more units per semester (9 units per semester for all graduate students) are considered full-time students. They are, therefore, required to have health insurance coverage.
The college has secured a group health insurance policy (an Aetna PPO plan) that provides year-round coverage.
Part-time students are ineligible for CCA student health insurance.

Online Waiver FAQ

You may waive CCA's coverage by submitting an online waiver application before the end of the add/drop period.
A student's own health insurance must meet minimum coverage requirement to qualify for an approved waiver.
Step 6: Read the Student Handbook
The Student Handbook serves as a guide to the programs, policies, procedures, requirements, and resources of CCA.
Students are strongly encouraged to read the entire handbook.
Step 7: Follow Student Council on Facebook and Instagram
Orientation leaders are fellow students who play an integral role in helping students transition to college life.
Add Student Council to your Facebook page and get connected with other current CCA students.