All CCA students enrolled in on-campus classes (with the exception of those who receive an approved exemption) must be fully vaccinated against COVID-19 by the start of their first day of classes. Students who are not vaccinated and have not received an exemption or made a plan to be vaccinated by the start date of their first class will be removed from all in-person classes. 
---
Register online with TouchNet.
For any questions regarding registration or class information please email CCA Extension.
Please note, our office hours are Monday-Friday from 9am - 5pm. We are closed on Saturday and Sunday. For information regarding class meeting locations outside our office hours, please contact Public Safety at 415-703-9510.
We highly encourage registering early to ensure your spot in a class and to ensure we do not cancel an under-enrolled class. We typically need a specific minimum enrollment to be able to offer a class.
---
About Online Registration
Youth Programs and Continuing Education office offers online registration through TouchNet for CCA Extension courses. You do not need to apply to CCA and can pay as a guest.
Online registration requires either a credit card (Visa, MasterCard, Discover, or American Express)
Important
All registrations are confirmed by confirmation email within 48-72 hours via automatically generated messages.
Delivery errors can occur with email. If you do not receive a confirmation, please contact our office to confirm your registration.
Students who do not receive a confirmation are still liable for the tuition of CCA Extension courses for which they have registered; students must formally withdraw from a class in order to receive a refund (see refund policy).
---
How to register online with TouchNet
Once in TouchNet you can view all classes being offered per term or view per category (Design, Fine Arts, Digital Tools, etc)
To learn more about a class, select the class title link.
To purchase a class select the "add to cart" button on the description page or select the shopping cart icon. To add more classes select the "Continue Shopping" button
If you are ready to finalize your class selection, select the blue "Checkout" button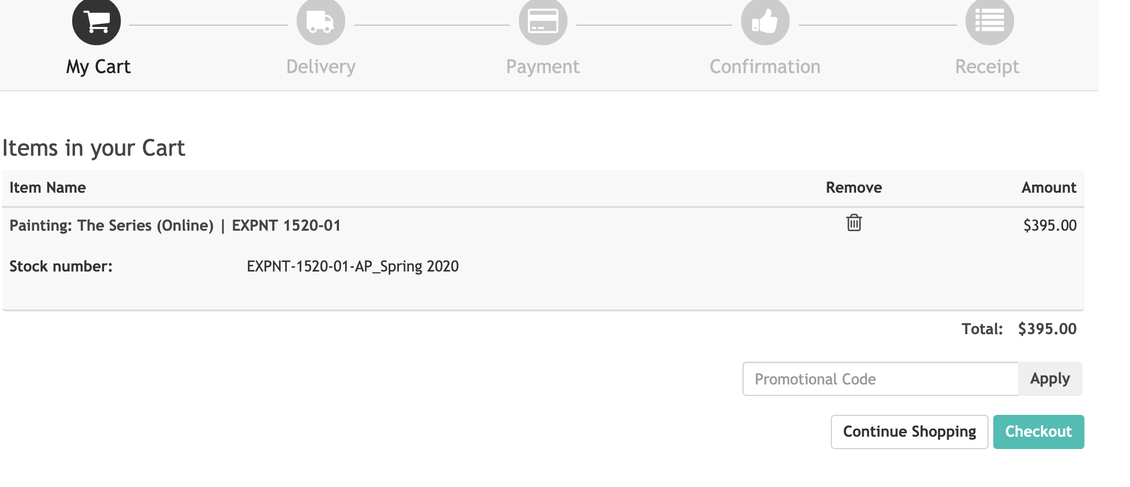 Enter your personal info (asterisks are required info). It is suggested you register as a guest even if you know your ID.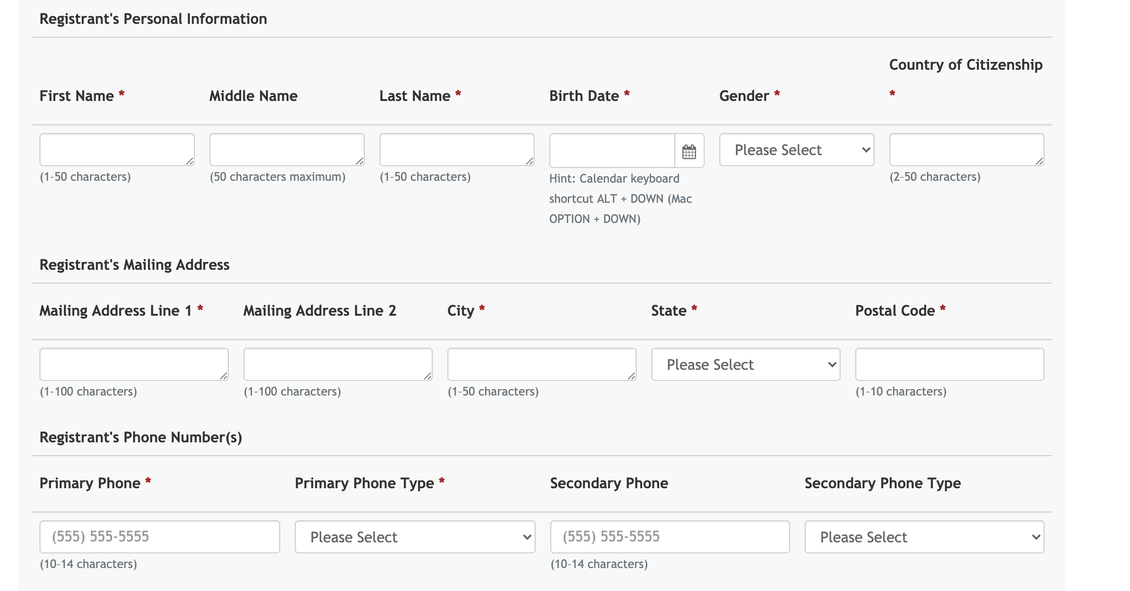 Under "Contact Info" enter your email and check out as a guest (you do not need to log in or register an ID).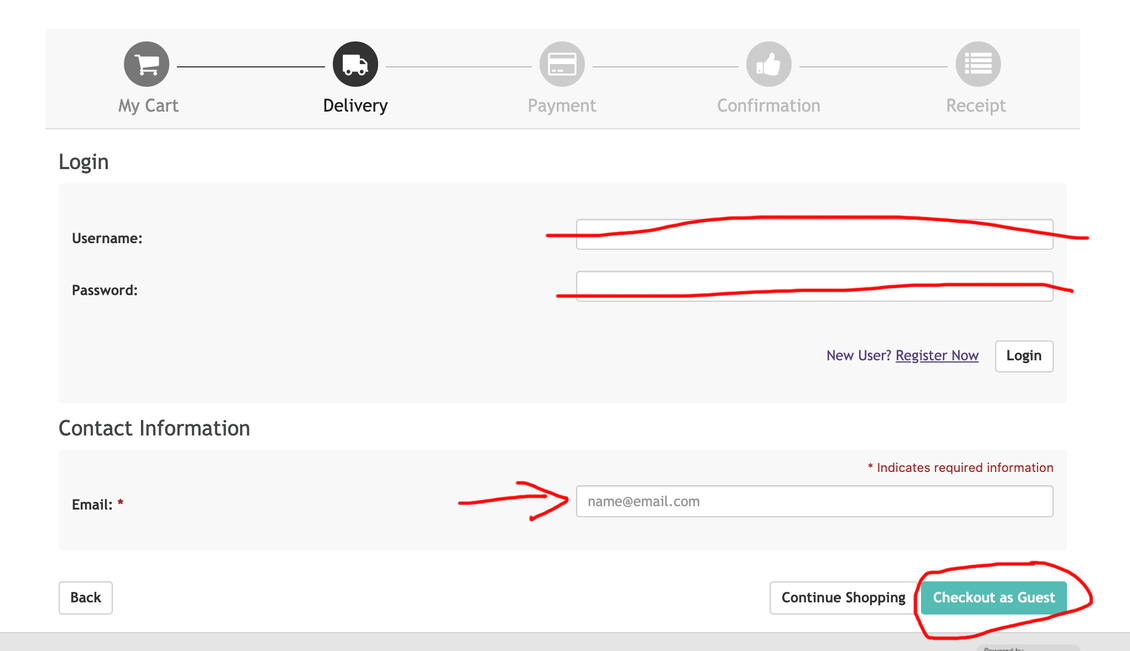 From there, enter payment info and review order. Remember to review the refund policies and check the box that you agree to the stated policies.
After you register and pay for a class, you will receive a receipt and confirmation email.
---
Additional Ways to Register
Our staff members are unable to take enrollments over the phone. However, we are happy to help answer your questions or walk you through how to enroll online via email.
---
CCA Extension offers the following discounts:
Educator Discount: 25% tuition discount to employees of educational institutions, including middle and high school teachers, higher education professionals, and community-based or non-profit arts organizations. Educators must provide proof of employment at the time of registration. Limit: two courses per semester (not to exceed four courses in one academic year). Please email CCA Extension for the discount code or call/text +1 415-610-7004 for questions.
Donors: Donors who give a gift to the college of $500 or more this year are eligible for a 20% discount the same year on CCA Extension course tuition. For more information, please contact the CCA Advancement office.
Please Note: We discount the two most expensive classes at the time of registration. When registering with the discount, all classes must be registered for at once. Material or lab fees will not be discounted.
---
Registration with Educational Grants/Americorps
If you happen to have an educational grant or funding through Americorps, we are happy to take payment from these organizations. The best way to apply your funding is to follow these steps:
Contact your organization with your intent to enroll and have them write a "Education Award Payment Request". This invoice will let CCA know payment is on its way.
Contact Youth Programs and Continuing Education with your intent to enroll and send us a registration form along with your "Education Award Payment Request"
Once we get confirmation payment is being sent we can register you! We don't allow students to register before we get that confirmation. If the class doesn't run the money goes back to the organization providing the funding
---
Tuition Remission for CCA staff and faculty
If you are benefits eligible CCA staff or Faculty member you and your spouse, domestic partner, or dependent children are able to take CCA Extension classes at either a discounted or free rate.
Regular full-time staff may take up to seven CCA Extension courses per year, not to exceed two in the fall, two in the spring, and three in the summer.
Regular part-time staff may take up to three CCA Extension courses per year, limited to one in the fall, one in the spring, and one in the summer.
This benefit is limited to seven courses per family (including the staff member) for full-time staff members and three courses per family (including the staff member) for part-time staff members.
Please see detailed information about Tuition Remission Policies here
There are two registration options:
1) At the start of registration, eligible staff members may guarantee their seat in a CCA Extension course by paying for the course with a 20 percent discount.
2) Alternatively, staff members may wait until the weekday before the start of the CCA Extension course to register with a 100 percent tuition remission, but only if there are empty seats available (as determined by the Office of Youth Programs and Continuing Education). Lab fees will still need to be collected and payment can be made by contacting Extension@cca.edu
On occasion, a seat may not be available until just before the second class meeting, in which case the staff member will not know until then that they are authorized to join the course. If there are multiple 100 percent tuition-remission applicants for the same course, enrollment will be on a first- come, first-served basis
Tuition remission can now be requested in Workday by eligible employees! An updated policy can also be found on the portal. To apply for tuition remission for a regular semester or courses, please follow these directions:
Log into Workday.
In the search bar at the top of the page, type in "create request"
In the drop down menu, type "tuition" and hit enter.
Complete and submit the form in Workday
---
All required consumable materials are to be purchased by students (unless otherwise noted as included in the course tuition).
---
Tuition & Fees are payable in full at registration to attend a class. Receipts may be asked as proof of payment
CCA accepts personal checks or money orders (payable to California College of the Arts), Visa, MasterCard, Discover, American Express, or cash.
Note: A $25 penalty will be charged to the student's account for any returned check, regardless of the reason.
---
You should receive info on your class from both your instructor or Youth Programs and Continuing Education a few days before it starts. If for any reason you don't, Please email us at Youth Programs and Continuing Education. In some cases, emails get sent to spam folders or inactive student emails.
Please email us at Youth Programs and Continuing Education. Staff is working from home due to COVID-19
Please note, our office hours are Monday-Friday 8:30a-5p and we are closed on the weekends. For any questions regarding class meeting locations call Public Safety at 510-385-1821