The 2022 PLAySPACE Program
The 2022 PLAySPACE Program
PLAySPACE, The Paulette Long and Shepard Pollack Art Community Experiment, is a graduate student-run exhibition program currently located at 141 Hubbell Street in the CCA Hubbell Street Galleries. The program provides the resources for student artists and curators to conceptualize and present programming that is oriented toward the academic community. PLAySPACE was founded by CCA's Graduate Program in Curatorial Practice in 2005 and is currently administered by the Exhibitions & Public Programs department.
View installation images of highlighted PLAySPACE exhibitions 2016–2021
October 8-14, 2022 | Irma Yuliana Barbosa: Counting Sheep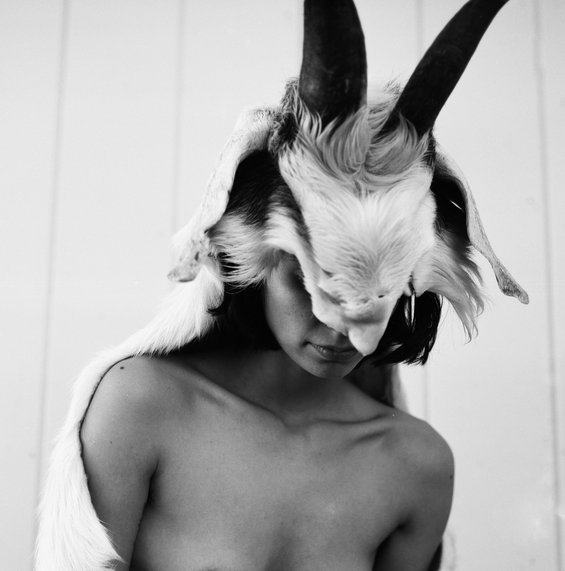 Counting Sheep will be accompanied by a performance by the interdisciplinary artist Irma Yuliana Barbosa on October 14th at 7:30 pm in the Nave Presentation Space. Titled Pulling Tongues, the performance is an interactive performance focusing on themes of folklore, queer pleasures, and the power of gestures. The audience will be invited to observe the artist transform into a hybrid goat being amidst a bedroom dreamscape where the furniture is growing tongues and subtly transforming into creatures of their own.
---
February 11–April 22, 2022 | plaYplaYplaY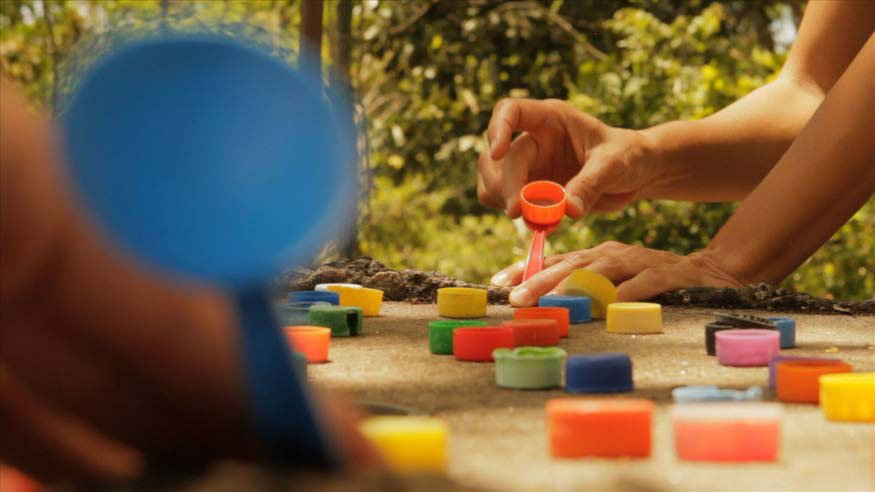 As children, play is central to how we grow and learn. It's what allows us to connect with others and let our imaginations flourish. But as we get older, play becomes more and more a luxury rather than an integral part of daily life – taking a backseat to professional obligations and other dull but necessary evils.
Like the name would suggest, plaYplaYplaY is an exhibition for all things clever, silly, quirky, and fun. From the whimsical forms of Sofie Ramos and Corrie Wille to the deceptively simple games of Donna Conlon and Jonathan Harker, this exhibition toys with the mind, unlocking the mental and physical muscles many of us have not stretched since childhood. Exhibiting artists also show us the power of play in revealing systemic injustices, subverting gender expectations, and confronting the absurdity of our political and ecological realities.
plaYplaYplaY features video work from the KADIST Collection alongside artists Monyee Chau, Liz Hafey, Nick Lamkin, Androgony King, Sofie Ramos, and Corrie Wille.
Image: Donna Conlon and Jonathan Harker, Tapitapultas (2012), single-channel video (still), color, sound, 3:40 minutes. Courtesy the artists and KADIST.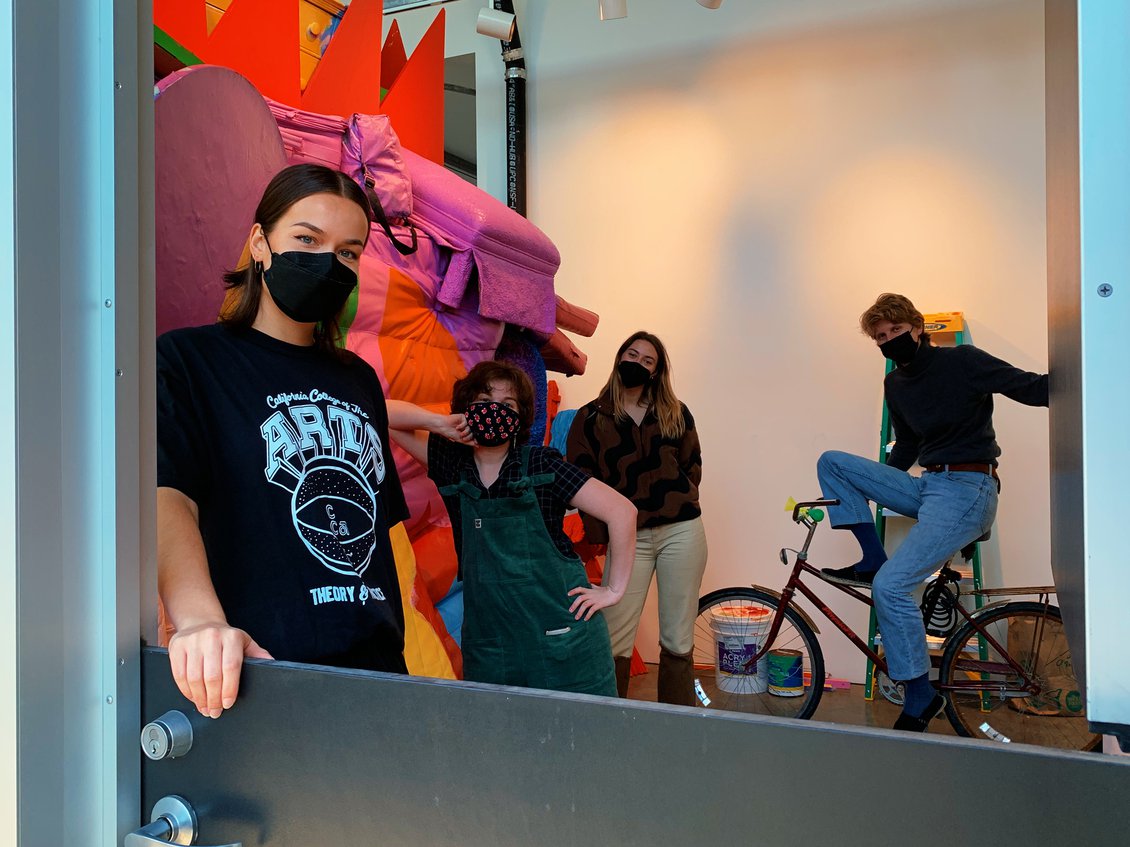 Marco Bene (he/him) studied a BA in Art History at Goldsmiths, University of London, from 2012 to 2016. In 2017, he moved to Lisbon, writing vacuum cleaner reviews to subsist, until he started working for/in the exhibition Lua Cão (Alexandre Estrela and João Maria Gusmão + Pedro Paiva), writing the exhibition text for the catalog published by Mousse Publishing and La Casa Encendida, Madrid. From then until 2018 he worked as curatorial assistant to the exhibition programme conceived by Natxo Checa, at Galeria Zé dos Bois; studio manager to the artist Alexandre Estrela, and curatorial assistant to the Oporto, Lisbon exhibition programme. In 2019 he curated the exhibition "Abril, aguas mil" at La Casa Encendida, Madrid. Currently he is studying an MA in Curatorial Practice at California College of the Arts, San Francisco.
Zoë Latzer (she/they) is the Curatorial and Public Programs Associate at the Institute of Contemporary Art (ICA) San José. She is dedicated to curating exhibitions that promote awareness and appreciation of Bay Area contemporary artists and issues with an emphasis on community collaboration and engagement. Prior to the ICA, she worked at the San Jose Museum of Quilts and Textiles and White Cube Gallery. She holds a BA in History of Art and Visual Culture from the University of California, Santa Cruz with an emphasis in Modern and Contemporary Western Art and is currently pursuing an MA in Curatorial Practice at California College of the Arts.
Meghan Smith (she/her) is the 2021-2022 Graduate Curatorial Fellow at the Wattis Institute for Contemporary Arts and Exhibitions Coordinator at Patricia Sweetow Gallery. Prior to CCA, she worked as the Associate Director of Second Street Gallery in Charlottesville, Virginia, with previous experience in museums, nonprofits, and marketing. She studied Global Development and Studio Art at the University of Virginia, and is currently pursuing a dual MA in Curatorial Practice and Visual & Critical Studies at California College of the Arts.
Klein Voorhees (they/them) is a trans agender poet, artist, translator, and rookie curator from North Carolina. They previously studied English and Art History at the University of North Carolina at Greensboro, and are currently pursuing an M.F.A. in Creative Writing from California College of the Arts. Based on these clues, can you guess which world-famous painting they have touched?
Contact Us
For visitor information, please see CCA.edu/exhibitions
For information on current and upcoming events, visit the CCA Events Calendar, instagram, or facebook, or contact playspace@cca.edu.