After the Bauhaus, Before the Internet; A History of Graphic Design pedagogy
After the Bauhaus, Before the Internet; A History of Graphic Design pedagogy
+

Add to calendar
Wed, Oct 5 2022, 6PM - 7PM
Nave Presentation Space | 1111 Eighth Street, San Franciso, CA, 94107 View map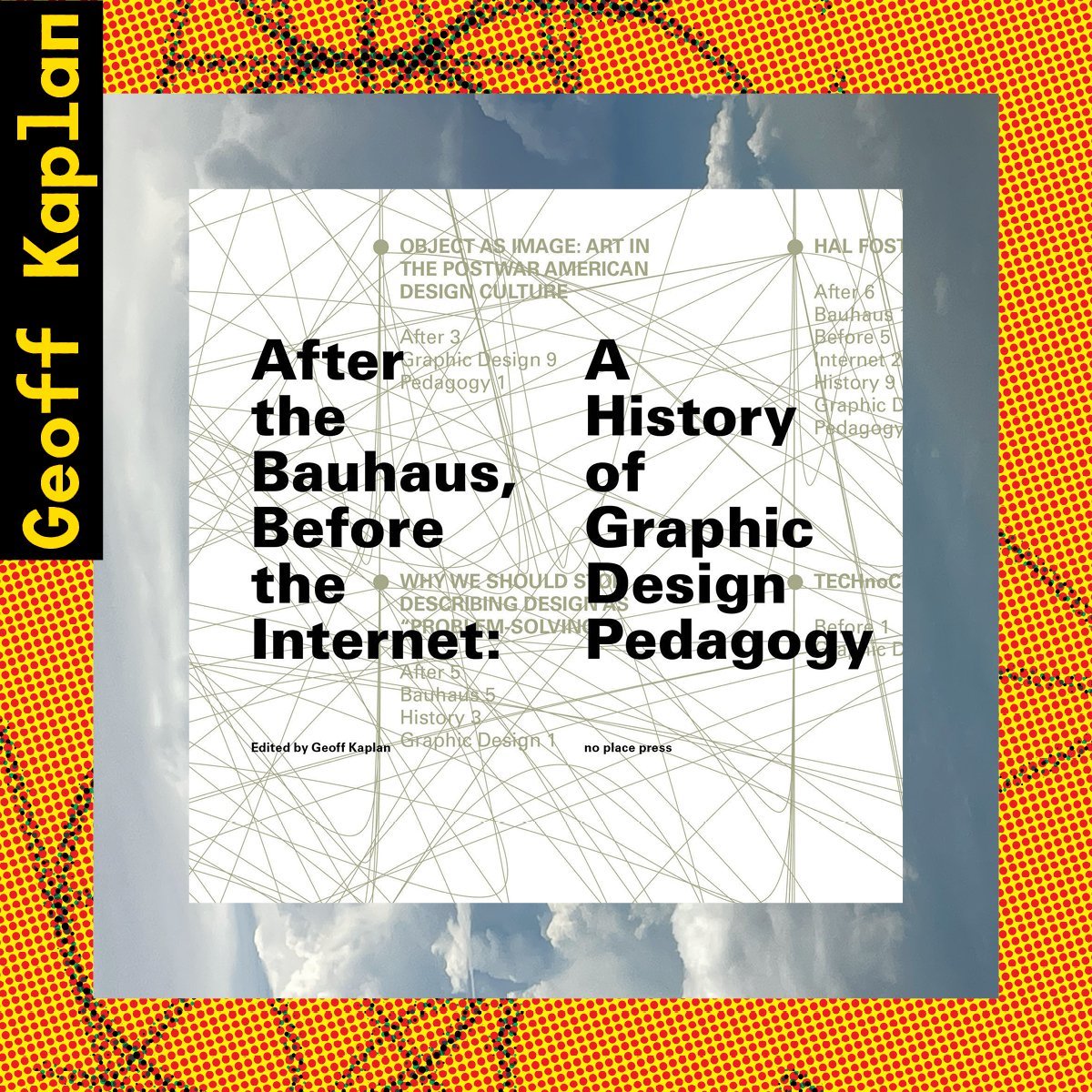 Organized by
MFA Design
Event description
The Fall 2022 Design Lecture Series will be available both in person, and online. If you'd like to attend in-person, advanced ticketing is required. See below for our COVID-19 policies. To attend virtually, please RSVP for the Zoom Webinar link.
With contributions by more than forty of the most influential voices in art, architecture, and design, After the Bauhaus, Before the Internet traces a history of design teaching from the mid-1950s to the mid-1990s through essays, interviews, and primary materials. Geoff Kaplan has gathered a multigenerational group of theorists and practitioners to explore how the evolution of graphic design pedagogy can be placed within a conceptual and historical context.

 At a time when all choices and behaviors are putatively curated, and when "design thinking" is recruited to solve problems from climate change to social media optimization, the volume's contributors examine how design's self-understandings as a discipline have changed and how such changes affect the ways in which graphic design is being historicized and theorized today.
ASL interpretation will not be offered at the event. The lecture uses a slide presentation. All content from the slides will be read aloud or described. Closed captioning will be available during this webinar. 

Speaker Bio
Geoff Kaplan of General Working Group has produced projects for a range of academic and cultural institutions, including the Museum of Modern Art, NY; Harvard University and The Museum of Contemporary Art, Los Angeles. His work is included in the San Francisco Museum of Modern Art's, Walker Art Center's, and MoMA's permanent collections and he has exhibited internationally. Kaplan received his MFA from Cranbrook and teaches in the graduate design program at Yale University and was the Frank Stanton Chair in Graphic Design at Cooper Union. Kaplan co-wrote, edited and designed Power of the People: The Graphic Design of Radical Press and the Rise of the Counter-Culture, 1964-1974 published by the University of Chicago Press. He recently co-wrote, edited and designed After the Bauhaus, Before the Internet; A History of Graphic Design Pedagogy published by no place press. Kaplan is one of the three co-founders of no place press, distributed by the MIT Press.
Kaplan's presentation will include conversations with Fred Turner and Ignacio Valero, who both contributed to the book.
Fred Turner is the Harry and Norman Chandler Professor of Communication at Stanford University. He is the author or co-author of five books: Seeing Silicon Valley: Life inside a Fraying America (with Mary Beth Meehan); L'Usage de L'Art dans la Silicon Valley;  The Democratic Surround: Multimedia and American Liberalism from World War II to the Psychedelic Sixties;  From Counterculture to Cyberculture: Stewart Brand, the Whole Earth Network, and the Rise of Digital Utopianism; and Echoes of Combat: The Vietnam War in American Memory. Before coming to Stanford, he taught Communication at Harvard's John F. Kennedy School of Government and MIT's Sloan School of Management. He also worked for ten years as a journalist. He has written for newspapers and magazines ranging from the Boston Globe Sunday Magazine to Harper's.


Ignacio Valero is a current associate professor of humanities and sciences at CCA. He has also taught at the University of Madrid, University of the Andes, and Xavier University of Columbia.

Ignacio was formerly with the International Center for Environmental Education, CIFCA, and the United Nations environment and development programs UNEP and UNDP. He was a senior associate with the Colombian Science Foundation, deputy director of Colombia's Environmental Protection Agency, and a member of the presidential advisory council for the writing of the new Colombian constitution.

Ignacio's current interests include the political economy of the image, consumption, desire, and the society of the spectacle; environment, globalization, and the commons; and the aesthetic, philosophical, and cultural dimensions of "archaic modernity" in science fiction, anime, gender and sexual difference, mass media, and sociopolitical development.
He is also interested in understanding practices leading to critical and creative pedagogies, and he is working on a poetry manuscript.
BS, Southwest Missouri State University; MAT, University of Florida; PhD, University of California.

About California College of the Arts
Located at the center of innovation and technology in the San Francisco Bay Area, California College of the Arts is home to a world-renowned faculty of practicing artists and entrepreneurs, and a diverse community of makers that are boldly reimagining the world. Offering 22 undergraduate and 11 graduate programs in fine arts, architecture, design, and writing, CCA's creative culture is built around the ideals of interdisciplinary collaboration, sustainability, and community engagement.
California College of the Arts campuses are located in Huichin and Yelamu, also known as Oakland and San Francisco, respectively, on the unceded territories of Chochenyo and Ramaytush Ohlone peoples, who have continuously lived upon this land since time immemorial. We recognize the historic discrimination and violence inflicted upon Indigenous peoples in California and the Americas, including their forced removal from ancestral lands, and the deliberate and systematic destruction of their communities and culture. CCA honors Indigenous peoples—past, present, and future—here and around the world, and we wish to pay respect to local elders, including those of the lands from which you are joining us virtually today. If you are unsure of who's land you are currently residing upon, we encourage you to visit native-land.ca.
ENTRY DETAILS