Spring 2023 Fine Arts Senior Exhibition
Spring 2023 Fine Arts Senior Exhibition
+

Add to calendar
Wed, Apr 19 2023, 5:30PM - Sat, Apr 22 2023, 5PM
SOMArts Cultural Center | 934 Brannan Street, San Francisco, California, 94103 View map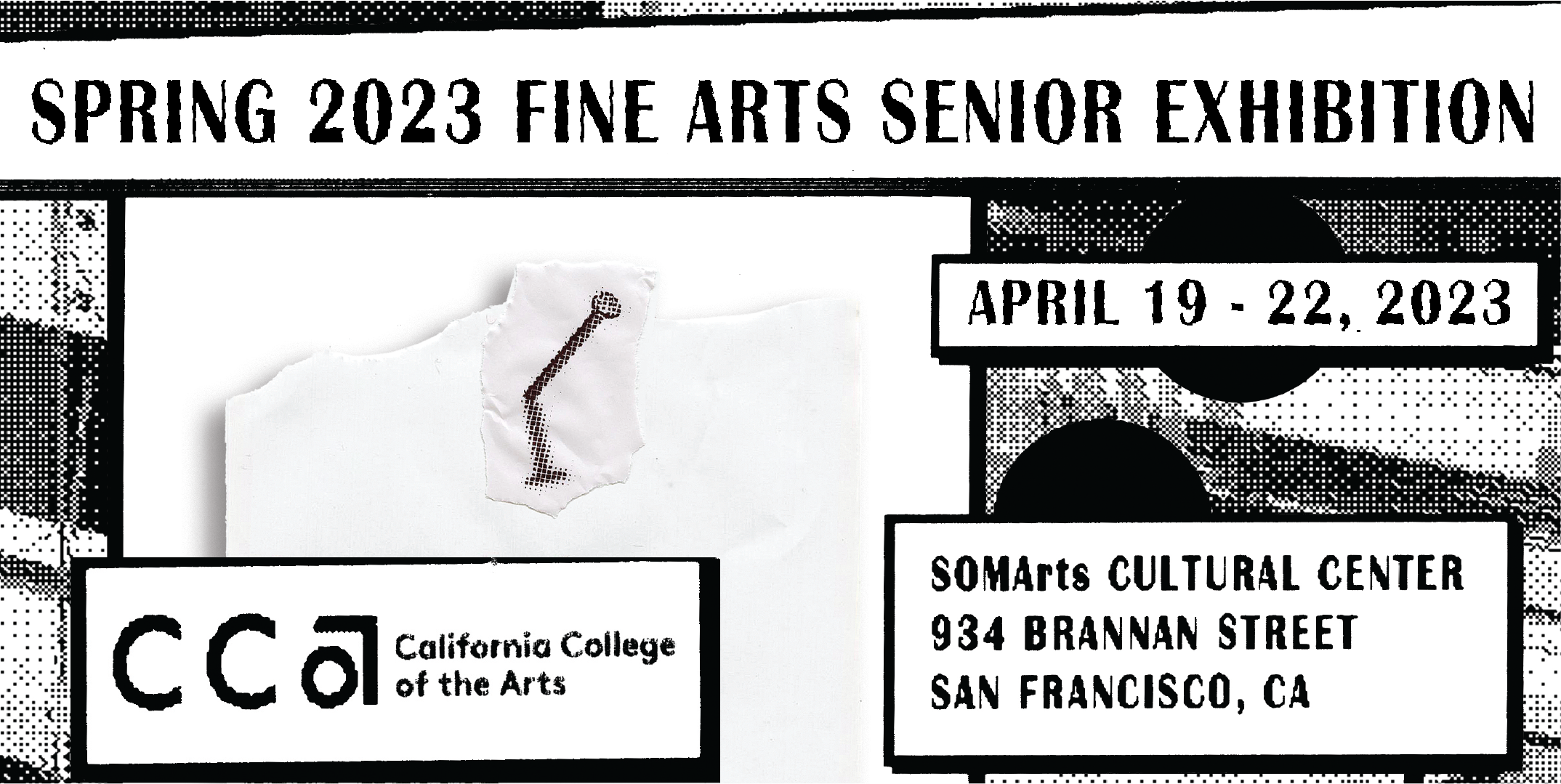 Organized by
Fine Arts Division and CCA Exhibitions Department
Event description
The Fine Arts Senior Exhibition features capstone work by students reaching course completion in Spring 2023. The goal of this celebratory event is to grow each student's professional practice through the process of planning, installing, and presenting their work in a gallery space where they receive in-person critique from faculty and students, document their work in a professional setting, and celebrate their accomplishments with friends and family.
Artists include Androgony King, Anna MacKenzie, Annie Artell, Benjamin Crocker, Emma Kazamaki, Enya Fontanills, Florencia Montefalcone, Grey Dey, Hongmin Jin, Jaden Fuhrer, Jeremias Arevalo, Jordan Held, Jy Jimmie Flora Gabiola, Linna Ma, Madisun Brooks, Marcello Jaramillo, Osaze Seneferu, Phaedra Freeman, pi pi, Reese Wallace, Rose Honaker, Senay Alkebu-lan, Skye Battles, Sophia Seoyeon Oh, Trisha A Trotter, Wally A Corona, Weijian Shi, Yaxkin Fuentes-Barrientos, and Zihao Zhao.
Celebratory Opening Reception:
Wednesday, April 19, 5:30PM - 7:30PM
Gallery Hours: 
Thursday, April 20, 11AM - 5PM
Friday, April 21, 11AM - 5PM
Saturday, April 22, 11AM - 5PM

Entry details
Free and open to the public. Masks strongly recommended.