SYLVIE ROSENTHAL: HOUSE OF RISK
SYLVIE ROSENTHAL: HOUSE OF RISK
+

Add to calendar
Tue, Oct 30 2018, 5PM - 8PM View map
1111 8th Street, San Francisco, CA 94107
Part of event series: Design Lecture Series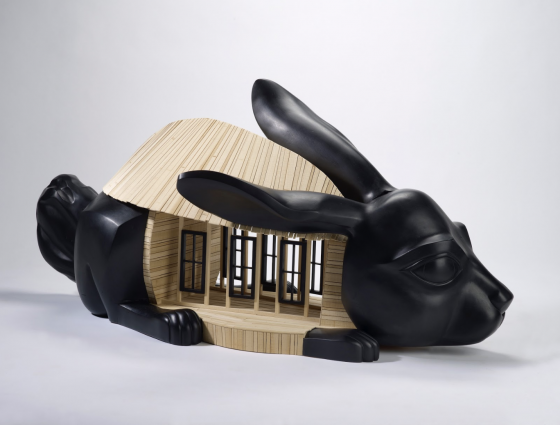 Organized by
CCA Design Division
Event description
Sylvie Rosenthal (Wornick Distinguished Professor) is a woodworker and sculptor. Over the last 15 years she has gained recognition for her intricate and detail-oriented furniture and sculpture, contraptions and art objects, that are infused with humor and steeped in the impossible.
From snakes swallowing teapots to kinetic birds, from stacking chests to store hopes, to animals seamlessly blended with architectural spaces, the wood and steel creations are shown nationally at both museums and galleries. She designs and builds, and reinvents technique through a combination of experimentation and material knowledge.

Sylvie Rosenthal started building at age six at the Eli Whitney Museum where she made circuses, catapults, rockets, and robots. She received her BFA from The Rochester Institute of Technology, Woodworking and Furniture Design Program in the School for American Crafts, built two houses from the ground up with her mentor Doug Sigler, and received her MFA in sculpture from the University of Wisconsin-Madison. Sylvie has been routinely invited as a visiting artist, teacher, and researcher to many schools including San Diego State University (CA), University of Wisconsin Whitewater and Madison (WI), Penland School of Crafts (NC), Haystack Mountain School (ME), Anderson Ranch Arts Center (CO), Australia National University (Canberra, Australia) and Tainan National University of the Arts (Tainan, Taiwan R.O.C.). She has shown nationally at galleries and museums such as The Fuller Craft Museum (MA), The Mint Museum (NC), and the Museum of Art and Design (NYC).
Sylvie maintains a studio practice making furniture on commission, production work for sale online, and sculpture dealing with the intersecting flight patterns of the histories of trade, the intentional and unintentional transplantations that come with it, hybridity, materiality, queer theory, and the natural world. Sylvie teaches woodworking at the University of Wisconsin-Madison and the Fundamentals of Construction at Madison College's Construction and Remodeling Program. She is also on the board of trustees of CERF+, the Artists' Safety Net. When Sylvie isn't doing the above, you might find her on her bike, teaching woodworking to kids, or traveling somewhere.
Entry details
RSVP
Nave Alcove