Updates to Course Directory & Dashboard
Updates to Course Directory & Dashboard
The Portal team has released a new version of the Course Directory - one that is integrated with Workday Student & Academics. We took this opportunity to revamp some of our best features and phase out others. Please take a look at some of the differences that you may run into while navigating Portal.
---
By popular demand, the Shuttle widget is now available on the dashboard. Members of the CCA community can log in to Portal and verify when the next shuttle will be arriving on the San Francisco or Oakland campus.
Since the shuttle is not in service during the Summer, it will display the message, "Shuttle is Not Currently in Service (Resumes on 9/3/19)".

The Registration Deadlines widget has been removed from the dashboard and will no longer display on any Portal page. Registration appointment information will be loaded and visible in Workday beginning later this summer.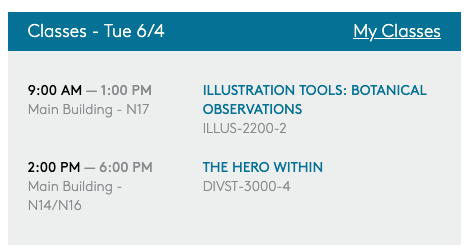 The Courses widget has been given a redesign. If you're not currently enrolled in a course, it will state, "You are not registered for any sections this academic period."
---
The My Classes page has also been given a slight redesign. If you're enrolled in classes for the semester, you can view your schedule by performing the following steps:
Log in to Portal using your CCA account credentials.
Scroll down the dashboard until you see the Courses widget.
Click on the link in the widget that says, 'MY CLASSES'.
---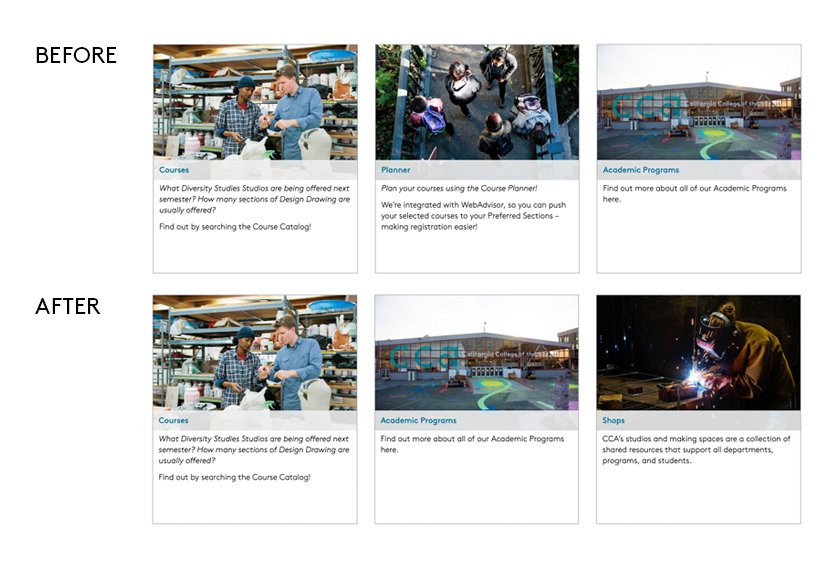 The Course Planner page has been removed, including all Planner functionality in the Course Directory. Workday, CCA's new academic system of record, has built-in course planning functionality, which will replace the Portal Planner.
All Add to Planner buttons have been removed from the Course Directory, Section Quickview windows, and Section pages.

---
With the data migration to Workday Student, courses had to be given a new naming convention. Portal's Course Directory now reflects the new naming convention.
Sections are labeled as SUBJECT xxxx-x or SUBJECT xxxx-xx. Sections from previous semesters still reflect the old naming convention of SUBJECT xxx-xx.

Sections are now sorted in alphabetical and ascending order in the Course Directory.
Example
ANIMA-1000-3: Animation 1
ANIMA-2100-1: Animation: Visual Storytelling
ANIMA-2100-2: Animation: Visual Storytelling
ANIMA-2700-10: Wkshp: Intro to Game
ANIMA-4000-1: Sr. Project 1: Pre-Production
If Portal users run into any issues finding a specific course, we recommend searching for the section number in the Course Directory's search field.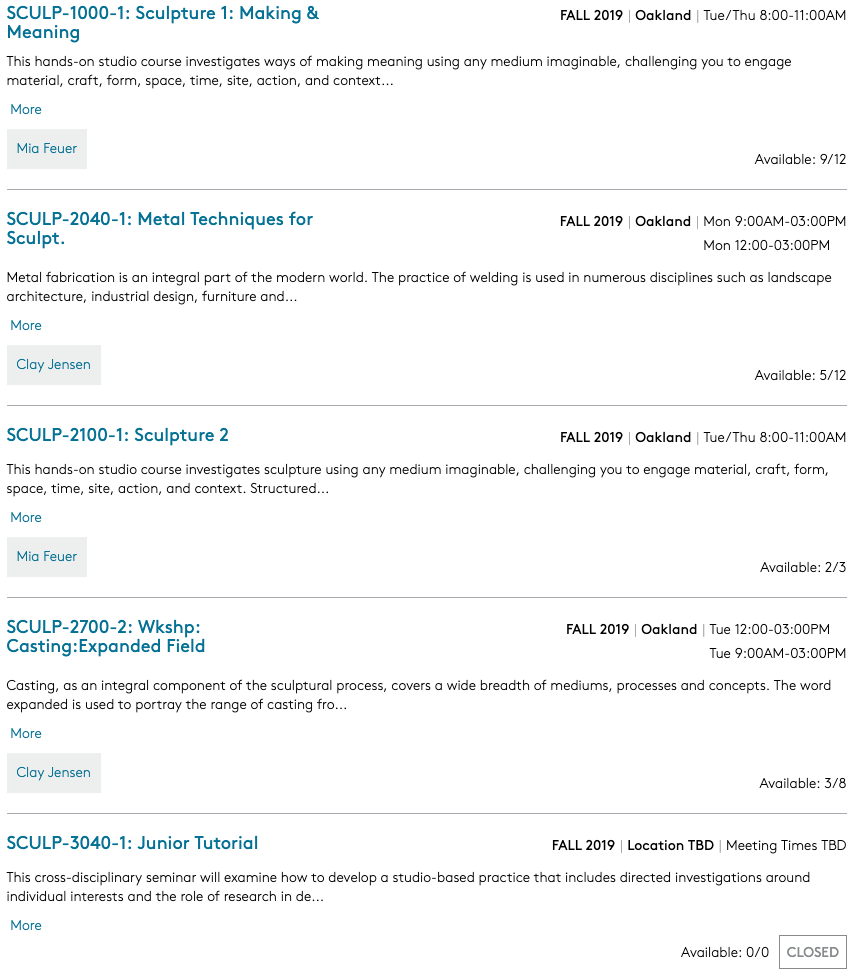 We've amended the Time filter to now be Start Time.
The filter options have also changed from All, Afternoon, Morning, Evening to All, 12pm - 5:59 pm, 8am - 11:59am, and 6pm - 8pm.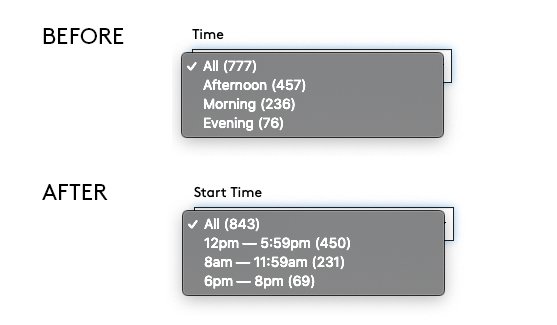 The Subject filter list has been updated to reflect the academic program names in Workday. Programs like Fine Art - MFA and Architecture - MArch are now Graduate Fine Arts and Graduate Architecture respectively.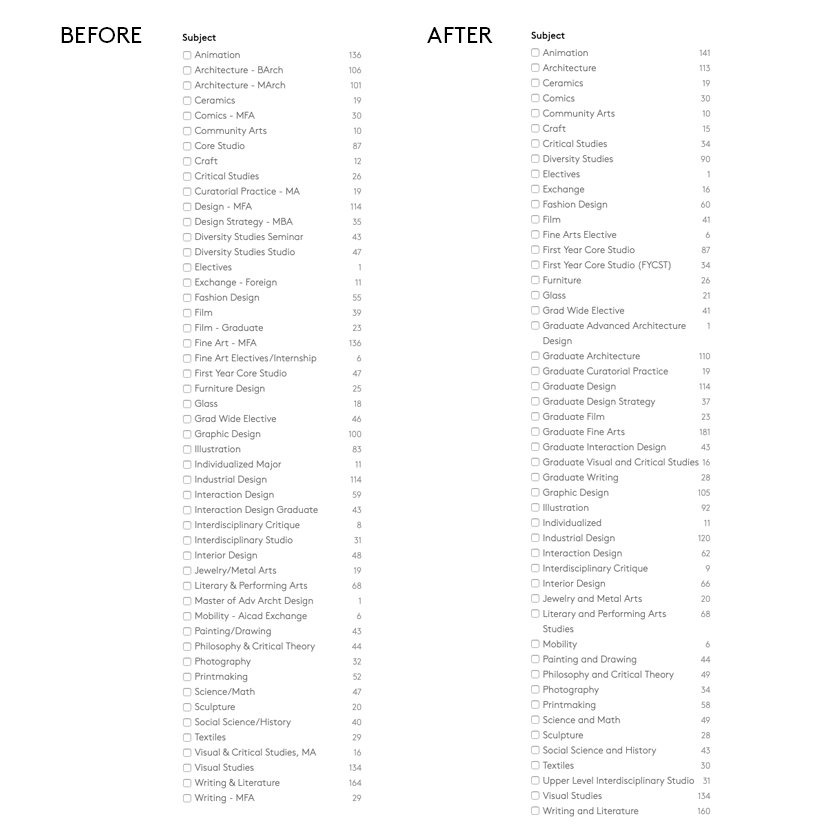 Pre-Requisite and Co-Requisite data is no longer available in Portal. From now on, Workday should be consulted for that information.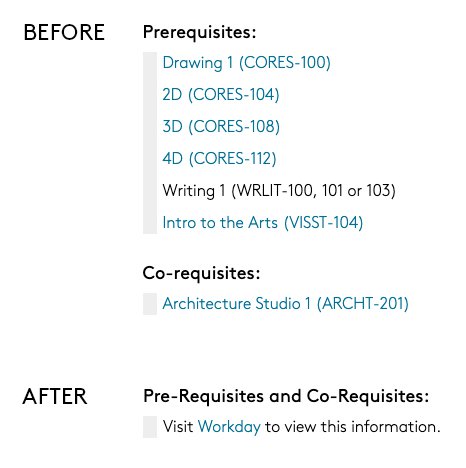 The Co-Locates field has been added to Section QuickView and Section pages. This field indicates whether a class will be held at the same time and location as another class.