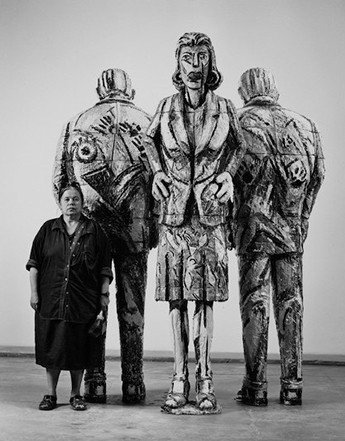 The Viola Frey Distinguished Visiting Professor Award was inaugurated in 2001 to honor the extraordinary life and work of multidisciplinary artist, CCA alumna, faculty, and chair of the Ceramics Program, Viola Frey.
Viola Frey (1933–2004) is an internationally celebrated artist renown for her large colorful figurative sculpture.
Working across disciplines, Frey's art is characterized by her prolific commitment to creating art that subtly invites viewers to question normative assumptions and ideals.
A recipient of two National Endowment for the Arts fellowships and with works held in over 70 public collections, Frey was a tactile, physically inventive artist who was drawn to the expressive potential of clay.
She was a leading figure in exploring the space between fine art and craft, bridging divides between ceramics, painting, and sculpture.
Frey taught at CCA for nearly 35 years, eventually becoming full professor and chair of the Ceramics Program. During her time at the college, she guided the design and building of the Noni Eccles Treadwell Ceramic Arts Center on CCA's Oakland campus.
In 1999 she was awarded the status of professor emerita and in 2000 received an honorary doctorate of fine art from CCA. The Viola Frey Distinguished Visiting Professor Award biannually brings prominent artists from around the world to engage the CCA community and the public in critical conversations through lectures, studio visits, and course offerings. The endowment is supported by generous contributions from Viola Frey patrons, colleagues, and friends. To learn more about Viola Frey: violafrey.org or artistslegacyfoundation.org.
Viola Frey Visiting Artist Award Recipients