VoiceThread is a web-based application that enables instructors and students to upload images, video, or documents and then record and add audio, video, or text comments. Comments create a timeline for each frame which becomes an engaging asynchronous conversation. It's perfect for peer interaction, collaborative projects, online critiques, or flipping your classroom!
Get started by logging in with your CCA credentials at cca.voicethread.com.
---
How can it help you & your students?
VoiceThread provides an easy-to-use virtual space for interaction around rich media asynchronously or as a way to create fun and engaging online assignments that encourage participation even from the shyest of students. Any VoiceThread project can be embedded directly in Moodle or downloaded as an MP4 or MOV. VoiceThread is globally available.
---
Instructors can create voice or text-annotated presentations/lectures using media that will be covered in class. This gives students a chance to reflect upon the material and offer their initial comments through VoiceThread.
Peers can create projects together, upload their work in progress, and receive feedback. Final curated works can be reviewed by instructors or peers.
Students can create presentations using their voice or webcam to present about their work or practice oral communication.
Panels of reviewers can give feedback on student work much like being in a virtual Nave.
VoiceThreads are an excellent tool for visual storytelling.
New assignment builder features include a new virtual student gallery.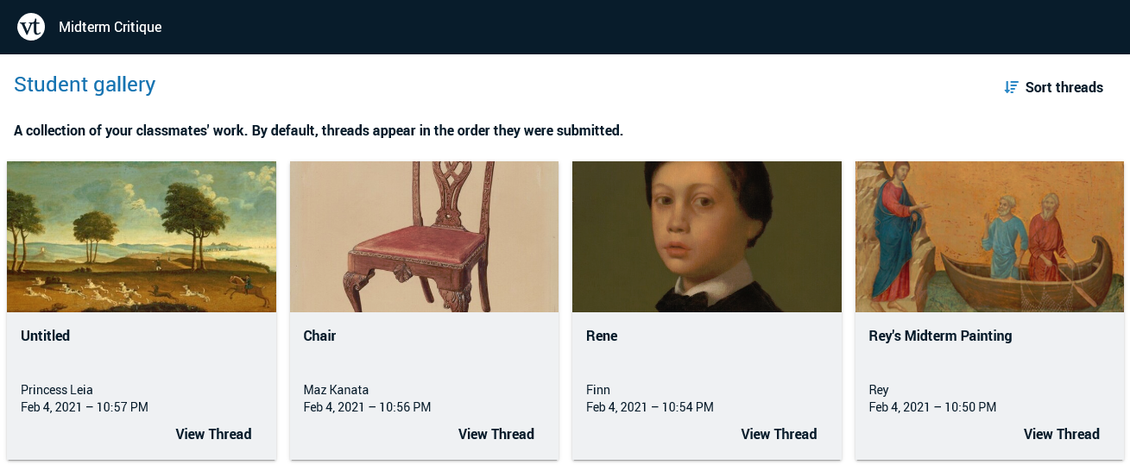 ---
VoiceThread can be accessed at cca.voicethread.com using any browser (except Safari) or mobile device. There is also a free mobile app available. 
CCA has a college-wide license of VoiceThread. All instructors and staff automatically have a Pro account and all students have a Basic account. You may need to search for California College of the Arts in order to locate our institution.
Log in using your CCA credentials.
---
Working with VTs directly in VoiceThread
---
Resources and help documentation for faculty