Faculty Exhibition Grants
Faculty Exhibition Grants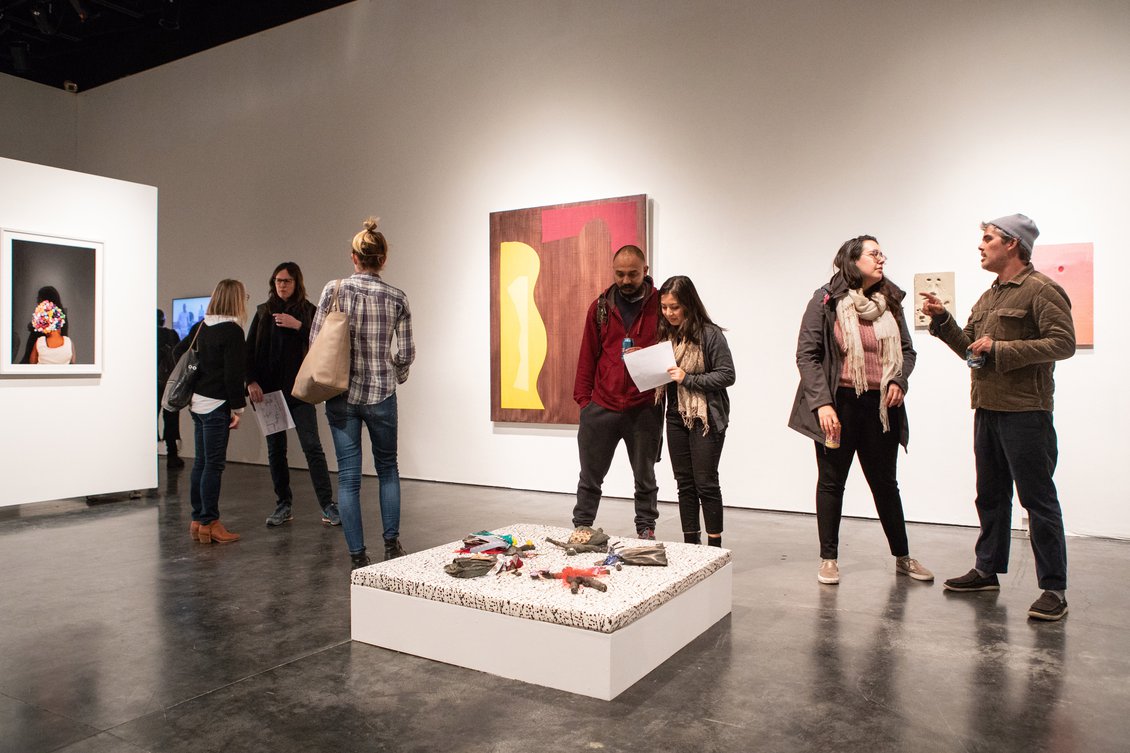 We are no longer accepting Grant applications for the 2019-2020 academic year. Please contact exhibitions@cca.edu for information regarding the 2020–2021 academic year.
The goal of the Faculty Exhibition Grant is to support faculty in the planning and presentation of a group exhibition at one of CCA's campus galleries. Thematic exhibitions, partnerships with other academic institutions or arts organizations, community-based projects, or collaborations are all welcome.
Grant funds can be used to cover printing, shipping, materials, and other related costs involved in producing an exhibition. Faculty may include their own work in their exhibition, but this grant opportunity is not meant to support a solo presentation. There is no requirement for artists in the exhibition to be CCA faculty, students, or alumni, but they can be if that works within your exhibition idea.We encourage faculty to consider timeframes at the beginning of the semester (September/October or January/February) when the exhibition schedule is more flexible, and ask that proposals describe any student or community engagement activities that would take place in addition to an opening reception. A typical exhibition duration would be 3-6 weeks, depending on availability and timing.
In addition to the grant award, faculty will receive the following from CCA Exhibitions: advice and guidance related to exhibition planning, support related to loan agreements and paperwork, one day of preparator support for installation and a half-day of support for deinstallation, access to our tools and media inventory, staffing during gallery hours and designated reception time, and exhibition promotion via social media, calendar listings, and cca.edu.
Award range: Up to $1,000 per applicant
Total Curricular Development Grant funds to distribute: $2,000
Deadline for applications: March
Notification of decision: April
Selection Process:
Applications will be selected by Julianne Kirgis, Associate Provost and Jaime Austin, Director of Exhibitions and Public Programming.
Selection Criteria:
Coherence of proposal idea: applications will be evaluated by the strength of the exhibition idea and the organizer's ability to communicate it.
Feasibility of planning and installing exhibition concept: to what extent does the exhibition have a high chance of success based on existing budget, facilities, etc.
Faculty development: to what extent will this opportunity help the faculty member advance their career or try something new?
Engagement with CCA community: to what degree can students or the local community participate?
Before applying, please read through the General Exhibitions Request Guidelines.
You can also view documentation images from past exhibitions here.

If you would like to place an exhibition request that does not require grant funds, please apply to the general application for Exhibition Requests accessible from the CCA Exhibition Opportunities page. Contact exhibitions@cca.edu with any questions.