Working on campus while studying at CCA, even a few hours each week, can help provide you with the necessary resources to meet your expenses.
Students receive one of two types of work-study awards: Federal Work-Study (FWS) or Institutional Work-Study (IWS).
Your financial aid award letter indicates which type of employment you have been awarded. Regardless of which type of award you receive, you will receive payment for your hours worked. These earnings are yours to use toward your expenses during the academic year.
Students who receive a FWS award may have part of their wages paid by the federal government and another part by CCA.
Because FWS is a need-based student aid program, earnings are excluded from income when the recipient applies for financial aid for the following year. CCA pays the full wage for those students who receive an IWS award.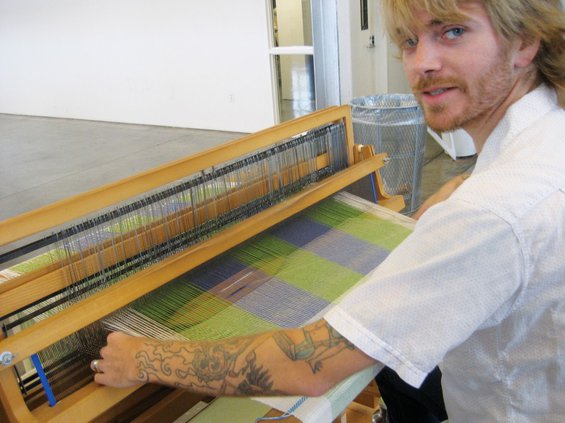 CCA does not place you in a job. You must conduct your own job search to identify opportunities that best fit your interests, skills, and class schedules.
All work-study jobs are posted on an internal job board you can search after logging into the Workday environment.
Search "Find Student Jobs" once logged in. If you experience log-in issues, contact the CCA's Helpdesk.
---
Limited Student Employment
CCA has limited funding for student employment and therefore has to limit each student's employment allocation in order to maximize the number of students who work on campus.
A student's financial aid award indicates the amount that may be initially earned through FWS or IWS employment. Should you have additional federal need, you award may be increased above what is listed on the award.
Students are not permitted to exceed 20 hours per week. During school breaks, all students may work up to 37.5 hours per week.
Employment Is Not Guaranteed
An offer of work-study is not a guarantee of employment or a cash award. Student employment awards cannot be included when you complete your Student Accounts Billing Worksheet because they do not guarantee employment or earnings.
---
Student Employment Eligibility Requirements
All CCA employees, including students, are required to complete the I-9 employment verification process to determine eligibility to work in the United States. In order to complete the process, you will need to present original documents to the Human Resources office prior to starting work. Here is a list of acceptable documents and additional information on the I-9 process.
Here are some additional considerations:
You must have a valid social security number (SSN) to work on campus.
You must be one of the following to be eligible for FWS: US citizen, permanent resident, or other eligible classifications of noncitizen. International students are only eligible for IWS.
You must have filed a Free Application for Federal Student Aid (FAFSA) to participate in the FWS program.
Students who do not qualify for FWS may work on campus through the IWS program.
Both FWS and IWS-eligible students must be enrolled and maintain enrollment at CCA in at least 6 units during the fall and spring semesters.
To work during breaks, holidays, and summer sessions, you must be pre-enrolled in at least 6 units (i.e., two courses) in the upcoming semester.
You may work if you are enrolled in the summer semester, even if you do not intend to enroll for the upcoming fall or spring semester.
---
All students must regularly submit time in Workday by the scheduled payroll deadlines. Students may not save their time entry to submit at the end of the semester. Students and supervisors will be notified via email prior to each payroll lockout period when hours need to be submitted for payment.
Students must allow adequate time for their supervisor to review and approve time entered. If you have more than one position at CCA, you must submit separate time entry in Workday for each position. You will be able to select each position from the drop down menu in your timesheet. If you only have one position, the position will be automatically selected for you.
Pay periods

Pay periods run from the 1st to the 15th of the month; and from the 16th to the last day of the month.
Approved time sheets should be submitted in Workday within three business days after the pay period ending date. Paychecks are available on the 10th and the 26th of each month.
CCA recommends signing up for direct deposit, especially now that we have transitioned to a remote work environment. Direct deposit ensures that a student's paycheck goes into an identified bank account, allowing students access to their earnings without worry of misplacing a paycheck.
For those students who forego the direct deposit option, checks will be sent to the campus that is designated in the position in which the student is hired.
---
International students with an F1 Visa may work on campus as part of CCA's institutional Work-Study program. For more information please visit ISAP's On-Campus Employment for international students.
Requirements:
You are required to have a valid social security number before you can begin working. If you do not currently have a social security number (SSN), you will need to apply for one by following the steps below.
Complete the onboarding process in Workday
Meet with an international student advisor
Complete the Evidence of On-Campus Employment of F1 Status (International) students form
You will need to take several forms to the Social Security Administration office to apply for a social security card. (Please contact CCA's International Student Affairs and Programs (ISAP) office for additional information.)
About Receiving your Social Security Card
It usually takes two to six weeks to receive a social security card, but sometimes it is possible to get your social security number prior to receiving the actual card. You may not begin working until you receive your SSN. No exceptions.
Once you have received your SSN, you will need to visit Human Resources on either campus for I-9 employment verification, after completing onboarding in Workday, then you may begin working.
Per federal regulations, international students may work only in on-campus positions. Also, while the college is in session, you may not work in excess of 20 hours per week. No exceptions.