Part 1: Spring 2023 Game Week
Part 1: Spring 2023 Game Week
+

Add to calendar
Mon, Mar 6 2023, 12PM - Wed, Mar 8 2023, 9:15PM
Game Arts Homeroom, 250 & the Nave | 1111 8TH STREET, SAN FRANCISCO, CA, 94107 View map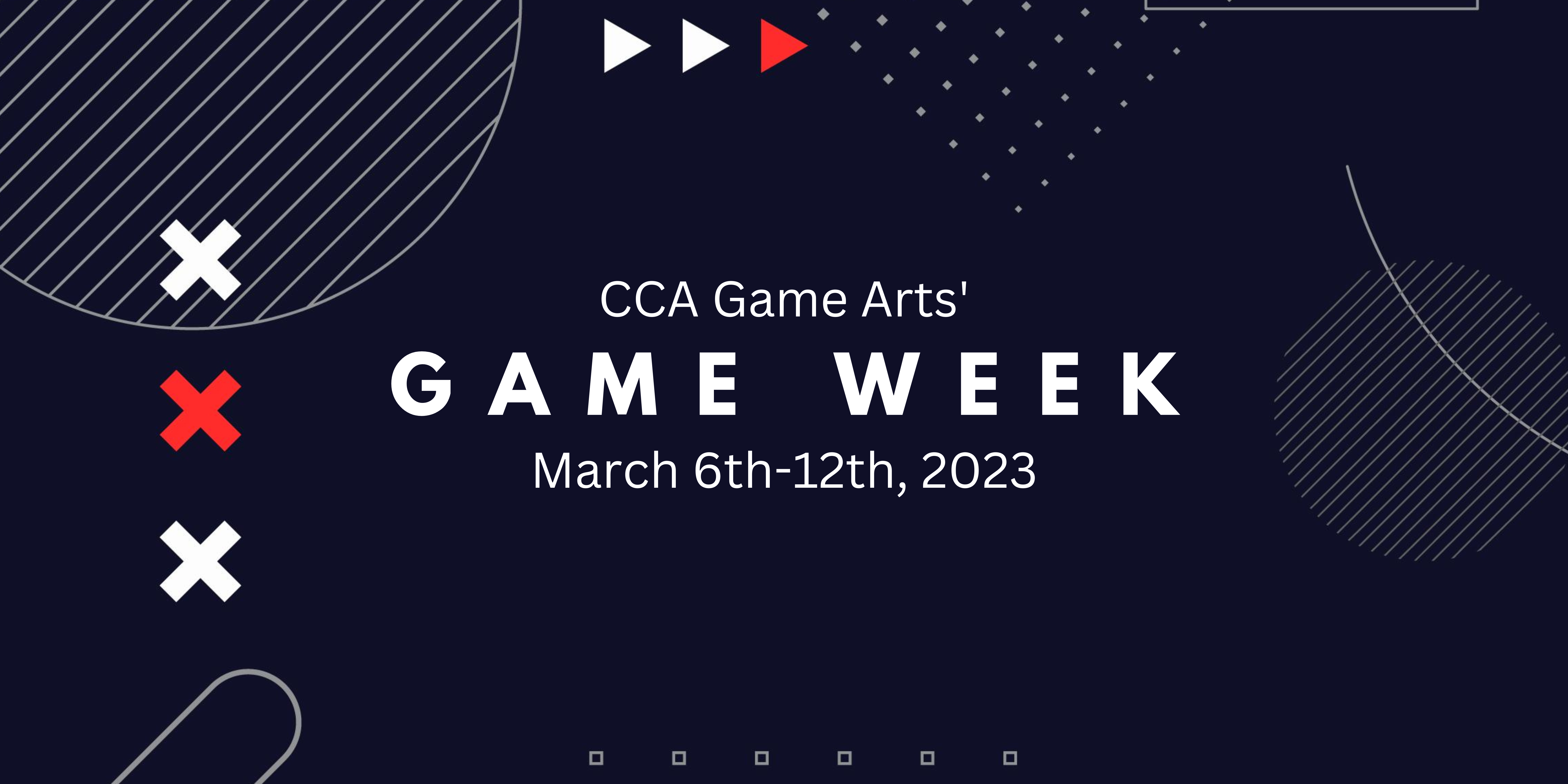 Organized by
Game Arts Program
Event description
Welcome CCA's Game Week, a celebration of games, art, game scholarship, and artists working in the medium of games! 
Check out below our events occurring in the first half of Game Week: March 6th-March 8th.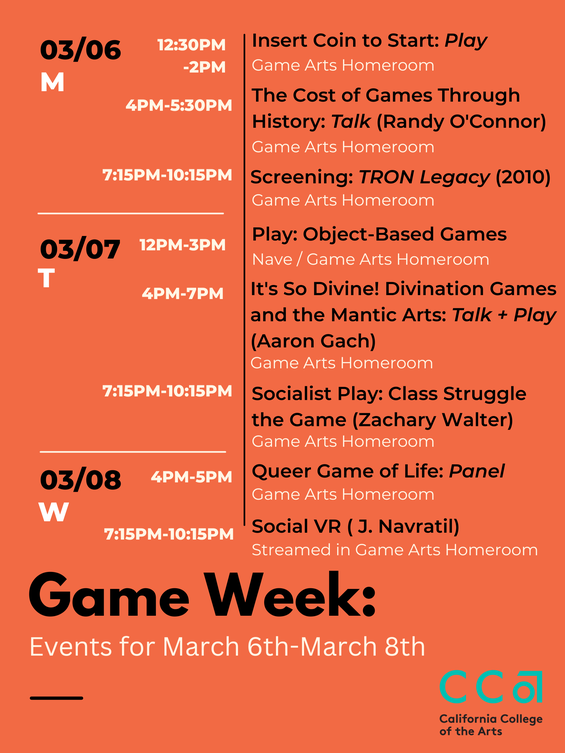 Game Arts Program | Insert Coin to Start: Play  03/06 12:30PM-2PM
Event Description: 

Join the Game Arts program's Chair, Dr. Zachary Walter, for the opening, kick-off event of Game Week 2023 with an active, experimental, weird, and fun site-based play,  beginning in the Game Arts Homeroom and beyond. 
Randy O'Connor |  The Cost of Games Through History 03/06 4PM-7PM
Randy O'Connor is a game designer, artist, and teacher. He works across platforms, from consoles to mobile to PC to board games. He played key roles on the critically and commercially acclaimed independent games "Waking Mars", "Escape Goat 2", and "Spider: The Secret of Bryce Manor". He was lead game designer on Terminal Two, a games education platform; taught experimental game design at the School of the Art Institute of Chicago; and recently released the tabletop game "Roll In One". He is currently a game design consultant with a focus on systems design, and is about to launch his next board game, "Gun It", on Kickstarter.

Event Description: 
Join Randy O'Connor in conversation about the cost of games through history. We discover, purchase, and play games because of their technological and commercial structure. This talk explores the history of paying for video games from the 1950s all the way to the present, with a focus on hardware, game distribution, and discovery. It will conclude with tips on finding commercial success as a video game creator.

Viewing | TRON: Legacy  03/06 7:15PM-10:15PM

All are welcome to attend screenings of game-focused visual media screened in the Game Arts Homeroom. 
Event Description:

Join us in the evening to view Tron: Legacy,  the 2010 sequel to 1981's TRON (1982), an earlier work of cinema pioneering computer generated animation. Tron: Legacy, a feast for the eyes and ears, action packed, also explores many relevant questions about the relationship of game spaces, technology, humanity, domination and the nature of being. Also features an inspired soundtrack by Daft Punk. 
Game Arts + Ceramics | Play:  Object Based Games  03/07 12PM-3PM
Student project games created in Game Arts 1 and Ceramics 2. 
Event Description:

Come out to the Nave adjacent playspace (next to the Game Arts Homeroom) to play original, student-made object-based games created though a collaboration between Maryam Yousif Ceramics 1 course and Aaron Gach's Game Arts 1 course. 
Aaron Gach | It's So Divine! - Divination Games and the Mantic Arts  03/07 4PM-7PM
Aaron Gach's diverse artistic practice consistently addresses public concerns, social politics and power dynamics. Inspired by studies with a private investigator, a magician, and a ninja, he established the Center for Tactical Magic in 2000. This collaborative authoring framework is dedicated to the coalescence of art, magic, and creative tactics for encouraging positive social change. Although the collaborations take many different forms, the work is largely the result of creative partnerships with a wide array of individuals and organizations, including hypnotists, biologists, engineers, activists, nurses, military intelligence officers, journalists, radical ecologists, former bank robbers, security experts, street vendors, community organizers, and many others. His work has been presented by the San Francisco Museum of Modern Art; Massachusetts Museum of Contemporary Art; Hayward Gallery, London; Museo de Arte Contemporaneo de Vigo, Spain; Deutsches Theater, Berlin; and a major public commission for the City of Toronto. He currently teaches in the Game Arts and Graduate Fine Arts programs and will be teaching a UDIST course on magic next year.

Event Description:

You may already be familiar with ouija boards and tarot cards, but many cultures throughout history have explored the intersections between games and the so-called 'mantic arts' of divination. Following a brief introduction, participants will get to test their skills playing a few games that draw upon their extra-sensory abilities.

Zachary Walter  | Socialist Play: Class Struggle the Game  03/07 7:15PM-10:00PM
When not acting as Chair of CCA's Game Arts, Dr. Zachary Walter is a writer, game maker, and theorist. His works explore the role of fantasy, games, and play in the realization of Postcapitalism and eutopian spaces. His teaching and research interests include interactive storytelling, narrative design, worldbuilding, game mechanics, ludology, game studies, utopian and dystopian narratives, and Marxist and materialist critique. He has written in a variety of mediums, from print, to web, to film, for scholarly and humor audiences, and worked both within and outside the mainstream film, gaming, and media industries. He also makes and plays games on an almost daily basis. 
Event Description:
Board games have a long tradition of intentioned affiliation with political movements, ideologies, and systemic change. Join us on Tuesday evening for discussion and play of Professor Bertell Ollman's classic, hard-to-find Leftist board game Class Struggle. Published in 1978 by Avalon Hill, Class Struggle presents ludic confrontation between workers and capitalists, to educate, edify, entertain, and "to prepare for capitalist life in America. All are welcome as Class Struggle avers to be "an educational game for kids 8 to 80." 
John de Fazio | Queer Game of Life  03/08 4-7PM
John de Fazio is currently teaching a UDIST class called "Queer Super Objects" which explores LGBTQ+ Art History and Culture combined with studio practice experiments with clay, latex, graphics and mixed media. 
Early in his career de Fazio created props, sets and the 3-D Stop-Motion Animation "Mutant Toys" as part of the first season of "Pee-Wee's Playhouse". For 20 years in NYC he juggled freelance jobs working on music videos, theater sets and TV commercials and six years as an artist at MTV Times Square in the 90's. He has exhibited his art in museums and galleries every year for more than 4 decades. Recent group shows include "Making Knowing: Craft in Art, 1950 - 2019" at the Whitney Museum of American Art and a Surrealism themed show "STRANGE" at the Berkeley Art Museum and Pacific Film Archive in 2019.
Event Description: 
From the Interdisciplinary class Queer Super Objects, 3 groups of students will present their unique versions of "Queer Game Of Life" in early concept prototypes of game boards and character sketches and the queer Rules of the Game. The intention is not to reward wealth as the ultimate winning as much as the pursuit of happiness in a queer utopia. Followed after, de Fazio will present vintage queer board games from the 1970's and 80's and 90's  from the San Francisco GLBT Historical Society Archive. Mass produced games include titles: D.Y.K.E. (Do You Know Enough), Gay Monopoly, Homonopolis, Gay Strip-Down, Cruise America, The Game of Lesbian, Twinkies and Trolls, and The Queer Agenda.
The Queer Game of Life is an interdisciplinary project still in the planning stages. The original Game Of Life was developed in the 1960's centering around a straight suburban dream of going to college, getting a job, raising a family and buying homes and cars on your way to retirement. Whoever had the most money wins. Three collaborative groups of six artists have reimagined what a contemporary board game could look like with the focus on queer aesthetics and expanded lifestyle paths. Capitalist concepts are inverted with this generation's notions of success/ winning. Some ideas include taking a non-competitive approach to game making and instead concentrating on sharing life experiences using a card game of prompts to play with, while spending quality time with friends. Each of the 18 students was asked to submit sketches of character designs, playing cards, queer money, tokens, queer buildings, neighborhoods and a road map to divergent destinations to Queer Utopia. They will enjoy discussing their group's point of view as they share projected visuals and take questions from the audience.

Judit Navartil | Social VR (Live Stream in Game Arts Homeroom)  03/08 7:15-10:15PM
Judit Navratil's practice is multivalent, engaging performance, social practices, drawing, as well as video and extended realities. Her projects are as much affective mappings of what it means to continuously oscillate between analog and digital, past and present; an immigrant's attempt to construct "home." Navratil uses her body-device to keep balance through her compass-meditation: the Long Distance Somersault career. Rolling as far as she can helps her seeking higher alternatives and to gaze in the Eye of the Hurricane. Navratil earned an MFA in Painting at the Hungarian University of Fine Arts in 2008 and an MFA at the California College of the Arts in San Francisco in 2019. She has been exhibiting in Hungary, Canada, France, Korea and the Bay Area. Her work has been recognized through awards including the Cadogan Art Award, a residency at Cité Internationale des Arts (Paris) and the Parent Award of Kala Art Institute. She is currently a Phd Candidate at the University of Applied Arts, Vienna, an affiliate artist at the Headlands Center for the Arts and an Alternative Exposure grantee as the founder-mother of VR Art Camp. Art Camp is a social VR art residency program that is part of Judit's ongoing project, a VR plattenbau called the Szívküldi Lakótelep, that is the base of her research, growing since 2018. linktr.ee/juditnavratil @juditnavratil

Event Description:
Show and Tell visits of students' social VR spaces that they have created as part of an introductory workshop with Judit Navratil and the VR Art Camp. Participants experience each other's creations, exchanging constructive, critical feedback on and in their work. No prior VR background needed. The Show & Tell starts in the Art Camp Commons and we visit students' creations together: https://hubs.mozilla.com/xLq72ca/art-camp-commons https://www.vrartcamp.net/

*Please note: this event will feature a projected video livestream of the web-based art which will be viewable in the Game Arts Homeroom space. 
Entry details
Open to the CCA Community!