Spring 2021: On-Campus Studio Access
Student Access to On-Campus Studios in Oakland and San Francisco

As of Monday, April 12, CCA will be expanding studio access eligibility for currently enrolled Graduate Students, Seniors, Juniors and Sophomores in accordance with our reservation process and COVID-19 prevention plan safety guidelines.

To be qualified for studio access, the student must already have the experience and training to work safely and independently in the space requested. Orientations and other instruction for new users are not available at this time.

Seniors and graduate students will have first priority for studio appointments, in the event that requests for access exceed our current studio capacities.

Students may request access to the following spaces and specialty equipment as of April 12, 2021:
San Francisco: Backlot, Furniture Studios, Model Shop, Casting/Painting/Finishing, Metal Shop, Fashion, Hybrid Lab, Film Sound Booth, Film Editing Suites, Animation Batch Scanning, Film Production Stage, Risograph;
Oakland: Ceramics; Jewelry Metal Arts; Sculpture; Textiles; Photography, Glass Coldworking.
On both campuses, students may also request week-long appointments for Project Rooms, where they can work on large-scale projects.

All students who access the CCA campus during the Spring 2021 semester are required to complete the Campus Clear Daily Health Assessment before coming on to campus. Should you fail to complete the health assessment you will be asked to do so by Public Safety when you check in to campus. Masks and social distancing measures continue to be required, and we will enforce strict cleaning protocols.

To request campus access, please follow these instructions to submit the request form. Once your request is submitted, you will be contacted by the studio manager associated with that area.
Login to Workday at https://workday.cca.edu
Search for and select the task "Create Request"
In the Request Type field, select "Campus Access"
Complete the required fields and Submit.
Wait for a studio manager to contact you by email to discuss your request.
If you have any questions or need support with this process, please email shops@cca.edu and we will assist you!
---
DFAS, Laser Cutting, CNC Services
Certain studio services will not be available to individual users during hybrid learning. Instead, they will be offered as a service, where CCA staff will print or cut your provided digital file which can then be picked up from the campus.
The following remote services are available:
---
Make a Virtual Appointment with a Studio Manager
CCA studio managers are available at shops@cca.edu to answer questions, troubleshoot your project or design, give you advice on tools and materials, and help you figure out solutions that will work in your home studio. Studio staff are also available for one on one appointments through their YouCanBookMe links.
---
Our software coaches are available for one-on-one appointments to help you learn and troubleshoot problems with Adobe Creative Suite, Rhino, Grasshopper, Maya and more! They can also answer questions and give advice about cameras and media equipment, file management, 3D printing, and photo editing.
---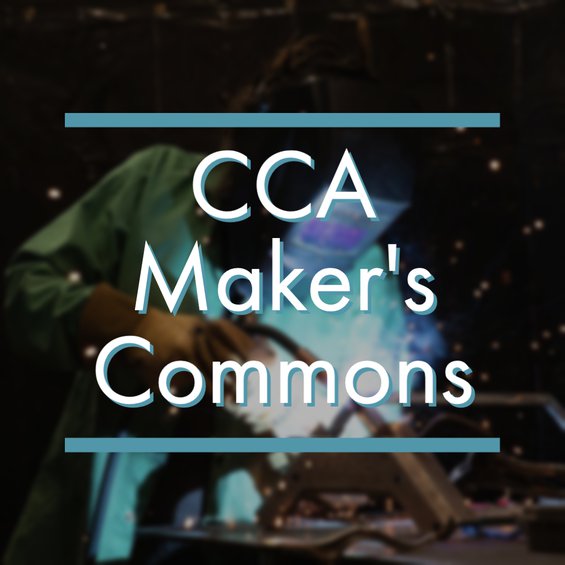 The Maker's Commons is an online community space hosted by CCA's studio management team. "This "virtual shop" is intended to provide opportunities for casual cross-discipline conversation, learning, and collaboration in much the same way how collaborating outside the classroom environment within on-campus studios can allow students from Design, Architecture, Fine Arts, and the First Year Program a chance to interact, learn, and work together. Please join us by clicking the link!