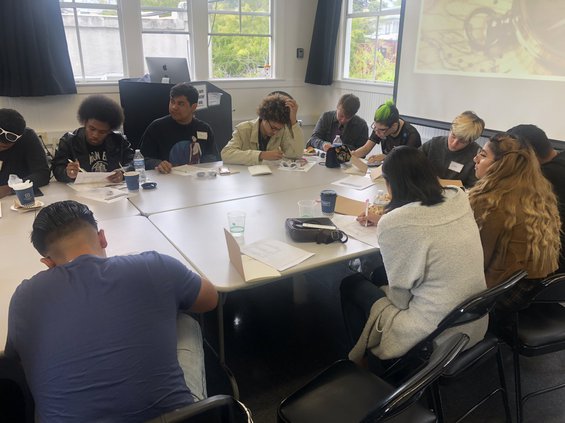 CCA's Artist's Network Valuing Aspiring Scholars, or CANVAS for short, launched in Fall 2018 with a group of 23 new students from all over the country. The CANVAS Program is offered to first-year freshmen recipients of one of the college's Diversity Scholarships, as a means of supporting their academic success in addition to the financial support provided via the scholarship.
CANVAS is a three-day immersive program that provides participants an advanced opportunity to engage with the people, departments and resources that we know help students navigate their collegiate experience effectively. By participating in CANVAS, participants build soft skills, develop friendships, learn more about their campus community, and become acquainted with campus departments and resources. Workshop opportunities help participants build essential skills that will facilitate their success at CCA.
The CANVAS program is offered at no additional cost to students who are eligible and invited to participate. Students who participate in CANVAS can benefit from the following:
A head start toward the college experience and the opportunity to build community and support systems with other students, faculty, and staff.
Targeted workshops that will address important tools necessary for a smooth start to your first year in college.
Academic enrichment opportunities, community building activities, leadership experiences, and exposure to campus life.
Ongoing support throughout the academic year and additional opportunities to interact with your cohort.
CANVAS students are notified that they have received the Diversity Scholarship in a letter from Financial Aid in mid-March to early-April.
CANVAS students who have made their enrollment deposit by the May 1st deadline will be contacted regarding next steps, including completion of a housing application, participation in early registration, and preparation for New Student Orientation, as outlined in the 10 Steps to Enrollment.
CANVAS students will have the opportunity to meet the staff and other students in their cohort via info sessions offered at various points throughout the summer.
The CANVAS program launches during the week before Orientation, so students will need to make arrangements to arrive to CCA a week earlier than their peers.
Feel free to email canvas@cca.edu for questions about the program.