Optional Practical Training (OPT)
Optional Practical Training (OPT)
Optional Practical Training (OPT) is an opportunity for F-1 students to gain practical experience in their field of study. It is recommended in SEVIS by ISAP and then students apply for it through U.S. Citizenship and Immigration Services (USCIS).
If granted by USCIS, the authorization is full- or part-time employment for a maximum of 12 months. OPT is not a different visa status or "change of status"; it is a benefit linked to your F-1 status, and extends your F-1 status for the time you are on OPT.
Who is Eligible to Apply?
In order to be eligible for post-completion OPT, you must:
Be within 90 days of completing your degree requirements (i.e., within 90 days of the end of the semester during which you will graduate).
Have been in F-1 status for at least two consecutive semesters immediately prior to finishing your degree.
Have not previously had OPT authorized at the same degree level (e.g., if you are completing a second bachelor's degree and had previously been authorized for OPT after your first bachelor's, you would not be eligible for OPT again until you completed a higher degree level -- either a masters or doctorate).
Have not previously been authorized for 365 or more days of full-time CPT cumulatively at the same degree level.
The earliest USCIS can receive your application is 90 days before the program completion date.
The latest USCIS can receive your application is the 60th day of your grace period (60 days after your program completion date).
USCIS can take up to 3 or 4 months to process OPT applications. We highly recommend you submit the application packet to the ISAP Office as early as possible.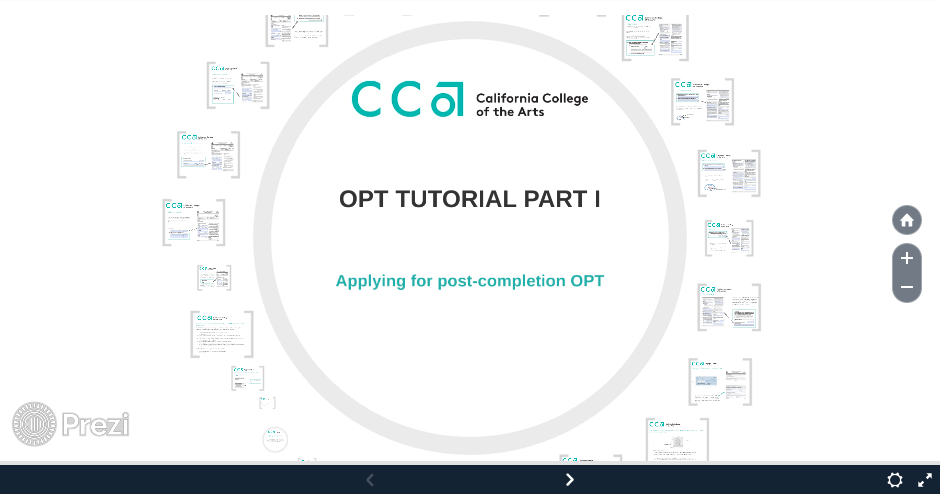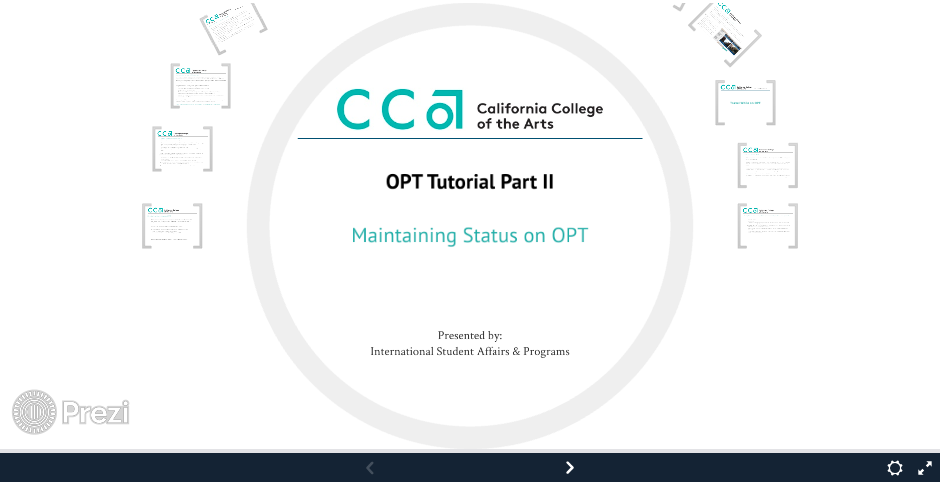 Step 1: Complete OPT Tutorials
Familiarize yourself with the application process and how to maintain your F-1 status on OPT by watching both parts of the OPT Tutorial:
When watching part 1, please have the following items with you:
Form I-765. (This is the government form you will submit as part of your OPT application.)
Passport and I-94. If your last entry into the U.S. was before April 30, 2013, your I-94 will be a white card, most likely stapled into your passport. If you arrived after April 30, 2013, you most likely have an electronic I-94, and will need to print out a copy of your I-94 record. See the instructions in step 3 for printing your electronic I-94.
Checkbook
Step 2: Complete the OPT Recommendation Request Form
The OPT Recommendation Request Form is an ISAP form that is submitted along with your OPT application materials.
You must make an appointment with your academic advisor or program manager to have them complete section 3 of this form. You will fill out the other sections.
This form needs to be completed before your OPT appointment and you need to bring it with you to your appointment, along with the other application materials.
Step 3: Gather all required documents for your OPT appointment and application
Review the Applying for OPT tutorial for answers to questions about the application documents listed below, including how to properly complete the I-765.
Note: All US government forms, including the I-765 and G-1145, are available for free on the ISAP website and at the official website of the U.S. Citizenship and Immigration Services (USCIS).
Companies with names that may sound official or similar to USCIS exist who charge fees to assist in filling out these forms. ISAP will provide any assistance needed to fill out these forms and apply for OPT for no charge.
A complete OPT application contains the following:
Completed OPT Recommendation Request Form (including section 3 completed by your academic advisor or program manager)
Completed Form I-765
Check or money order for $410 made payable to: "U.S. Department of Homeland Security" or completed form G-1450 to pay with credit card
2 recent US passport-sized photos
Photocopy of passport ID page
Photocopy of front and back of I-94 or printout of electronic I-94*
Photocopy of F-1 visa (all students except Canadian citizens)
Photocopies of the first and second page of all previous I-20s
Photocopies of any previous EAD cards (if you have been previously authorized for OPT or economic hardship)
Completed Form G-1145 (optional, but recommended)
* If your last entry into the US was before April 30, 2013, your I-94 will be a white card, most likely stapled into your passport. Please photocopy the front and back of this card and include it in your application.
If you arrived in the US after April 30, 2013, you most likely have an electronic I-94. To print your electronic I-94, go to www.cbp.gov/i94. You will need to enter some information to retrieve and print your record, so please have your passport with your F-1 visa in it when accessing this site.
After ISAP has recommended OPT for you, add to your application packet:
Cover letter
Photocopy of the first and third pages of your newly issued I-20 with OPT recommendation
Step 4: Schedule an appointment to review your application materials and get a new I-20 with OPT recommendation
Once you have gathered all application materials, you will need to Make an Appointment to turn in your OPT Recommendation Request form, review your application materials and have OPT recommended.
To avoid any processing delays, please be sure the OPT application is complete when you come to your appointment.
Step 5: Photocopy your entire application packet for your records
After OPT has been recommended, we highly suggest photocopying your completed application packet before sending it to USCIS. Keep the photocopied application in a safe place for your records.
Step 6: Mail your completed application to USCIS within 30 days
ISAP will provide you with mailing instructions at your OPT appointment.
Important Notes
USCIS must receive your application within 30 days of the OPT recommendation date (you can find this date in section 10 of your I-20 next to the ISAP staff signature).
Once you send your application to USCIS, you will not be able to make changes to your OPT start date.
What Happens After I Apply?
Once your application has been received, USCIS will send you several pieces of mail. If you filled out the G-1145, you will also receive electronic updates. Pay close attention to your mail and save everything sent from USCIS.
You will receive the following notifications from USCIS:
Receipt Notice: This is your receipt from USCIS confirming receipt of your application and payment of the application fee. The notice will include a PSC number, which is the file number associated with your OPT application.
You can use this number to check the status of your application online.
Approval Notice: This confirms your OPT has been approved. This approval notice is not considered proof of work authorization. You must wait until you have your EAD card and your OPT start date has arrived to begin working.
Employment Authorization Document (EAD) Card: This is your official permission to work in the United States. If you receive your EAD card before your OPT start date, you must still wait for your OPT start date to arrive before beginning work.
Please note that while your EAD card indicates "Not valid for reentry to the United States," it is still possible to travel internationally while on OPT. It only means your EAD card is not a reentry document.
Your F-1 visa is your re-entry document, and during your OPT period, you must still have a valid F-1 visa to reenter the United States.
(Possibly) Request for Evidence (RFE): You may receive an RFE if a mistake in your application is discovered, something is missing, or USCIS wants more information.
Important: You are required to respond to the RFE within a specified amount of time. If you receive an RFE, contact ISAP as soon as possible, so we can assist you in responding and answer any questions you may have.