---
Current travel bans / travel restrictions for entry into the US
---
4/30/21: President Biden has implemented a Presidential Proclamation imposing a travel ban for most non-US citizens entering the US from India starting on May 4, 2021. The official White House briefing ishere.
The Department of State has determined that F-1 students from India will qualify for the National Interest Exception are able to enter the US if their academic program begins after August 1, 2021. The Department of State information outlining these details can be found here.
---
UPDATE 4/26/21: National Interest Exceptions for Certain Travelers from China, Iran, Brazil, South Africa, Schengen Area, United Kingdom, and Ireland
Students with valid F-1 and M-1 visas intending to begin or continue an academic program commencing August 1, 2021 or later do not need to contact an embassy or consulate to seek an individual NIE to travel.  They may enter the United States no earlier than 30 days before the start of their academic studies.  Students seeking to apply for new F-1 or M-1 visas should check the status of visa services at the nearest embassy or consulate; those applicants who are found to be otherwise qualified for an F-1 or M-1 visa will automatically be considered for an NIE to travel.
Travelers Prohibited from Entry to the United States
There are currently some restrictions on the entry of certain travelers into the United States as the result of an effort to help slow the spread of coronavirus disease 2019 (COVID-19) . While these restrictions are still technically in effect, according to the above update from 4/26/21, F-1 and M-1 students may be exempt via the NIE. Individuals who are not citizens of the US may be restricted from entering the country if they have been present in certain countries for 14 days prior to their attempted entry into the US. Please make sure to check this list and make appropriate travel plans, if you are traveling from an effected country.
More information on country specific restrictions is available on the CDC website here.
---
CDC requirement : COVID-19 test for international air travelers
Starting January 26, 2021, the Center for Disease Control (CDC) will require all travelers entering the United States by airplane to provide a negative COVID-19 test result.
The CDC notice includes "Air passengers are required to get a viral test (a test for current infection) within the 3 days before their flight to the U.S. departs, and provide written documentation of their laboratory test result (paper or electronic copy) to the airline or provide documentation of having recovered from COVID-19. Airlines must confirm the negative test result for all passengers or documentation of recovery before they board. If a passenger does not provide documentation of a negative test or recovery, or chooses not to take a test, the airline must deny boarding to the passenger...This order was signed by the CDC Director on January 12, 2021 and will become effective on January 26, 2021."
More information is available on the CDC website here.
As of April 2, 2021, the CDC has provided additional travel guidelines for people that have been fully vaccinated with an FDA approved vaccine. The CDC website here outlines those new details. To check if your vaccine is FDA approved, visit here.
---
Visa appointments while US Consulates are reopening
US Consulates around the world are slowly reopening, but during COVID-19, some are offering emergency / expedited visa requests only. In most cases, students that need a F-1 student visa can request an expedited appointment 90 days prior to the start of classes for a new semester. Please refer to the Department of State information here about what each specific consulate location offers.
---
Travel Signatures during COVID-19
The ISAP team is pleased to announce that Immigration has allowed an exception to the current regulation about travel signatures. In response to the fact that our CCA campus is closed due this COVID-19 pandemic, Immigration will allow for ISAP staff to digitally sign on page 2 of the I-20 form for travel endorsement purposes.
If you are traveling internationally in the next few months, take a moment to check page 2 of your most recent I-20 to see if you need a new travel signature. Signatures are valid for 12 months from the most recent date in the "Travel Endorsement" box on page 2 of your I-20.
Complete the ISAP Travel Signature Request form. Upload a PDF of your most recent I-20 form to the form, enter all information, and hit submit. ISAP will digitally sign page 2 of your I-20 and email it back to you at your CCA email address within 5 business days.
Questions? Email us at isap@cca.edu
Best, 
CCA ISAP TEAM
---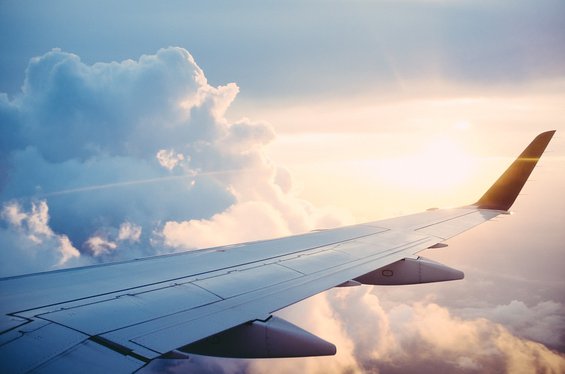 Required Documents for Travel as a Current Student
When traveling, keep the items listed below in your carry-on luggage; do not pack them in your suitcase! When reentering the United States after an international trip, be prepared to present the following documents at customs:
Valid passport
Valid F-1 visa
I-20 with travel signature
It is also recommended to carry the following items:
Print-out of your current class registration (or next semester's class registration if traveling during a break)
Financial documents that reflect the resources listed on your I-20
For information about traveling while you are on Post Completion OPT, please review the Travel on OPT information.
---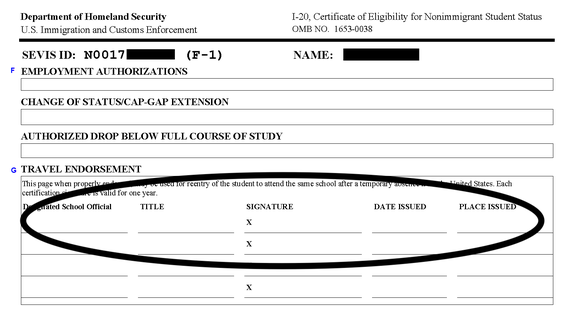 Make Sure You Have a Valid Travel Signature
Travel signatures (on the second page of your most recent I-20) are valid for one year while you are a currently enrolled student.
To see if you have a valid travel signature, look at the 'Travel Endorsement' section on the second page of your I-20. Check if there is a signature from an ISAP staff member, and if so, the date it was signed.
If you need a new signature, please make an appointment with an ISAP advisor.
---
Double-Check Your Visa Expiration Date
Your visa must be valid on the day you reenter the United States. If your visa will expire while you're outside the United States, you will need to obtain a new F-1 visa before returning.
Allow for processing time at the consulate when planning your travel. The Department of State provides a list of visa wait times that gives the average wait for an appointment and visa processing time.
If you have an F-1 visa that is still valid in an expired passport, you do not need to get a new F-1 visa in your new passport. You can carry both passports with you when entering the US.
Canadian citizens do not need an F-1 visa stamp in their passports to enter the US. Canadian-landed immigrants, however, are required to obtain a visa stamp in their passports to document entry into the US in F-1 status.
Double-Check Your Passport Expiration Date
You will not be allow to enter the United States if your passport has expired. In most cases, students are required to have a passport that is valid for at least six months beyond the date you plan to enter the United Students.
For citizens from certain countries, the US will allow entry into the United States up until the date of expiration. Check the "FAQ for F-1 Nonimmigrants" information on the ICE website to see which .