In person / on campus classes for Spring 2022 begin February 1, 2022.
All F-1 students that may need a new I-20 for entry into the US after January 18th have been emailed directly by the ISAP team at isap@cca.edu on Friday, January 7th.
---
CDC requirement : COVID-19 test and vaccination for international air travelers
COVID VACCINE REQUIREMENT
Starting November 8, 2021, vaccines will be required for all international travelers coming to the United States
The White House announced that vaccines will be required for international travelers coming into the United States, with an effective date of November 8, 2021. For purposes of entry into the United States, vaccines accepted will include FDA approved or authorized and WHO Emergency Use Listing vaccines.
More information is available on the CDC website here and scroll down to the Noncitizens / Nonimmigrants section
As of April 2, 2021, the CDC has provided additional travel guidelines for people that have been fully vaccinated with an FDA approved vaccine. The CDC website outlines the list of approved vaccines here.
*If you have received a qualifying vaccine from table 3 on this page, please make sure to check that your airline will accept your proof of vaccination.
COVID TESTING REQUIREMENT
The Center for Disease Control (CDC) currently requires all travelers entering the United States by airplane to provide a negative COVID-19 test result.
UPDATE : Starting December 6, 2021, ALL air travelers entering the United States have the requirement will be to show a negative test within ONE DAY of travel in order to board any international flight.
The CDC notice includes "If you plan to travel internationally, you will need to get a COVID-19 viral test (regardless of vaccination status or citizenship) no more than 1 day before you travel by air into the United States. You must show your negative result to the airline before you board your flight." More information about the testing requirement can be found on the CDC website here.
Additional information about both requirements listed above is available on the CDC website here and on the Department of State website here.
---
Current restrictions on travel into the United States
Update : This travel ban will be lifted on December 31, 2021.
As of November 26, 2021, travelers from Botswana, Eswatini, Lesotho, Malawi, Mozambique, Namibia, South Africa and Zimbabwe are suspended from entering the United States due to the COVID-19 Omicron variant. More information about this Presidential Proclamation can be found here.
---
Travel Signatures during COVID-19
If you are traveling internationally in the next few months, take a moment to check page 2 of your most recent I-20 to see if you need a new travel signature. Signatures are valid for 12 months from the most recent date in the "Travel Endorsement" box on page 2 of your I-20.
Need an updated travel signature? You have two options:
1) Schedule an on campus appointment here and an ISAP staff member can sign your paper I-20 for you.
or
2) In response to the COVID-19 pandemic, Immigration will allow for ISAP staff to digitally sign on page 2 of the I-20 form for travel endorsement purposes. Complete the ISAP Travel Signature Request form. Upload a PDF of your most recent I-20 form to the form, enter all information, and hit submit. ISAP will digitally sign page 2 of your I-20 and email it back to you at your CCA email address within 5 business days.
Questions? Email us at isap@cca.edu
Best, 
CCA ISAP TEAM
---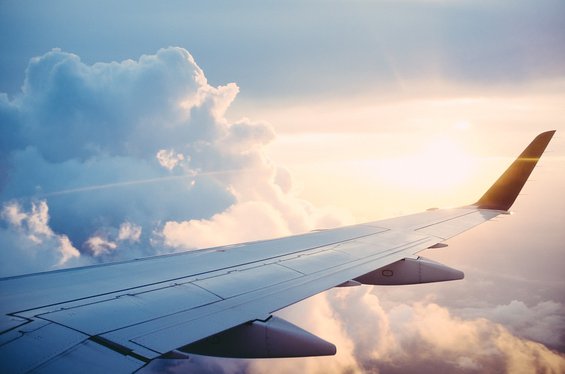 Required Documents for Travel as a Current Student
When traveling, keep the items listed below in your carry-on luggage; do not pack them in your suitcase! When reentering the United States after an international trip, be prepared to present the following documents at customs:
Valid passport
Valid F-1 visa
I-20 with travel signature
It is also recommended to carry the following items:
Print-out of your current class registration (or next semester's class registration if traveling during a break)
Financial documents that reflect the resources listed on your I-20
For information about traveling while you are on Post Completion OPT, please review the Travel on OPT information.
---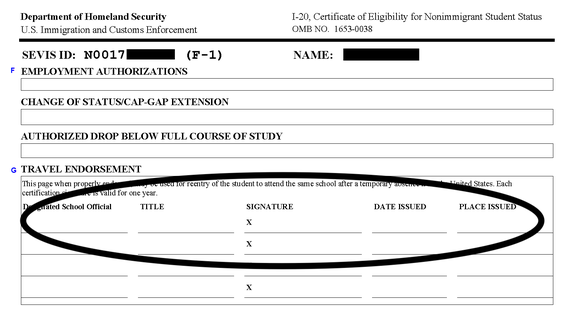 Make Sure You Have a Valid Travel Signature
Travel signatures (on the second page of your most recent I-20) are valid for one year while you are a currently enrolled student.
To see if you have a valid travel signature, look at the 'Travel Endorsement' section on the second page of your I-20. Check if there is a signature from an ISAP staff member, and if so, the date it was signed.
If you need a new signature, please make an appointment with an ISAP advisor.
---
Double-Check Your Visa Expiration Date
Your visa must be valid on the day you reenter the United States. If your visa will expire while you're outside the United States, you will need to obtain a new F-1 visa before returning.
Allow for processing time at the consulate when planning your travel. The Department of State provides a list of visa wait times that gives the average wait for an appointment and visa processing time.
If you have an F-1 visa that is still valid in an expired passport, you do not need to get a new F-1 visa in your new passport. You can carry both passports with you when entering the US.
Canadian citizens do not need an F-1 visa stamp in their passports to enter the US. Canadian-landed immigrants, however, are required to obtain a visa stamp in their passports to document entry into the US in F-1 status.
Double-Check Your Passport Expiration Date
You will not be allow to enter the United States if your passport has expired. In most cases, students are required to have a passport that is valid for at least six months beyond the date you plan to enter the United Students.
For citizens from certain countries, the US will allow entry into the United States up until the date of expiration. Check the "FAQ for F-1 Nonimmigrants" information on the ICE website to see which .