Campus Unification Update
Campus Unification Update
Posted May 19, 2021, 10:26 PM
Updated May 20, 2021, 3:24 PM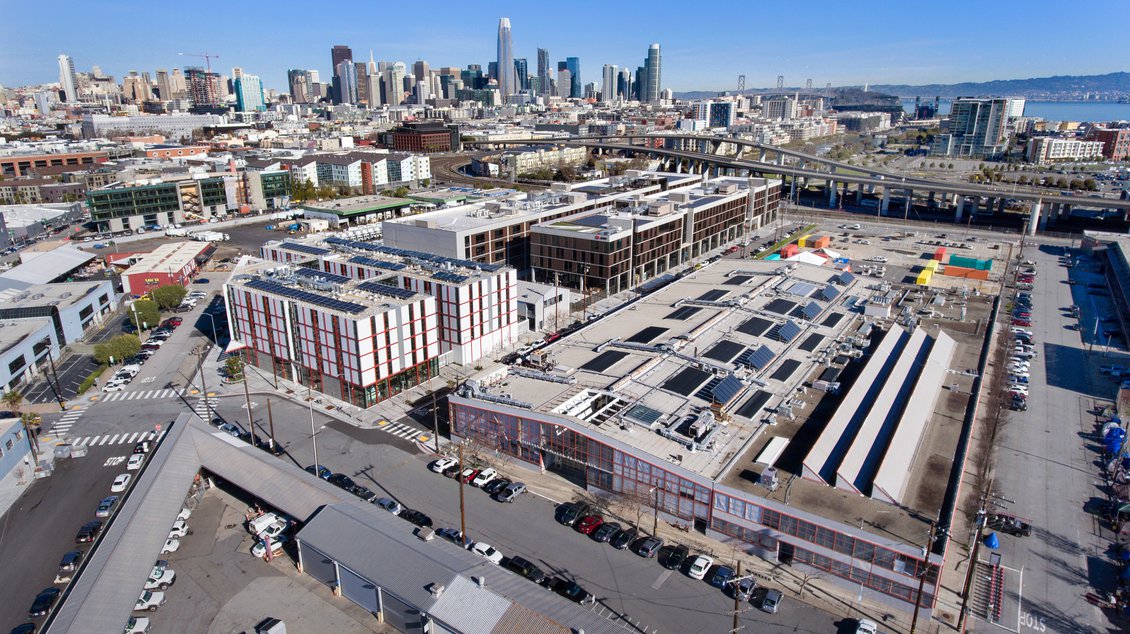 For more than 10 years, CCA has been working towards a unified campus, bringing more than 30 academic programs and disciplines together on a residential campus in the heart of San Francisco's design district. This will transform our academic facilities to support different modes of learning and making, creating a living/learning laboratory where programs in fine arts, design, architecture, and writing will live alongside one another, broadening educational experiences, encouraging experimentation, and creating the best possible learning outcomes for our talented students.
The onset of the COVID–19 pandemic in the spring of 2020 delayed the start of construction of Double Ground, the new San Francisco campus complex scheduled to break ground in April 2020. While a new timeline for Double Ground's construction is being developed, other elements of CCA's expansion in San Francisco continued, including the September 2020 opening of Founders Hall, CCA's new, 520-bed residence hall, and Makers Cafe, our on-site restaurant. Following are additional updates.
Future Plans for the Oakland Campus Continue
Equity Community Builders and Emerald Fund (ECB/Emerald) continue their work on future development of the Oakland campus, with a goal of adding much-needed housing to the Bay Area while preserving key historic campus buildings and creating publicly accessible outdoor gathering space. Over the past year, they have made progress with the City of Oakland's planning process and continue to meet regularly with residents of the Rockridge neighborhood to help inform their plans.
With the opening of Founders Hall in San Francisco, Clifton Hall (CCA's residence hall in Oakland) was no longer occupied. In late 2020, the City of Oakland purchased this building with assistance from a state-funded program to create transitional and permanent housing for homeless seniors and families. "It was a home run for the city," said Shola Olatoye, Oakland's director of housing and community development in the San Francisco Chronicle. "CCA has been committed to finding future uses of the historic Oakland campus and seeking partners who will honor CCA's legacy of innovative learning through making, which is rooted in social justice and community engagement," President Stephen Beal said. "We are pleased that the city will be able to make Clifton Hall available to Oakland families and seniors in need of affordable housing."
Moving Academic Programs and Facilities from Oakland to San Francisco
All residential students and the First Year Program have now moved to Founders Hall in San Francisco. A plan is being developed to ensure a smooth transition for all other programs and activities from Oakland to San Francisco, likely by fall 2022. A unified campus is at the heart of our academic plan, and will bring the fine arts and crafts programs historically housed in Oakland to the heart of the San Francisco campus, where most students are already living and learning. In addition, stakeholders from across the college are identifying ways to recognize and celebrate the legacy of the Oakland campus. You can follow along with the work of the Oakland Campus Legacy Committee here.
The earliest projected opening date for the Double Ground facility is fall 2024, though unforeseen events or construction delays may shift our plans. Unifying our college in San Francisco before Double Ground has been fully built will temporarily impact studio facilities, as well as some academic and administrative operations. The Offices of Academic Affairs and Campus Planning are in dialogue with academic and staff leaders across campus to ensure a thorough plan during this transitional period through construction so that we are prepared to move into Double Ground as soon as it is ready, without sacrificing the quality of our studio-based courses and student-focused initiatives in the meantime. Our pandemic experience will help us better accommodate CCA's diverse needs as we blend our return to a primarily on-site teaching and learning model with some hybrid learning and remote work options.
Wherever possible, CCA will attempt to house programs in their planned location. This will not be an option, however, for some programs due to timing and construction needs. For those, we will rely on our existing footprint—building shops and studios as interim spaces prior to their ultimate move to the Double Ground campus—while establishing relationships with nonprofit partners in San Francisco for others, placing CCA as the cornerstone of a creative ecosystem while construction continues, and nurturing beneficial partnerships beyond the completion of the new campus.
We will continue to update this space with additional information as it becomes available.
For any further questions, please reach out to campusplanning@cca.edu.