Developers Shares Current Plans to Redevelop California College of the Arts Oakland Property
Developers Shares Current Plans to Redevelop California College of the Arts Oakland Property
Posted January 29, 2019, 7:42 AM
Updated November 7, 2019, 11:21 AM
Emerald Fund and Equity Community Builders propose 589 homes coupled with arts uses and 1.5 acres of publicly accessible outdoor gathering space to celebrate art and community
Emerald Fund and Equity Community Builders (ECB) have shared the most recent proposed redevelopment plan for the Oakland campus of the California College of the Arts (CCA), including rendered views of the project from various viewpoints throughout the community.
The project as proposed includes 589 homes, including 35 permanently and deeply affordable homes for artists; over 24,000 square feet of affordable arts space; 6,500 square feet of non-profit arts office space; the preservation and re-creation of an historic precinct; and 1.5 acres of publicly accessible community gathering space.
CCA, which will be unifying its operations at its San Francisco campus, partnered with Emerald Fund and Equity Community Builders to create plans for reuse of the Oakland property.
The redevelopment team met with a broad array of community organizations in 2017 to define its goals for redeveloping this iconic property. The list was long and included addressing the city's need for housing, opening the site to the public, supporting and promoting the arts, retaining historic buildings and setting, and minimizing local impacts such as traffic.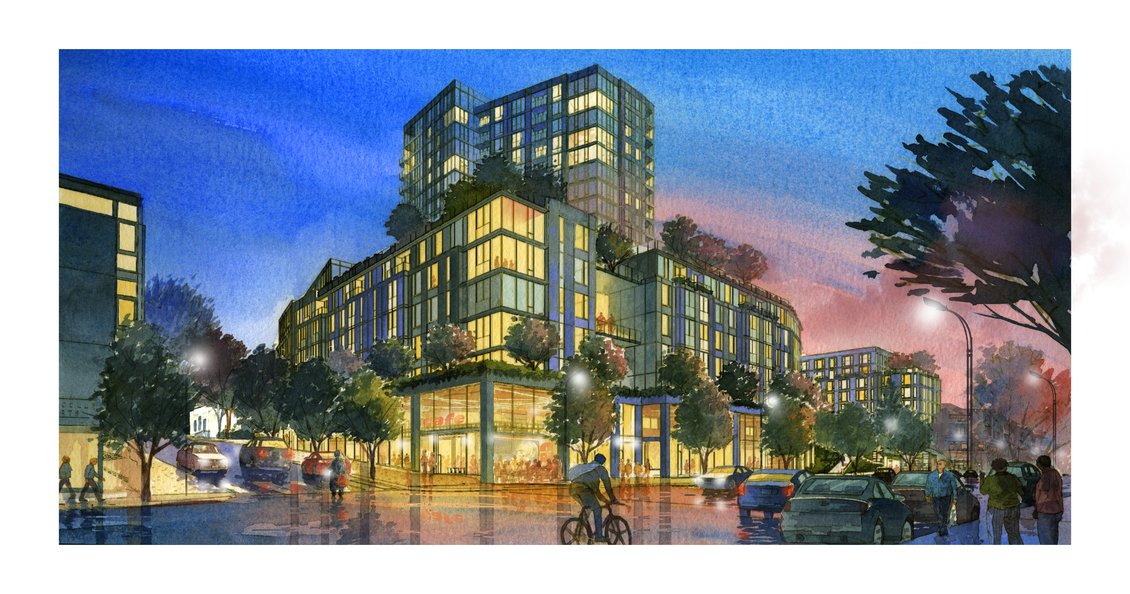 "This site's transit-rich location, generous size, dramatic topography and deep history present a rare opportunity to create a significant community asset in North Oakland," said Marc Babsin, Emerald Fund principal. "In addition to providing much needed housing, our goal is to open the site up to the community and create a place where neighbors will gather and engage with one another, much like a Temescal Alley or First Fridays."
The redevelopment vision - which honors and recreates the historic setting – is centered upon 1.5 acres of community open space and offers a host of on-site public amenities, including communal gathering spots, a sculpture garden, a green commons and a pedestrian promenade culminating in an overlook offering panoramic views of downtown Oakland, the Golden Gate Bridge and everything in between.
Inspired by Mayor Libby Schaaf's Spring 2016 White Paper on the affordability crisis facing Oakland artists as they struggle to remain in their homes and their workspaces, Strategies for Protecting and Creating Arts & Culture Space in Oakland, as well as the 100+-year legacy of arts education on the site, the development proposal seeks to support Oakland's artist community through deeply affordable homes reserved for artists, affordable workspaces for artists and affordable office space for arts non-profit organizations. The project creates an opportunity for an Arts Walk along Clifton Street, in addition to a public sculpture garden in the re-established historic setting.
Under the proposal, a freshman student dorm would be converted into 35 permanently and deeply affordable homes for artists, arts space would welcome visitors to the site and line the streets at the intersection of Broadway and Clifton, and a National Historic Register Victorian mansion would be repurposed into affordable office space for arts non-profits, much like Preservation Park.
As a prime example of transit-oriented development, the project also leverages the region's investment in its transit infrastructure. The site is located only .6 miles from the Rockridge BART station, a 12-minute walk or a brief bus ride away. Frequent buses along Broadway and College Avenue also provide excellent access to downtown, across the East Bay and to San Francisco.
Emerald Fund and ECB have shared the proposed vision with numerous community stakeholder groups through a series of meetings over the past year and a half and recently submitted a pre-application filing to the City of Oakland Bureau of Planning to begin the entitlement and environmental review process. An Environmental Impact Report (EIR) is anticipated, and the preparation of studies underlaying the EIR will occur over the next 18 months. The project entitlements will likely include an amendment to the General Plan, a new zoning classification and new height limits. Public hearings for approval of the project are anticipated to occur in late 2020.
Emerald Fund and ECB have a project website to provide interested individuals with up-to-date information.
Proposed Project - 5212 Broadway, Oakland
Total size of site – 4 acres
Publicly accessible community gathering space – 1.5 acres
Market-rate homes - 554
Deeply affordable homes for artists - 35
Affordable office space for arts non-profits - 6,300 SF
Affordable art space/live-work space – over 24,000 SF
3 significant historic buildings and a grand historic staircase renovated
Garage parking spaces - .64 to .76 spaces per unit
Bike parking spaces - 590
4 perimeter residential buildings - 6 to 8 stories
One taller residential building - 19 stories
# # #
About Equity Community Builders (ECB): ECB has over 20 years of experience in the adaptive reuse of historic buildings and cultural landscapes, working primarily with nonprofits to help them develop one-of-a-kind facilities. ECB is the proud developer of Girls Inc. of Alameda County's Oakland headquarters and has a successful history of working with CCA.
About Emerald Fund: Emerald Fund has 40 years of experience working in established communities to create mixed-use housing that is transit-oriented, fits the neighborhood context and provides significant community benefits. In Oakland, Emerald Fund has worked on the West Oakland Urban Farm and Park, The Ellington in Jack London Square and The Essex on Lake Merritt. Emerald Fund is known to hold and operate the apartment buildings they develop for many years. Emerald currently owns and manages over 1,600 apartments.